But we needn't have worried. Sure, interpretations of each outfit's relative campiness will vary widely, but this pink carpet yielded something even better than a perfect record of accuracy: a sense of mischief, experimentation, and, most importantly, real joy.
It was hard to pick only 13 standout looks from the buffet of fun, but we did our best to give you a primer.
Most Eye-Catching: Janelle Monáe in Christian Siriano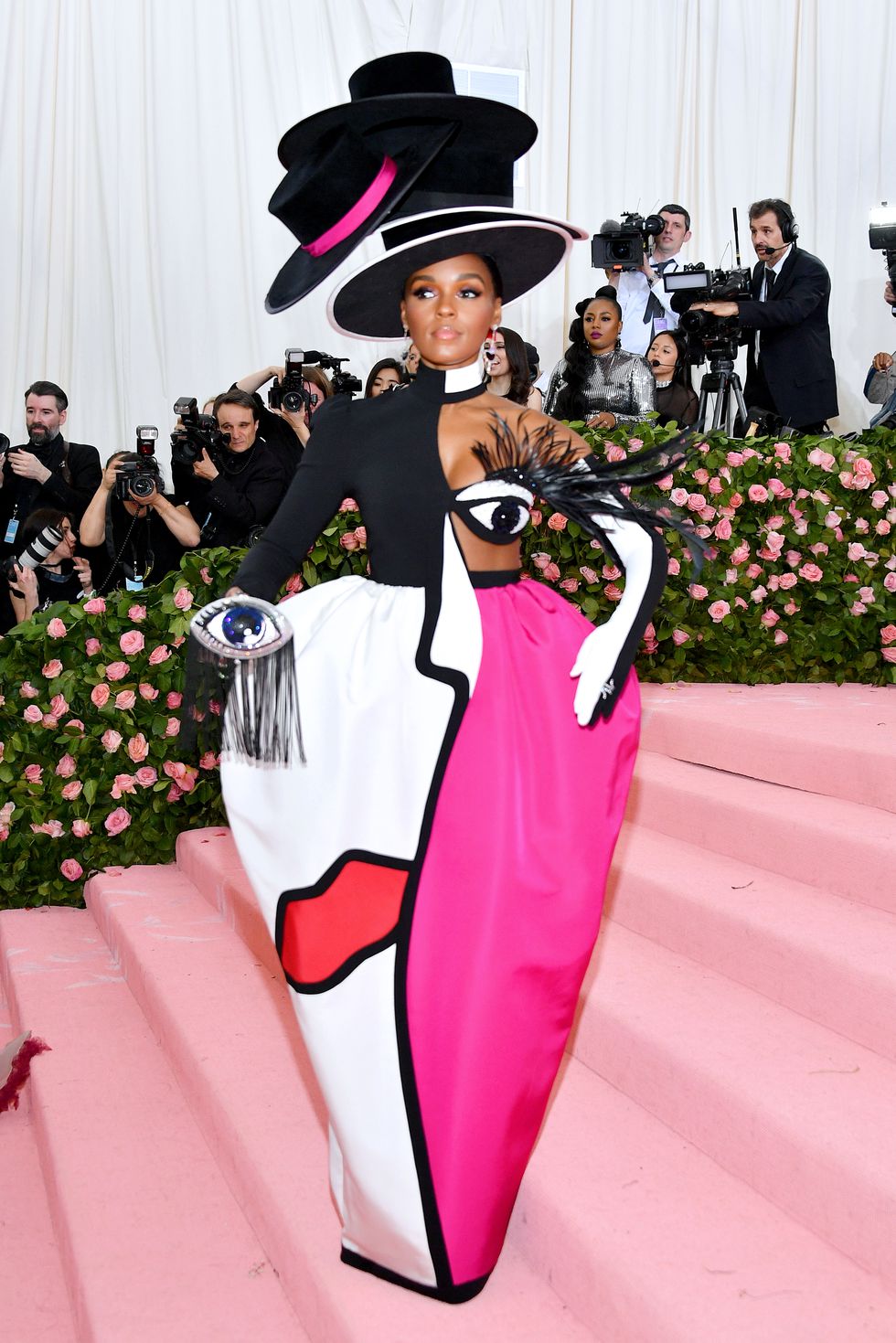 That pun was too hard to resist. Janelle's dress is an absolute visual feast, from the Mad Hatter's menagerie on her head to the Picasso-esque skirt and peepers on her head and boob—the latter of which actually blinked its feathered lashes. If you want to see a master at work, watch Janelle Monáe wear this.
Best Self-Portrait: Tracee Ellis Ross in Moschino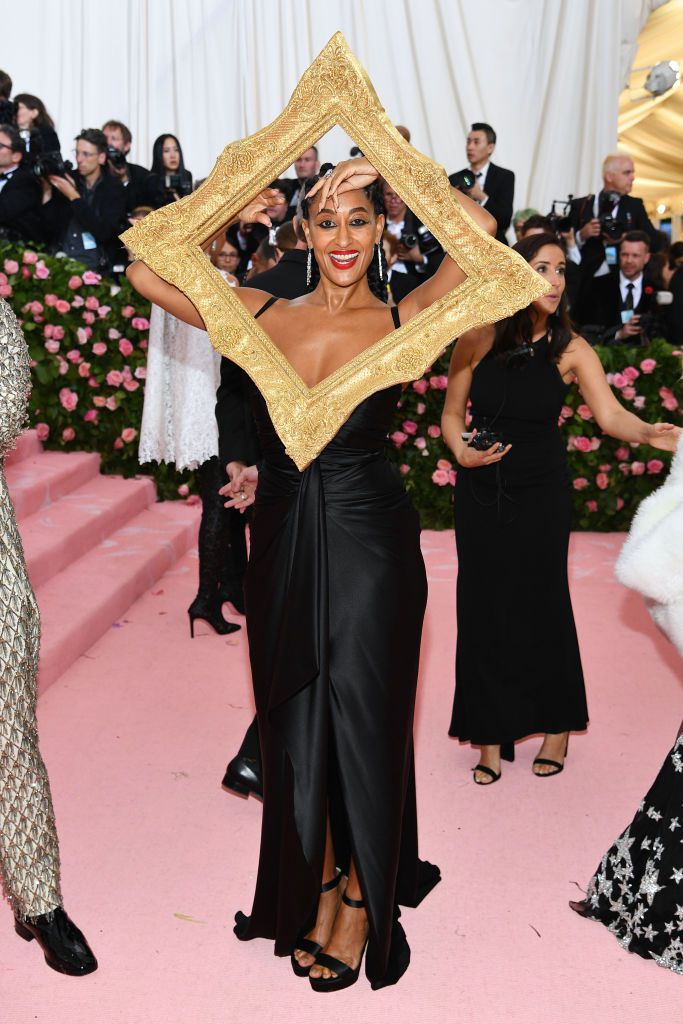 We can't tell if this is technically campy or just prop comedy, but who cares? Tracee seemed to have a ball arranging herself in different dramatic poses inside this askew frame that echoes the gilded ones hanging inside the Met itself, and she also looks amazing in it. And on a night when Anna Wintour reportedly bans selfies, it's almost subversive that Tracee turned herself into one.
Best Barbie: Kacey Musgraves in Moschino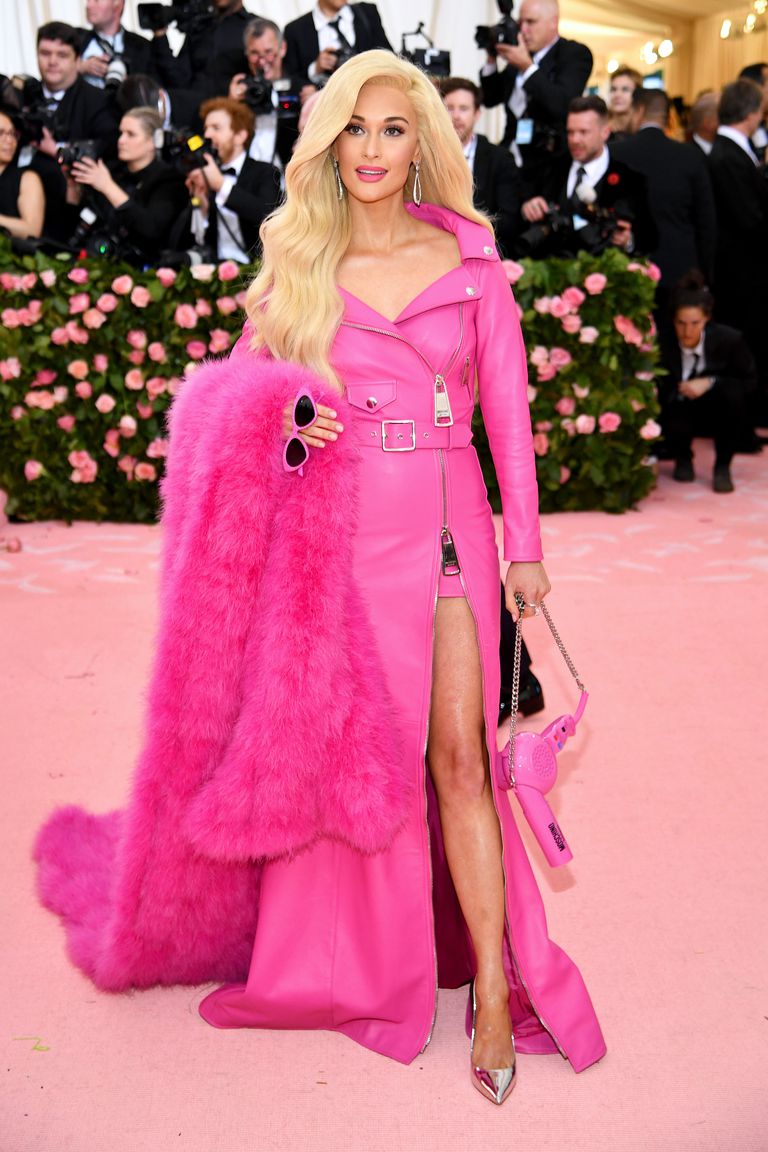 In fairness, she may have been the only Barbie, although Nicki Minaj had echoes of the pink princess in her outfit also. But this is a pitch-perfect echo, from the expression on her face, to the hair and makeup, to the shape of the tiny sunglasses, to the hair dryer purse. It's no surprise that Jeremy Scott would nail the details here, as camp has been his territory for so long that he practically, well, camps out there.
Most Committed to the Big Reveal: Lady Gaga in Brandon Maxwell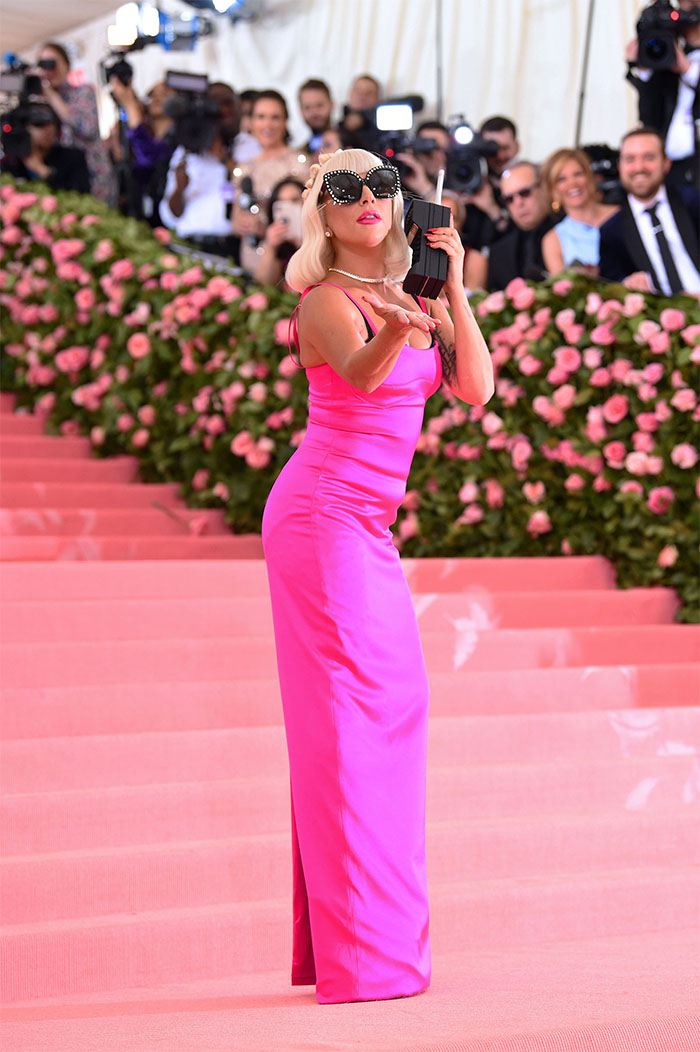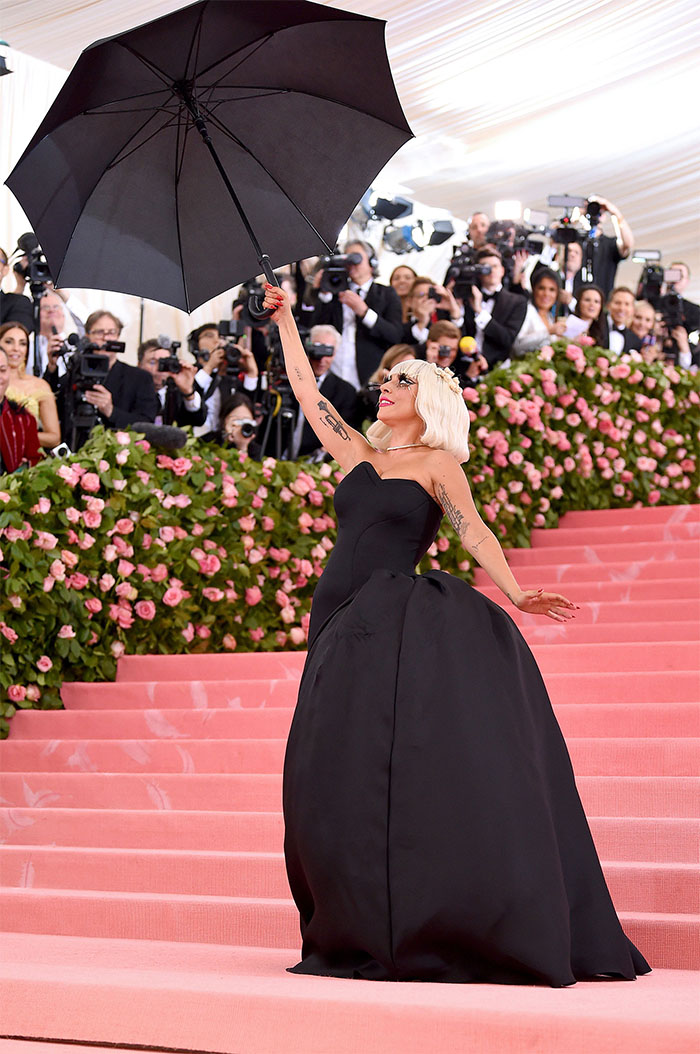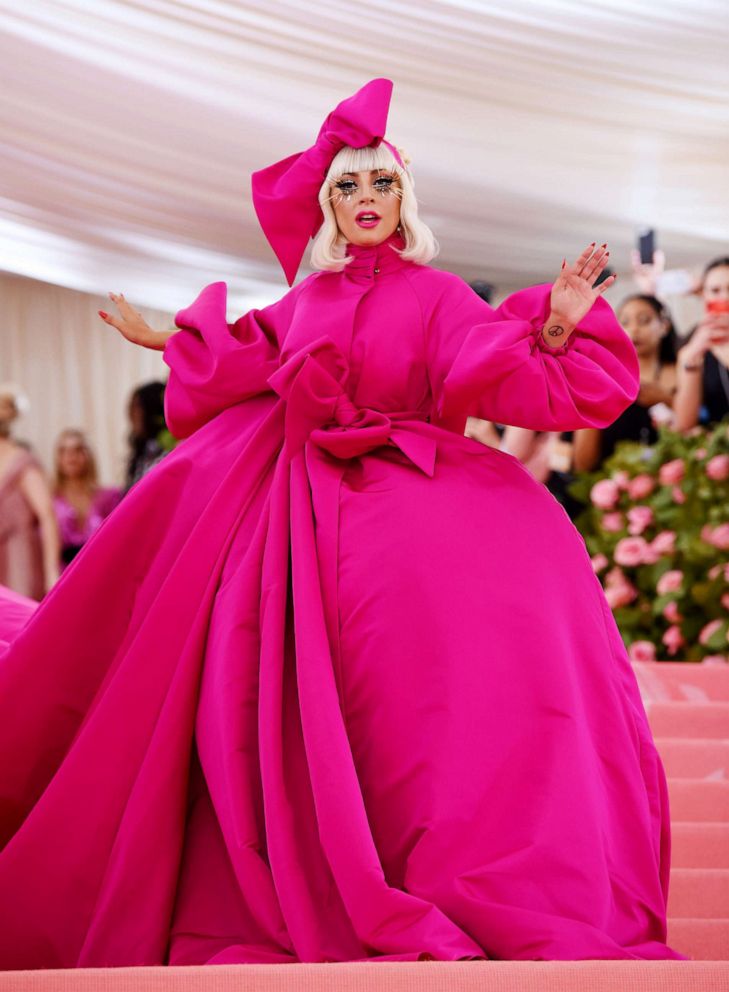 Leave it to Gaga to show up in a Russian nesting doll of a dress—four looks in one, each layered under the other, requiring a village (including designer Brandon Maxwell) to help her unveil each style. We knew Gaga wasn't going to phone it in; we didn't anticipate that she literally would take out a toy phone on the red carpet as part of her routine. The red carpet is often a performance for Gaga, and never more so than here. She was in her element.
Easiest Joke on Twitter: Katy Perry in Moschino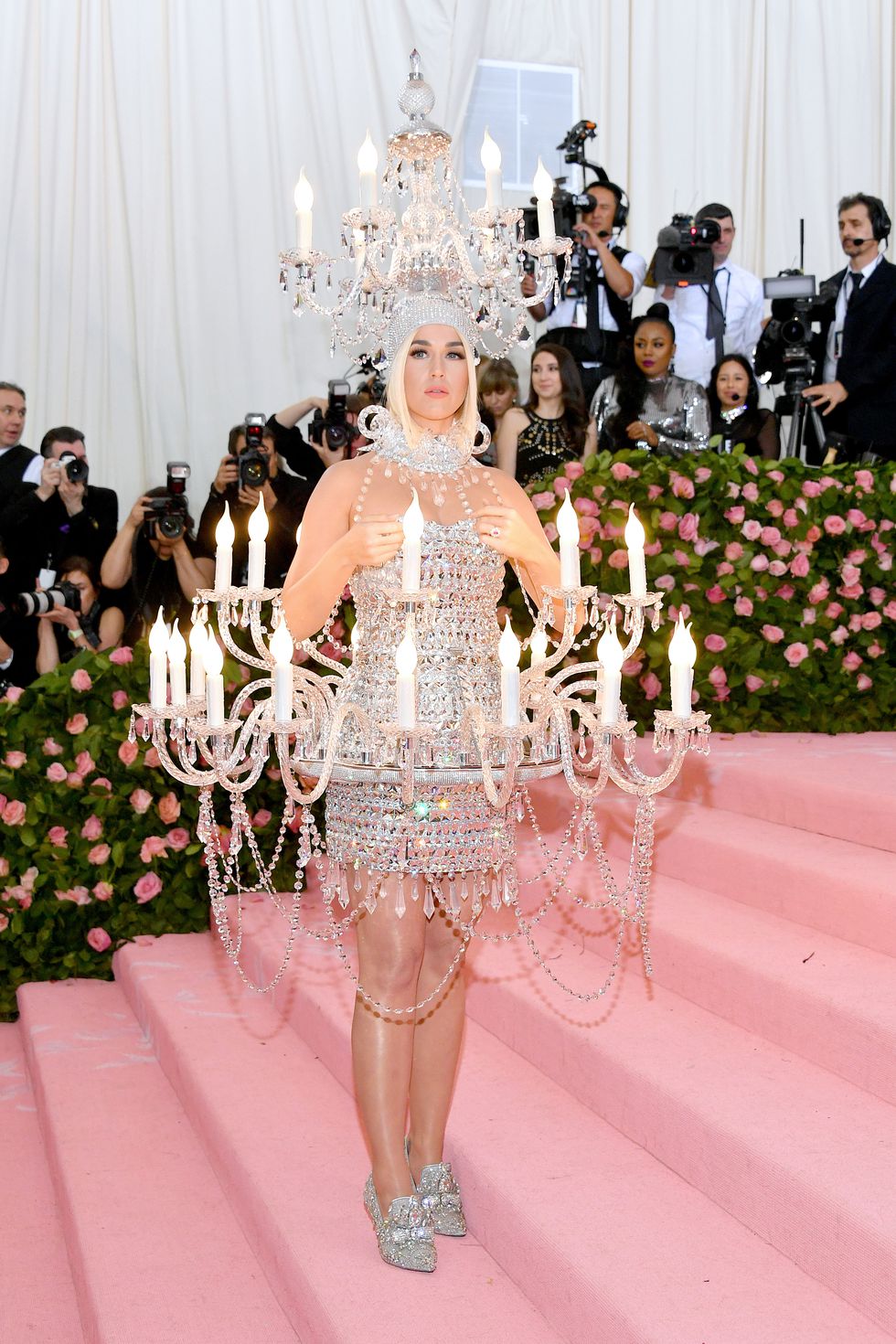 Just a world of thanks to Katy for making this so uncomplicated for those of us who like to riff on celebrities. When she arrived in this literally electrified human chandelier getup, Twitter responded in kind: If you weren't making a Lumière joke, you were making a pun about her look being "lit," and, honestly, in these dark times, this was very relaxing. Thanks for serving up that softball, Katy—you're a peach.
Dampest: Kim Kardashian in Mugler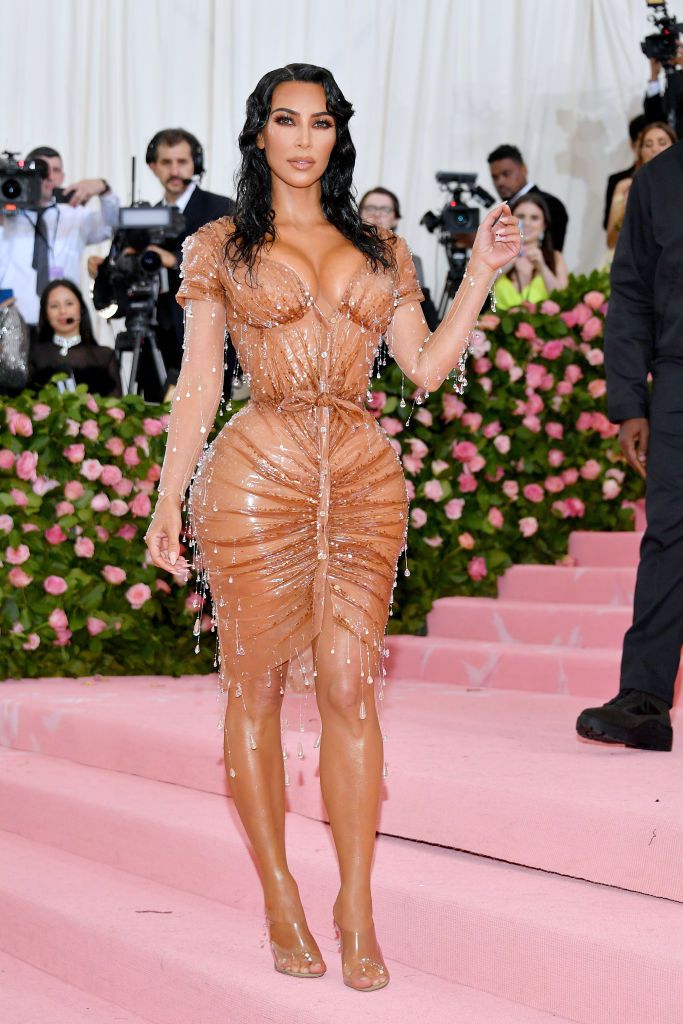 Apparently, Mugler himself came out of retirement to design this for Kim and, look, the man knows what he's doing: As intended, she does photograph as if she's soaking wet, just as she is on the current cover of Vogue. From both a technical standpoint and that of corporate synergy—Kim's real strength—it's impressive.
Most Surprisingly Elton John-y: Gigi Hadid in Michael Kors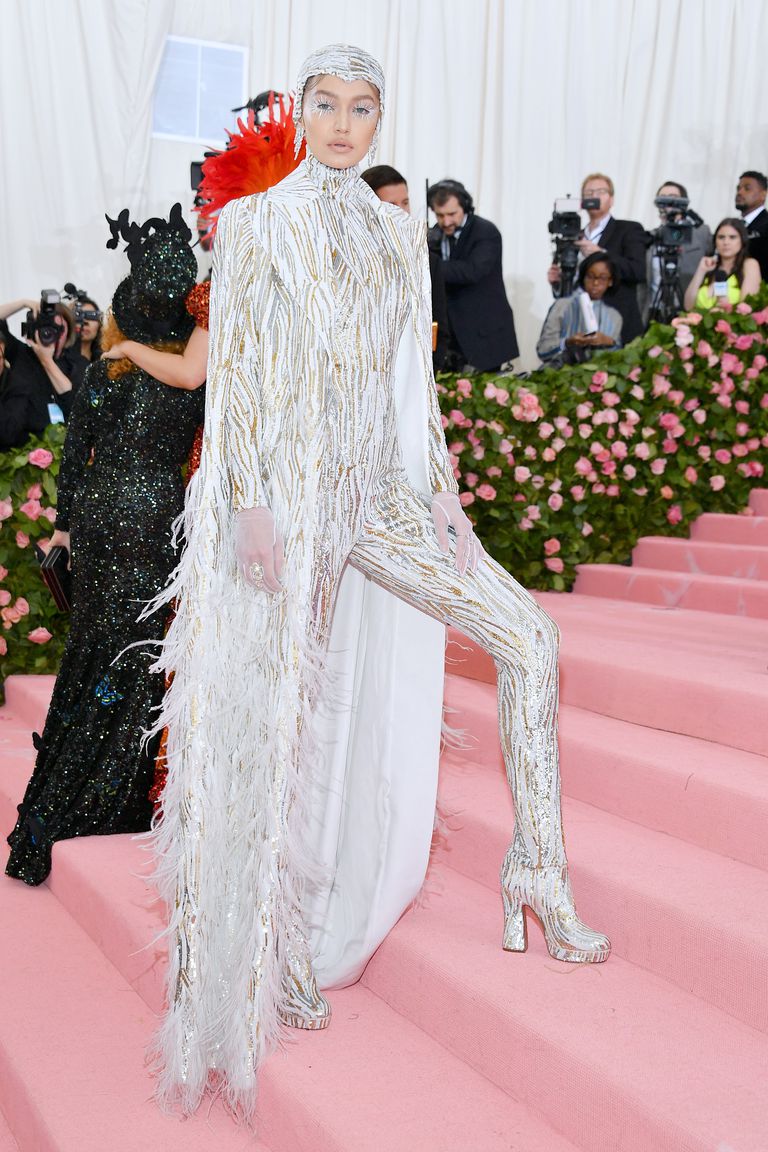 Someone forgot to give Gigi a giant pair of ridiculous sunglasses, but other than that, this is pretty perfect. Sir Elton is probably proud—and maybe a little jealous. That coat is amazing. You know he's calling Michael Kors to see if he can get one for himself.
Best Disney Villain: Cardi B in Thom Browne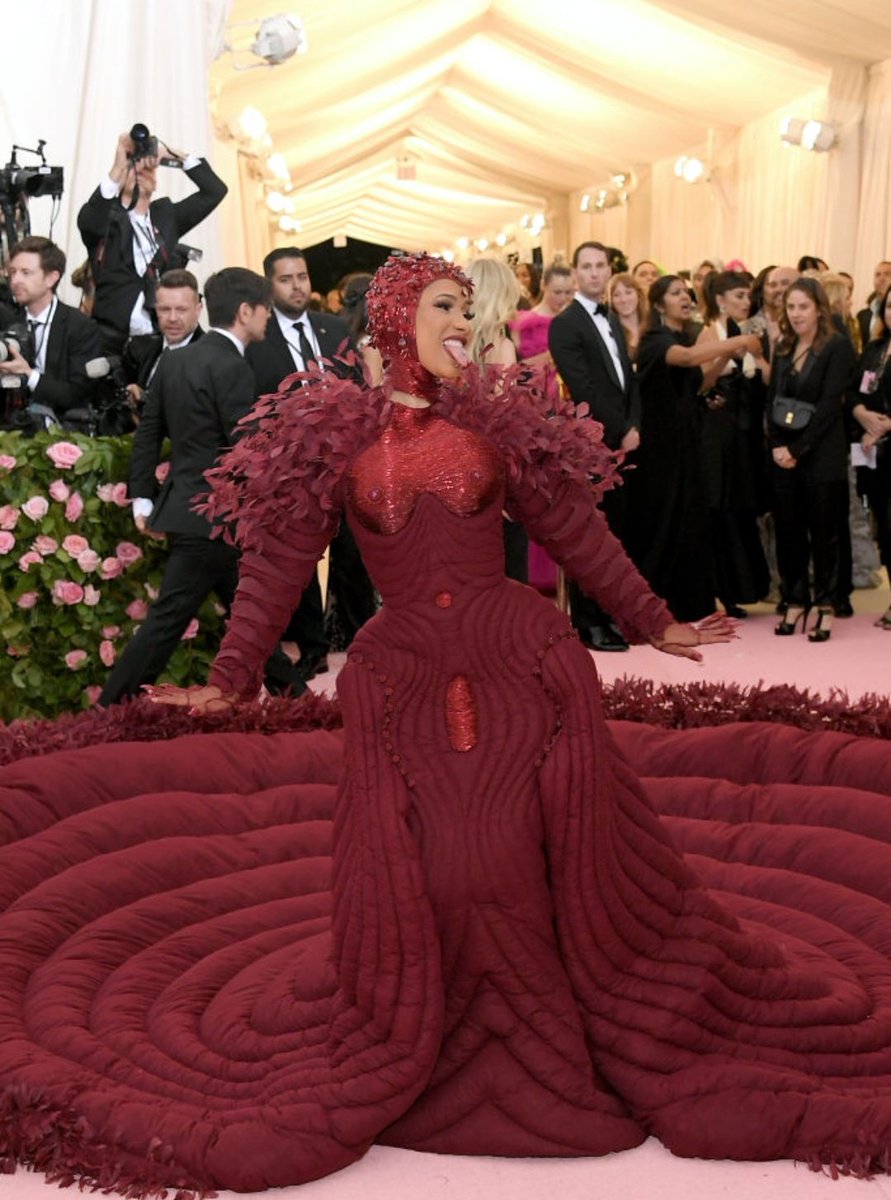 Best Salute to Rainbow Brite: Cara Delevingne in Dior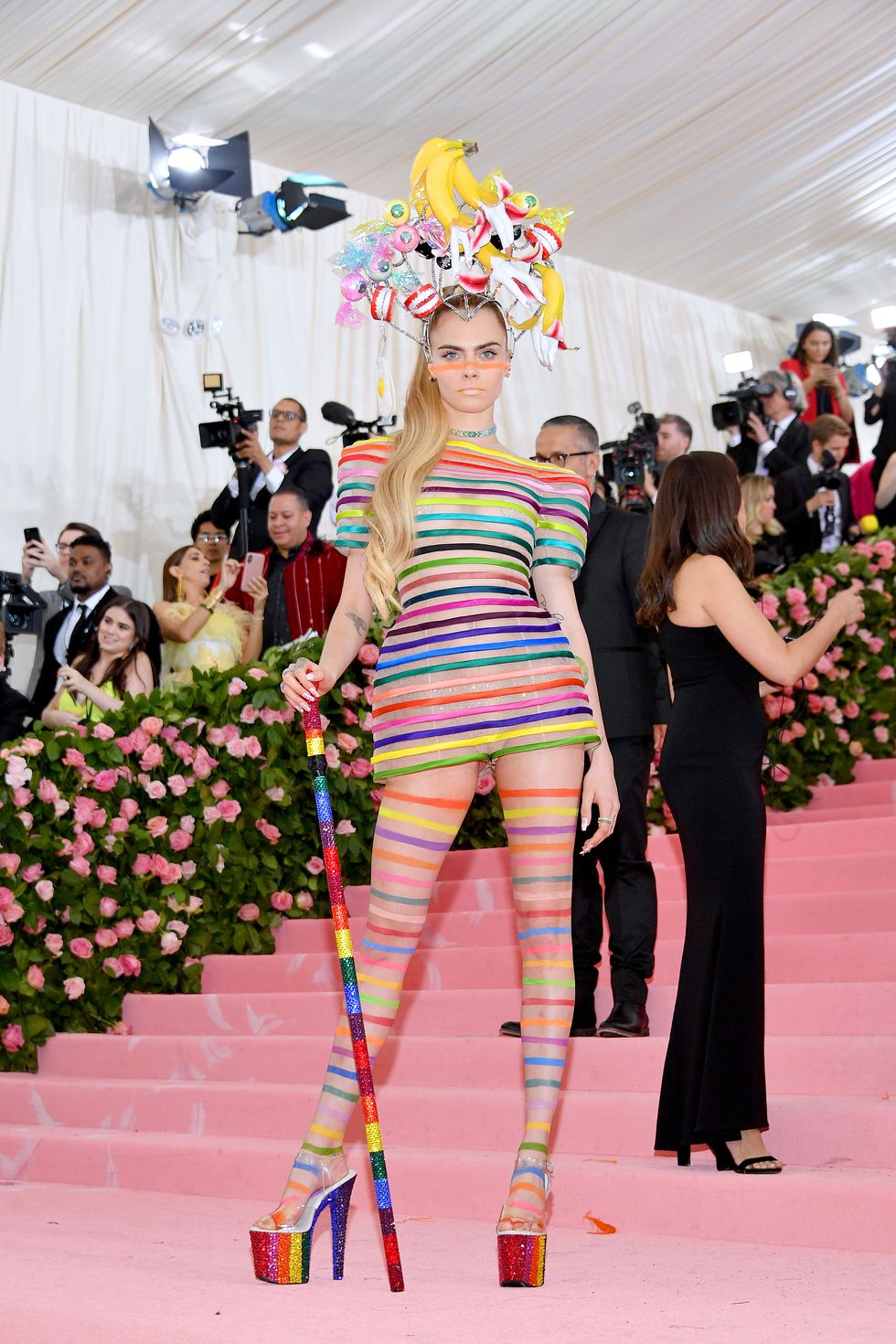 This is joyous, fun, and making us hungry; she looks like a human salute to hard candy.
Best Arts and Crafts: Elle Fanning in Miu Miu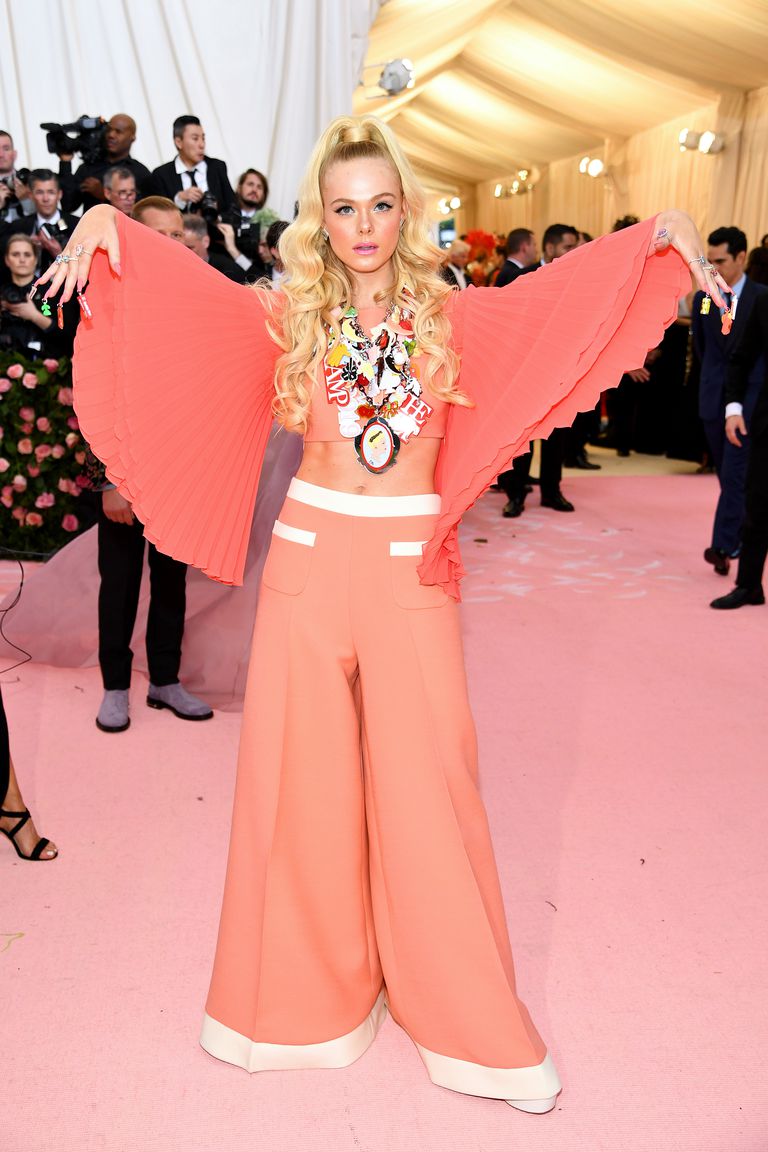 We've never seen Elle have this much fun on the red carpet. Maybe she needs to lean into a candy-coated '70s salute to charm bracelets more often. We're not sure how she's going to manage everyday life with a dangly charm attached to each fingernail, but this night was not one to fuss about practicalities.
Best Reminder That Lupita Is Really Good at This: Lupita Nyong'o in Versace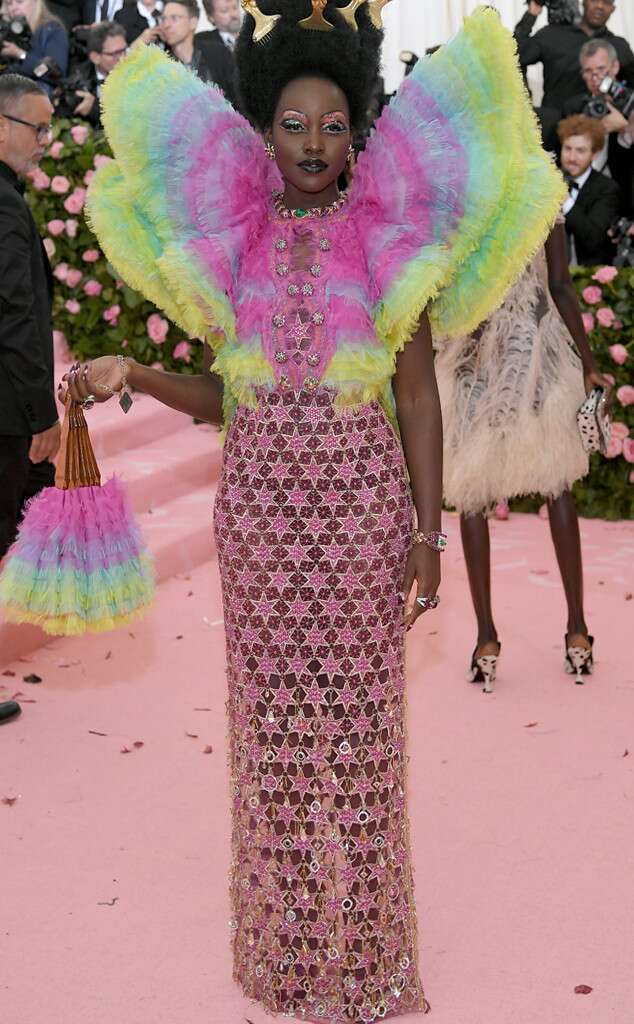 Speaking of major, this look on Lupita is bright and brilliant and beautiful—rather like the lady herself.
Best Showgirl: Céline Dion in Oscar de la Renta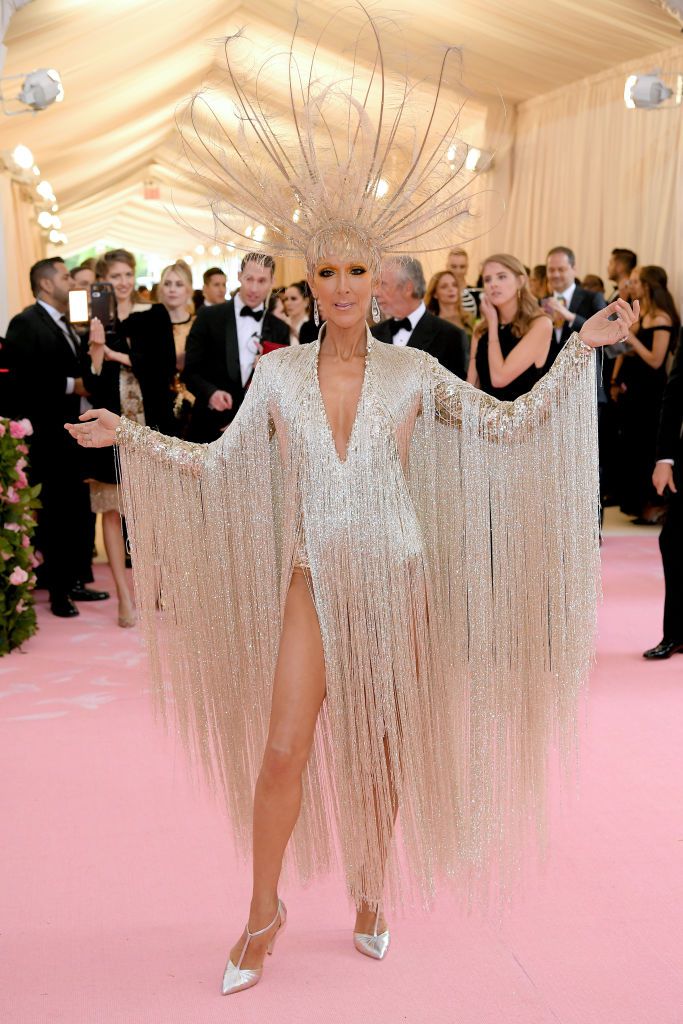 It's only right that the queen of Las Vegas, thanks to her mega-successful residencies (and her actual residency) there, would come as an homage to what Sin City does best. And yet…is it too late to add some scenes to Game of Thrones? Because please, just close your eyes and imagine this version of Céline Dion vs. Cersei vs. Dany for the Iron Throne. We know for whom we'd bend the knee.
Most Perfectly-Timed Ascent: Lizzo in Marc Jacobs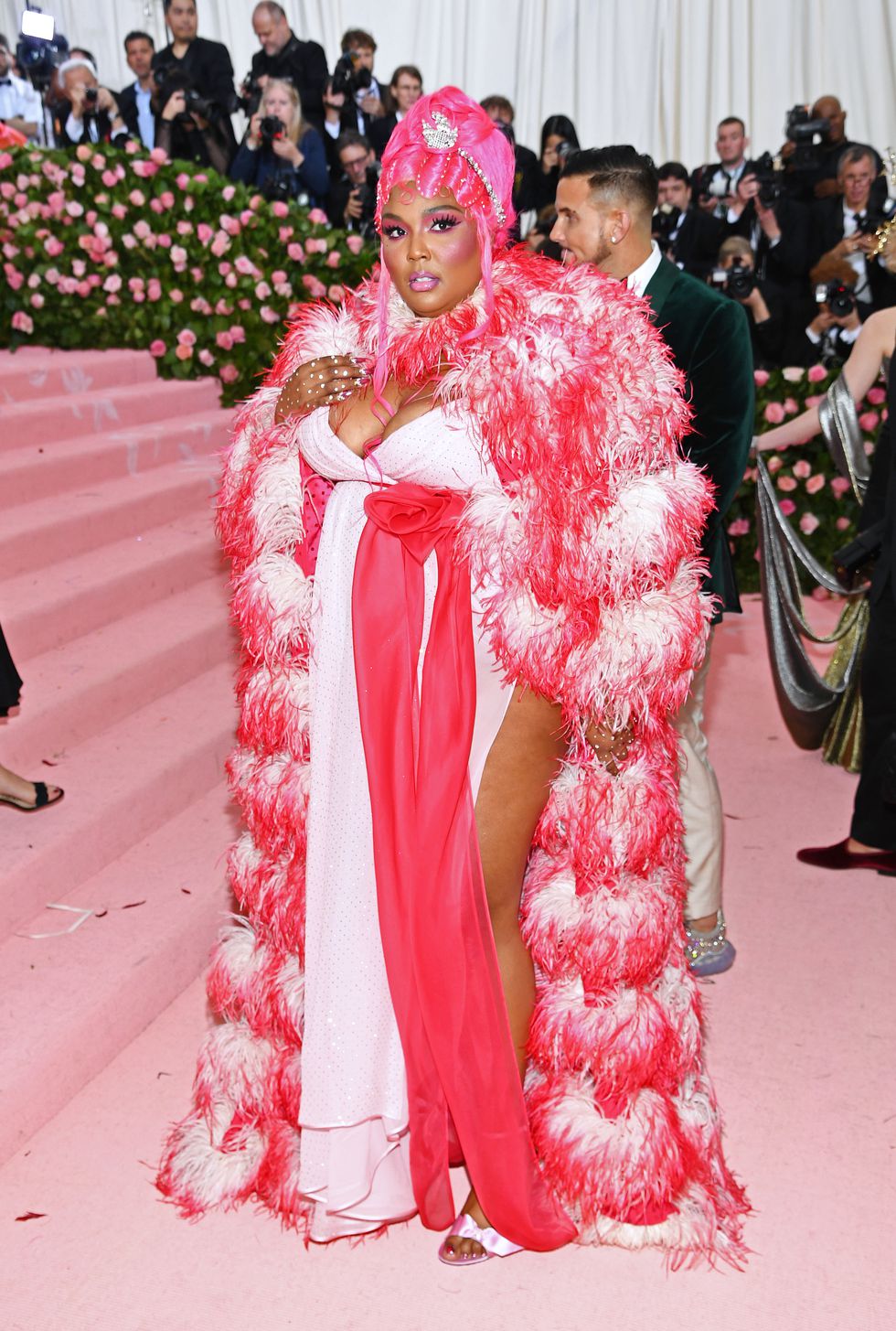 Lizzo rocketed to fame, and to her first Met Gala, in a year when the theme was perfect for her aesthetic. We could as easily see her rocking this onstage as up the Met stairs. It was smart of Marc to bring her—and frankly, amazing for her to navigate this spotlight in something that makes her look like the powerhouse diva she is.