Fans of Kutcher may remember when he posted a note on Twitter that seemed to include his phone number, complete with an Iowa area code for his home state. According to NW, that post was doing more than reaching out to a massive fanbase — it was a call for help.
Calling Kutcher and Kunis "trapped in a bad marriage" after "fights, lies, and loneliness," the magazine says that when the actor wrote that he was looking for a "real connection," he was including his wife as one of the people with whom he lacks a connection.
Although "it didn't take long for the actor to delete the awks tweet," there was only thing it could be: "a cry for help." An anonymous source tells the magazine,
When Ashton shared his number, it set tongues wagging.
A family, the magazine argues, should be a pretty obvious source for what Kutcher's looking for. "It's pretty odd that he says he misses having a connection with people when he has a wife and two kids at home," they explain.
"Now it's raising eyebrows, and people are speculating about the state of Ashton and Mila's marriage." It's somewhat surprising to hear that the development was shocking enough to set both eyebrows and tongues into motion, but the insider says that there was a distinct gap between Kutcher and Kunis.
"Ashton and Mila have had their ups and downs," they say. "It seems like he must be feeling pretty lonely if he's going to these lengths. Mila has to find it odd that he wants to spend the little free time he has talking to a bunch of strangers."
At that point, the magazine asserts, Kunis felt like she and her husband were "living separate lives." A different, but still unnamed, snitch says,
Mila feels like she's trapped in a bad marriage.
"They have friends who've noticed [the change] and say they've definitely grown apart," the tipster continues. "They often think of having a third [child], but sometimes she feels like she can't trust Ashton, so why have more children with him?"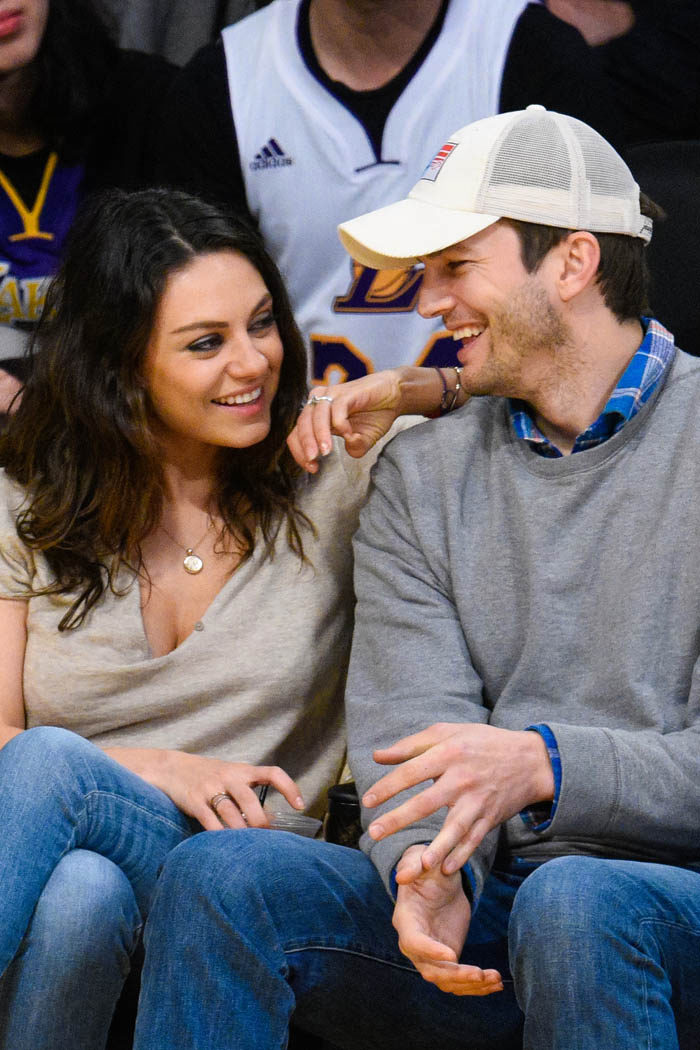 The outlet then points to Kunis' seemingly exasperated response to a question in an interview with Live with Kelly and Ryan where she said that Kutcher gets on her nerves "every day." The snitch claims,
She and Ashton don't see eye to eye on many things. Ashton can get on her last nerve. He's very controlling and particular about the littlest things.
The conflict had been supposedly going on long enough to impact the actress' health even. "Mila's anxiety about it all is eating her up, but ironically, she's hardly eating anything at all," a source that doesn't know what irony is tells the magazine. Allegedly, the actress had lost 35 pounds over the stress, according to "one expert's" estimate.
The outlet pumps the brakes and admits that there is still a possibility that the couple aren't fighting. Chalking it up to fan speculation, the magazine says that "if Mila was part of the reason Ashton posted his number, and then she made him take down the tweet, it isn't indicative of a serious gulf between them."
"Seeing Ashton and Mila get together after all these years has been like a fairytale, and no-one wants them to break up," the initial anonymous source says. "But this has got people questioning if he's doing this because there's something missing in his relationship."
"[Things were] great in the beginning," the second insider concludes. "Opposites attract and all. But now [it's just] disagreements, fights, and tension. Their kids are keeping them together… Right now, Mila and Ashton are definitely at a crossroads."
While it wasn't immediately clear, Kutcher shared his number because of one of his many non-Hollywood investments. Sound Ventures, Kutcher's investment group, is one of the main investors in Community, a texting service meant to replace social media with a more personal connection between groups.
And for clarity's sake, the whole deleting-his-tweet thing isn't of any importance either. He did remove the original tweet, which was admittedly awkwardly framed and missing a word or two, but we now know that it was what the startup called an "alpha test" of their system.
The actor has since replaced it with a far simpler one. In fact, Ashton Kutcher kept his same phone number from the deleted tweet: +1 (319) 519-0576. Heck, his pinned tweet is a note to fans that he'd be shifting to "text" over the social media platform with his number again attached.
While purposefully misjudging a social media post is bad enough, it's the claims against Kunis that are the worst part of this story. While the tabloid says that "no one" would want to see anything happen to the well-liked power couple, NW's been beating the drum of the actress' health failing along with her marriage for years now.
How many massive weight drops can one already thin woman lose over the course of several years? Instead of shaming her for her body, the tabloid and its sources should take a look in the mirror and think about what they're doing to the mental health of people on the thin side who see a celebrity with similar body type and, despite them having a clean bill of health, getting called "sickly" or other cruel descriptors.
NW also already covered the whole possibility of the couple having a third child as well. In 2018, its source said that Kutcher was desperate for another baby and fighting with his wife over it. It was yet another instance of the tabloid dropping the whole "they could divorce over it this time" bomb on an already weak rumor.
Apparently, this tabloid wants readers to believe that Mila Kunis has lost hundreds of pounds as Ashton Kutcher writes out divorce papers but never files them. In reality, the couple is actually thriving in the lockdown, but it doesn't take an anonymous snitch to know that.