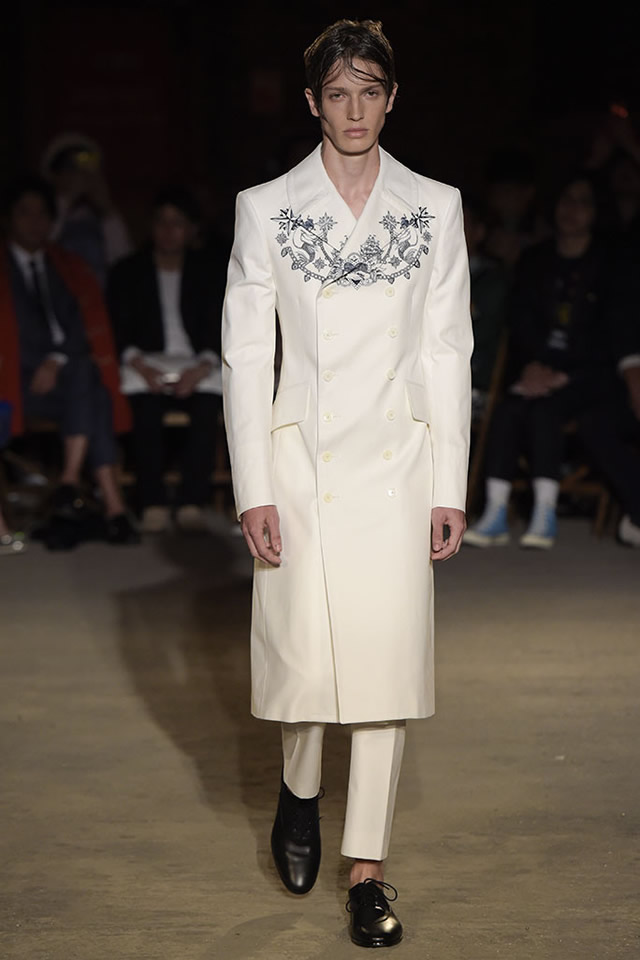 Fashion designer Alexander McQueen move on towards the runway with his Spring/Summer men's collection
As fashion moves so fast, putting tattoos on your clothes rather than your skin seems like a clever idea, not a cop out. Sarah Burton planted a collar of inky scrolls across the lapels of a white cotton officer coat to open the Alexander McQueen show, announcing its seafaring theme and her single-minded focus on tailoring.
Burton called hers a romantic take on sailor style, with some tempest roiling underneath the calm surface, musing: What compels men to map their life with ink?
The tattoo prints – mostly mermaids, anchors and compasses – also could be seen on shirt cuffs and pointy collars, or splashed across duster coats and trenches. While some of the prints were overwhelming, climaxing with suits in the dazzle camouflage used on warships, or colorful souvenir scarf prints of sea monsters, Burton's fine, strong-shouldered cutting could not be disguised.
She updated the classic peacoat by adding white buttons up the wrists, or scattering silver grommets over an oversized one. There was a tinge of the Seventies in the flaring shapes of her long coats and cropped pants.
Suits were trim, with a matching bomber tossed on top as a youthful, sporty take on the three-piece.