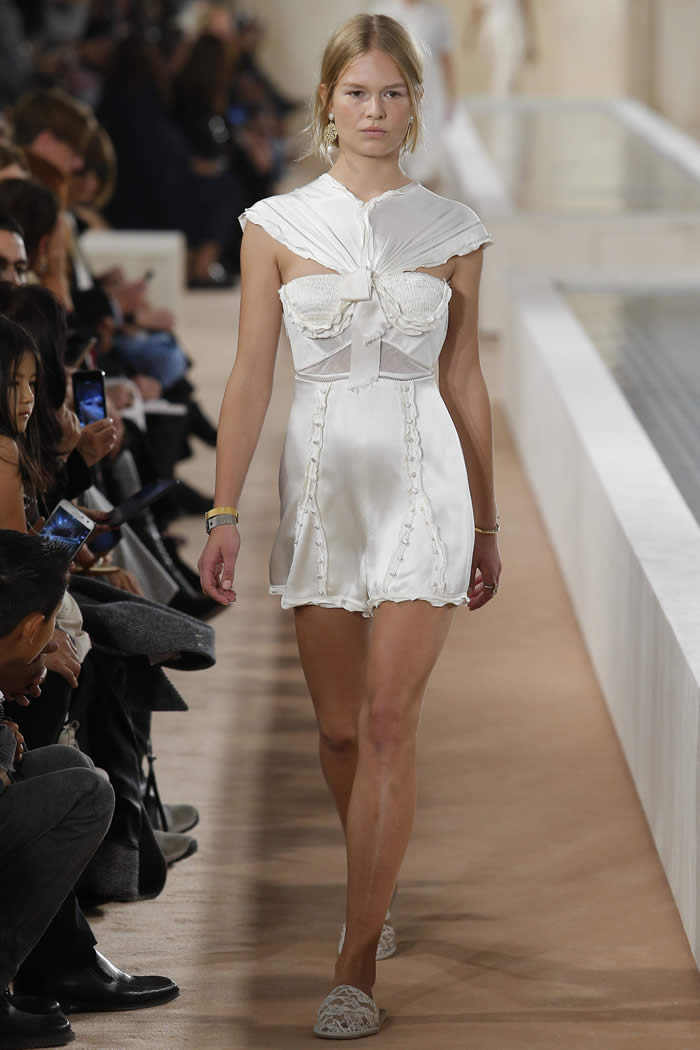 Balenciaga Collection for Paris Fashion Week Spring 2016
The Balenciaga Spring 2016 RTW collection with which Wang closed his Balenciaga chapter gave evidence of such; it was the most ornate and decorative of his career but decorative his way. It was about lingerie dressing in a single color, off-white, for cottons, silks and linens, but with an undone countenance and a street attitude, for the girl edgy enough (whose feet are calloused enough) to wear little-nothing lace bedroom slippers on urban streets.
The girliness, the sensuality, the intricately wrought delivery of boudoir-chic tropes were different for Wang, but he made them his own. Since his arrival at Balenciaga, Wang's runways have staged an ongoing conflict between homage which he did a solid job of delivering without excessive reverence and his own, more casual inclinations. Yet now, the turmoil had passed. Here were gorgeous slips, bras and nighties, shirred, ruched, ribboned and passementaried to a fare-thee-well. Wang integrated them with the trappings of sports and utility racer-backs, cargo pants, anoraks and his models couldn't have looked more at ease in T-shirts and jeans.
If the subversion of the lingerie motif was intended as a "take that" to the hierarchy on his way out the door, neither gave any indication backstage. Rather, the show played like a statement of self upon exit. Wang will go back to New York energized and upbeat, his reputation intact.
In the severing of this relationship, the lion's share of pressure falls on Balenciaga and Kering. One designer mismatch a three-year detour, but OK. The next hire has to work, lest Balenciaga fall into the designer version of sleeping around, in which case, customers won't know what to expect. But then, given Kering's recent history of designer hires with Hedi Slimane and Alessandro Michele, the Wang misfit seems an aberration. Stay tuned.