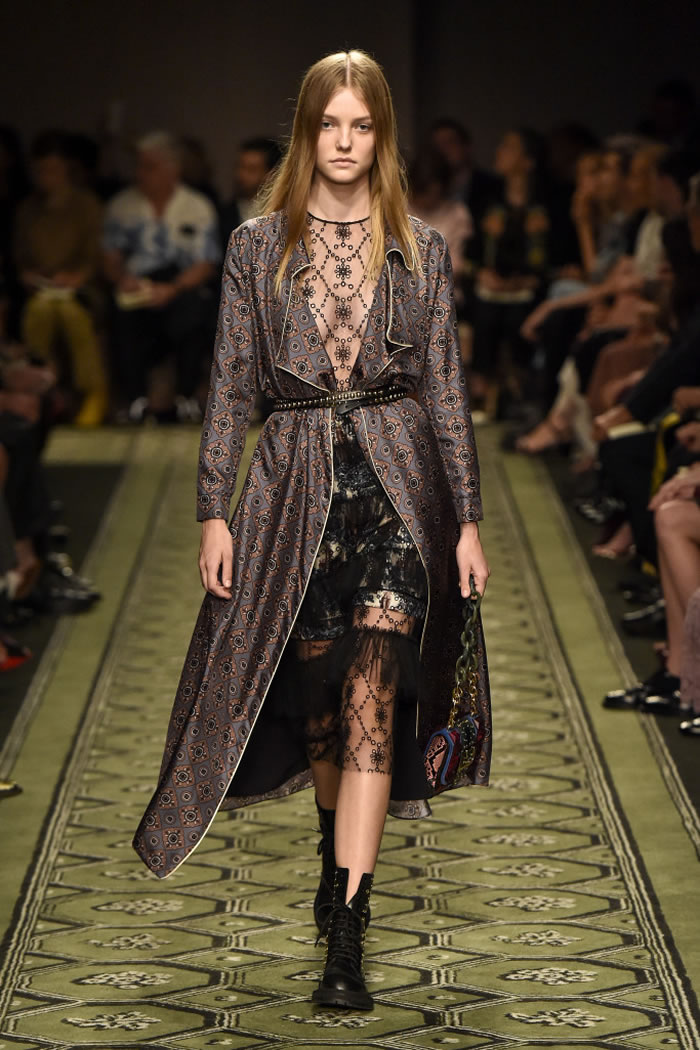 Burberry Spring Collection 2017
It is a pivotal moment for Burberry, the first major brand to signal a shift to instant and seasonless fashion. The decision comes as the company sets out to streamline its operations and consolidate its offerings against a tough backdrop for luxury; meanwhile, it's also shaking up its management, welcoming a new chief executive officer next year.
Its grand fashion show has also shrunk. Burberry slashed the guest list, downsized its big tented venue from Hyde Park to the more intimate "Makers House," a temporary space inside the former Foyles bookshop in Soho, and invited artisans ranging from a calligrapher and sculptor to a brick-maker and tassel weaver to display their skills on the ground floor. The clothes themselves were richer than one might have expected from an insta-fashion show, with generous touches of the Elizabethan and Twenties eras, with a "Brideshead Revisited" breeze blowing through. Indeed, all the silk pajama stripes and bathrobe coats would have made Sebastian Flyte swoon.
Elizabethan flair came in the form of flared cuffs on short shearling jackets, frilly edged poets blouses for men and high, rufflike collars for men and women. Cotton jackets recalled doublets, as did some of the off-the-shoulder knits, while sweatshirts had ballooning sleeves with stud details around the elbow.
Dresses and jackets were made from tapestry intarsia, and there were chintz-style flower prints galore, with models wearing tulle skirts over printed shorts. And while the seasonless, see-now-buy-now strategy still needs to be tested, Bailey is sanguine about the future."It's very much the culture in the company to move forward, to try new things," he said. "Nothing is forever, we are testing things, we will reflect after the show what's worked, what hasn't worked, how should we have done it better. We certainly don't have all the answers."