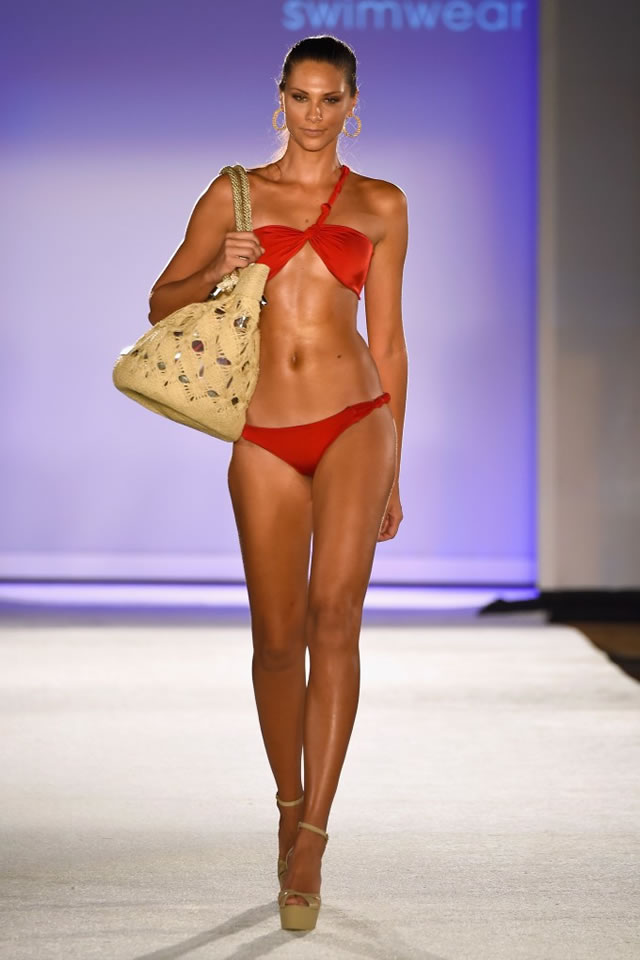 Caffe Miami Swim Week Spring 2016 Resort Collection
Caffé Swimwear presented its Spring/Summer 2016 collection on the runway at the W South Beach during Miami Swim Week. Inspired by the depths of the ocean, the new collection brought the enchanting underwater world to the land above with its high-fashion and easy elegance.
On the runway, the oceanic theme was seen throughout the collection, which delivered stylish silhouettes, bold statement prints and bright sea-like color schemes, inspired by one of the most beautiful and awe-inspiring wonders of nature. The color palette embraced fresh underwater shades of blue, turquoise, green, yellow, pink, and the fiery hues of coral reefs. Prints outlined the nature of the deep ocean with blue scales, red and green coral patterns, and anemone and jellyfish designs. The soft, lightweight silk crepe and cotton-silk materials provided a breezy, aquatic influence, combined with the intricate, well-detailed masterpieces that characterize the Caffé style. The swimsuits, flowy dresses, asymmetrical skirts and short and long kaftans effortlessly take you from the beach to the bar.
Caffé has quickly developed into the master of effortlessly chic beachwear since its introduction to the market in 2004. Designer Paula Saavedra is best known for elevating beachwear to high-fashion status with chic, sexy and undeniably stylish silhouettes for women who love to glam-up their warm-weather wardrobe. The brand's transitional styles are made for the jet-setting lifestyle, as well as for the laid-back with an eye for luxury.