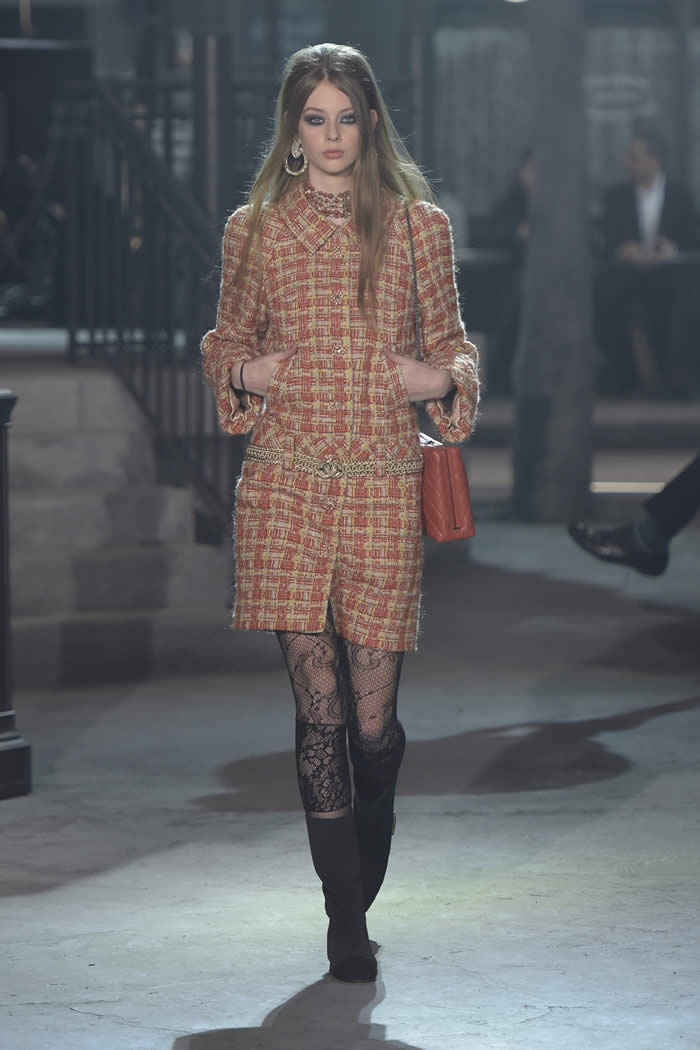 Chanel Pre Fall Collection for fall 2016
Leave it to Karl Lagerfeld to combine those familiar phrases with cinematic roots in order to create fashion fireworks for Chanel -and at a tender moment for the French capital, still shrouded in grief and gripped with heightened security following the Nov. 13 terror attacks.
"I didn't know when we started the idea of Paris in Rome that it would be the best moment to show a perfect, romantic Paris when Paris today in reality is the opposite of a romantic city," Lagerfeld said during a preview of his latest Métiers d'Art collection. "It's really unbelievable, no?"
Tuesday night's show, staged at the famed Cinecittà film studio No. 5, was a tour de force of saucy Gallic chic, paraded in a vast set depicting an idealized Paris neighborhood of yore, all in sooty black-and-white and complete with cheese shops, wine merchants, bakeries, an oyster bar and, of course, a cinema. The decor was a nod to late French production designer Alexandre Trauner, who famously designed sets for most of Marcel Carné's films in the Thirties and Forties.
Lagerfeld also premiered "Once and Forever," an 11-minute movie he directed that features Kristen Stewart as a fiery actress slated to star in a Chanel biopic - if only she could stop bickering with practically everyone on set. It was projected onto a giant screen in the outdoor La Piscina area of the studio, flanked by set elements from "Gangs of New York," just one of the 3,000 films that have been shot at the sprawling Cinecittà complex. Earlier, guests sipped cocktails amidst the statuary and buildings from the TV show "Rome."
The almost surreal pre-fall fashion show, like the film, unfurled an intricate narrative that connected Gabrielle
Chanel
to the movie business, and to the Eternal City.