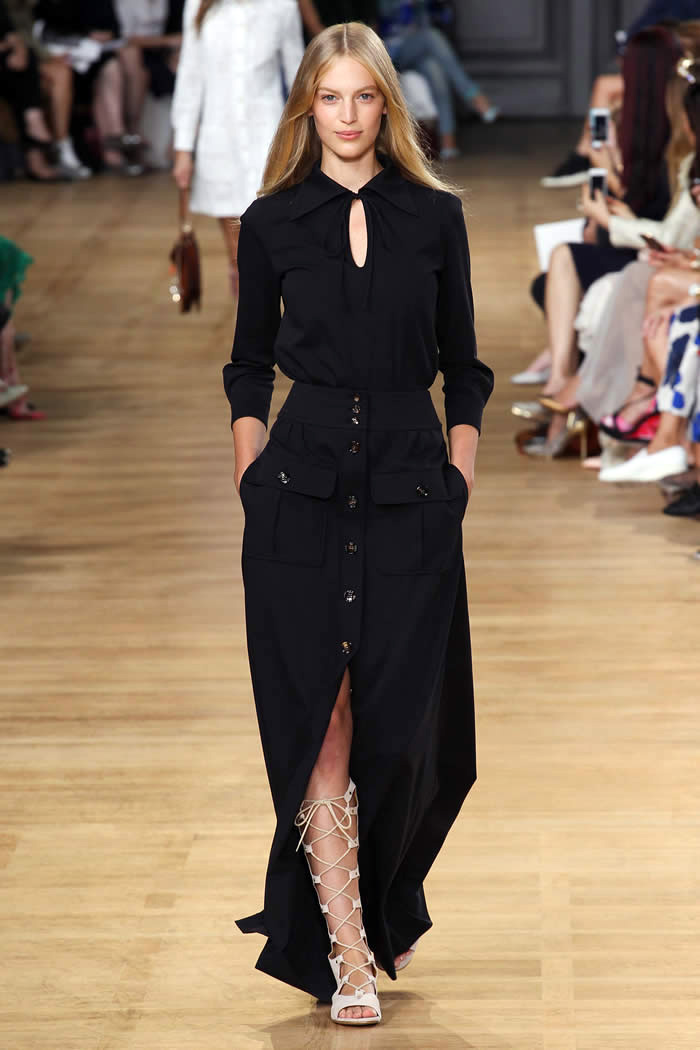 Chloe Collection for Paris Fashion Week Spring 2016
You can't imagine the palpable sense of relief when you go backstage to chat with a designer and his or her take on the collection is this: "Everything is just meant to be clean and simple; strong, honest clothes that don't get over-complicated." Today's recipient of the Keeping It Real award goes to Chloé's Clare Waight Keller, for it is she who made that statement in the moments before curtain up, while broderie anglaise lace, crisp topstitched denim, and gentle plissée chiffon passed by in a flurry of preshow activity.
While it's true it's not a sentiment you'd maybe want to hear from every designer don't go looking for Rei Kawakubo to say it anytime soon that's not exactly the point here. The thing is, it's precisely what Chloé, which always enjoyed a very direct and straightforward relationship with a girl when she wanted to look cool/hot/effortless/casual, should be. And since taking charge of the house three years back, this was undoubtedly Waight Keller's best (and loveliest) articulation of that partnership, rooting it in the sun-kissed, sexually liberated seventies, the decade that always seems oh so very Chloé. (The collection also provided a fine if unwitting tribute to the house's founder Gaby Aghion, who passed away on Saturday.)
Waight Keller opened with a series of short dresses constructed out of exquisite panels of lace in white or ochre, the fabric's fragile romanticism playing off the sportiness of the shapes. She gradually worked it into other looks, such as a deep navy skirt worn with a navy chiffon shirt, or later on, at the finale, in thigh-grazing graphic white or seafoam evening dresses with all the ease of T-shirts, but enriched by the delicacy of the lace. Between those two points, Waight Keller turned out great, wearable, no-fuss pieces (and oftentimes accessorized with Chloé's new bag, a capacious envelope-like shoulder purse with a chain strap and a sculptural circular metal clasp).
Denim, as redolent of the house as the lace, was used for an oversize shirt with straight-cut, slightly cropped pants and a soft, washed ankle-length button-through skirt, while suede appeared in a belted safari jacket or a skirt and a dress embellished with a gleaming chain-link detail threaded through their waistlines. And everything underscored that Waight Keller had achieved exactly what she had set out to do.