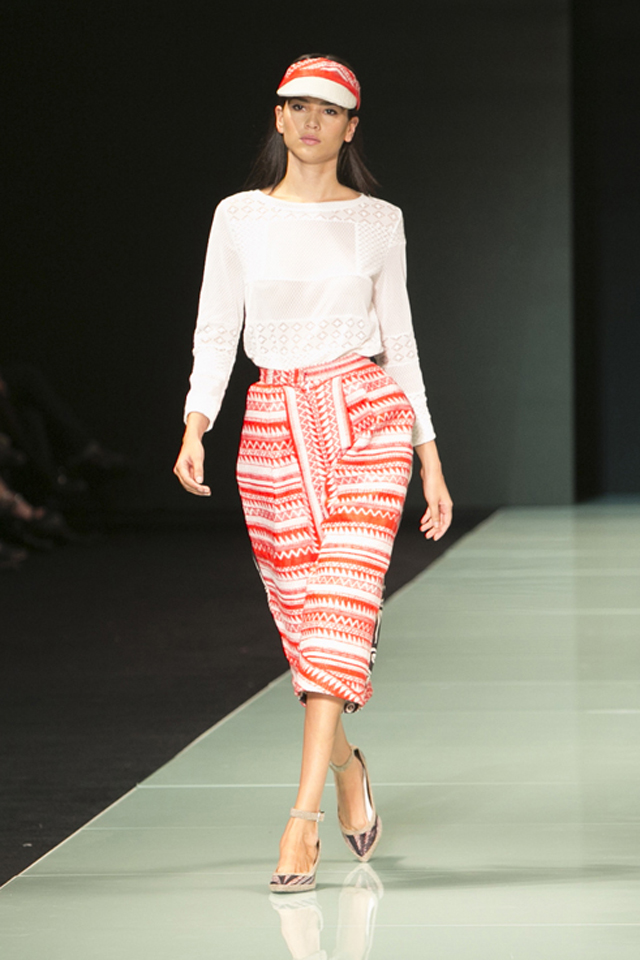 The marvelous first night of Miami Fashion Week 2014 completed with special guest Custo Barcelona, led by internationally famous designer Custo Dalmau, showcasing the Custo Universe collection with fuchsia reminiscent of summer and shades of reds.
On May, 15, 2014, the most anticipating Fashion week, Miami Fashion Week started its first evening of 16th edition with a succession of magnificent shows followed by the winner announcement of the Eastern Air Lines design competition and Highlighted by an extraordinary pre-spring collection by a Spanish fashion brand Custo Barcelona.
As the evening drifted towards the Eastern Air Lines design competition which showcased five Miami-based fashion designer contestants who produced and designed flight attendant uniforms that integrated ideas for vest, jackets, skirt, knee length dresses pants, blouse and a bonus look of the designers' own picking.
The Participating designers were also assigned with conveying the Miami/Caribbean/Latin American visual into their design collection, fashion designer Lisu Vega won the prize with her contemporary and modern catch on the flight attendant uniforms. Her fabulous designs will be used as the outline model for Eastern Air Lines flight attendants' uniforms on future flights.
To conclude the amazing night, special guest well-known fashion brand Custo Barcelona, led by innovative and globally renowned head designer Custo Dalmau, presented the "Custo Universe" collection with fuchsia reminiscent of summer and shades of reds. "We are very happy and excited to showcase this beautiful collection that was specially selected for Miami Fashion Week 2014," exclaimed Custo Barcelona, internationally famous designer. "It is a pleasure to be here in Miami, city that bridges us into our priority markets. A true delight."
The evening kicked off with the Miami Style Showcase and Miami Overture, which showcased the abilities and talents of local Miami designers. Erin Healey opened with the designs that expressed traditional couture with a contemporary edge and based on well textured fabrics and clothing, which followed up by the Vika Frovola with a seasonal capsule line of mischievous cocktail and evening dresses. Colombian-born, Fabirizio de Castro came after that with a collection ambassador of his strong flair and character.
Nicolas Felizola was the gazebo name of the Miami Style Showcase, showcasing women's resort wear collection and men's undergarment line. The UnderWorld line of Felizola characterized a series of bold and attractive men's underwear styles, whereas his women's resort wear captured the modest style and glamour that his brand line is famous for which is natural fabrics and effervescent hues.
Miami Fashion Week always highlighted the world's emerging and trendiest designers and brings them to the forefront of the American market. This year 2014 will celebrate the beginning of the first international podium for the pre-spring designer and resort/cruise collections.
Recognized across the world as the leading Latin American and International fashion event, Miami Fashion Week rejoices, beauty, lifestyle and most importantly fashion, and present a exclusive crossover of intercontinental cultures from entertainers, celebrities and designers from around the globe.
Miami Fashion Week is organized with the help and support of the Miami Beach Visitor and Convention Authority, the Miami-Dade County Department of Cultural Affairs and the Cultural Affairs Council and the Miami-Dade County Mayor and Board of County Commissioners.
Miami Fashion Week continued to next day with the Jones African American Showcase, Peru Showcase, Lola Kids show and ended with special guest Andres Sarda.