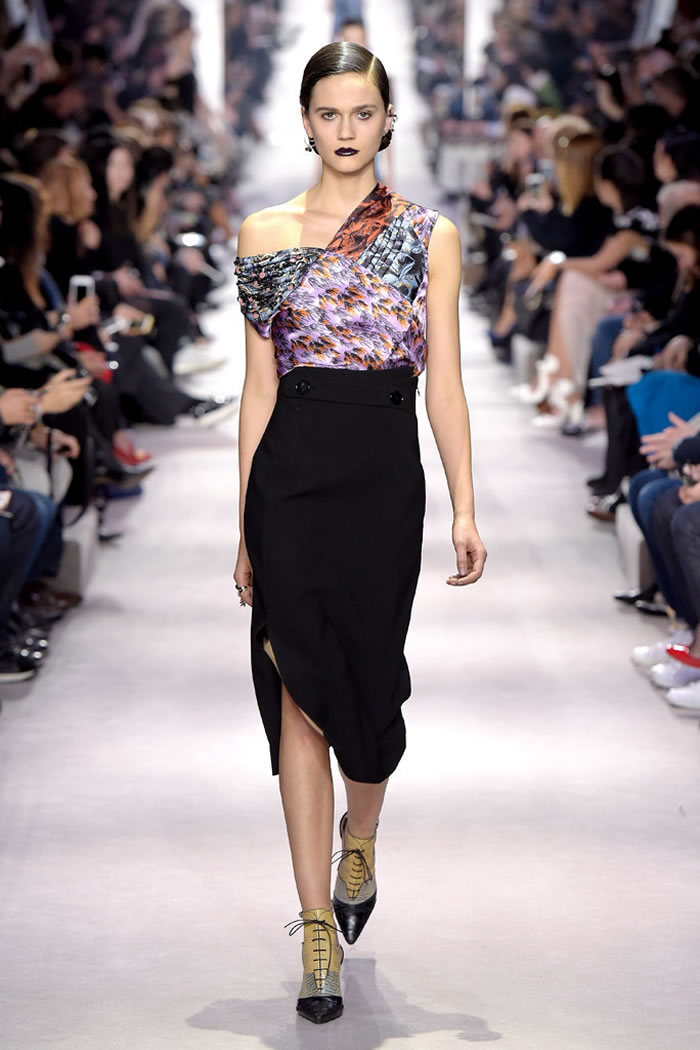 Dior Fall RTW Collection for Fashion show Paris 2016
Raf Simons has left the building and there's a collection to be done. What to do? Start with surprise! the B's: basic black and a Bar jacket. That was the approach taken by studio directors Serge Ruffieux and Lucie Meier for their Dior show on Friday. The result was a lineup of attractive, often alluring clothes. The kind of clothes that, at another moment, might have comprised the commercial counterpart to a more experimental runway show.
Meier and Ruffieux did a good job. They worked with a lean silhouette, sensual but not vulgar. Their emphasis on black began with sturdy fabrics and featured well-placed details a wide, self-fabric X buttoned onto a short coat; a V-shaped ruffle front of a knit top-and skirt look.
The designers integrated color and considerable decorative flourish, always controlled and usually in the manner of Simons, whose major contribution at Dior was the imposition of his modernist aesthetic on the house codes. This fusion continued in the way a fluid printed dress or camel cashmere coat draped at the neck, in fabric mixes does a hint of print from under a short, side-slit skirt, and some bold, unfussy embroideries. Evening offered some lovely looks that bared one or both shoulders with a hint of exotica.
Christian Dior's interest for them to showcase their own vision for the house. Whether fair or not is beside the point. It's the reality of fashion today.