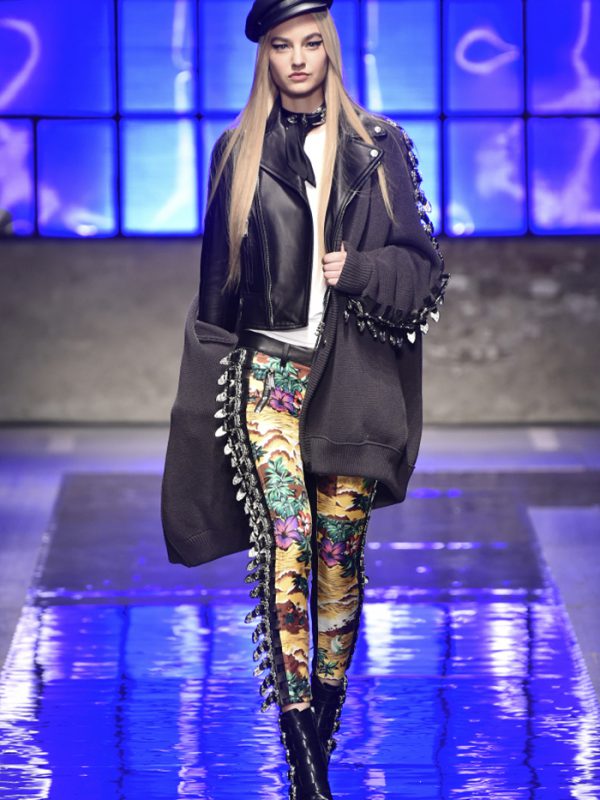 Have a loon on all the runway and model photos from the Dsquared2 Spring 2018 Fantastic Menswear collection.
Marlon Brando in "The Wild One," a lot of tropical motifs mixed with Western vibes and a pinch of Boy Scouts. That was the cocktail that Dean and Dan Caten served for spring. Setting aside any metaphors, the coed show was disorienting. There were too many elements, too many decorations, a little bit too much of everything although that's no surprise from the Catens.
This season, the designers seemed to have lost their way. Instead of their signature playful glamour, they delivered an exercise in exaggeration. The engraved buckles of Western-style belts became the signature embellishments of the men's and women's lineups. For example, they ran down the legs of men's leopard pants, trimmed the perfecto jackets and punctuated the oversized cardigans. Leather was crafted for men's skin-tight pants and mini skirts, worn with bold tops in tropical floral prints, sometimes embellished with allover embroideries of micro crystals.
Street hoodies clashed with the lace saloon skirts in the women's range, while Boy Scout shirts with patches felt out of place when paired with motorbike pants. The prom-like suits, including a design in an aqua color, didn't reflect the sartorial polish of Dsquared2's tailoring offering. Many of the brand's specialties, including the luxury denim designs and the cool, sporty outerwear, were missing in a collection that seemed like a lost opportunity to reflect the brand's growing business.