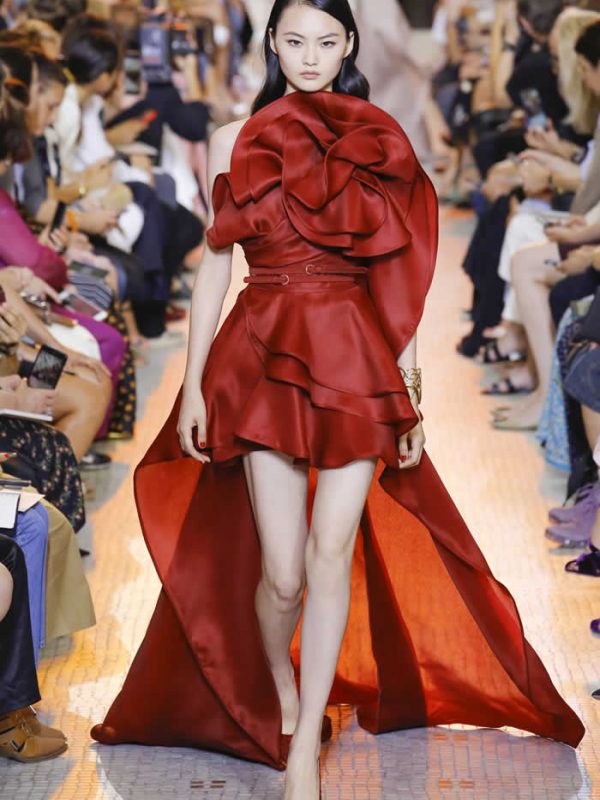 In an haute couture season where the client is queen, one would be hard-pressed to find a more relevant collection than that of Elie Saab, shown today in the Musée des Arts Decoratifs.
Elie Saab, his women always come first, above any artistic foaminess or the inevitable tides of fashion that sometimes allow prettiness and glamour to wash away. And his women come to him—to his ateliers in Beirut, London, and Paris—because they enjoy the confidence that comes with the exquisite, well-placed, and shrewdly scaled embroideries; a consistently flattering palette of neutrals and gem tones; and the technical mastery to allow super-high slits sans risk of compromised bits.
Royals, red carpet stars, and women whose lives are in their own way that helplessly glamorous love Saab for his sense of breathless beaded beauty; case in point, Game of Thrones's Rose Leslie who just last week married her dashing costar in Saab . . . and didn't she look lovely? This season, Saab sought design inspiration from the luminescent, whimsically irregular, and rigorously aspirational masterworks of Gaudí. This added a chic verticality to the embroideries, whether on a halter-neck ball gown or on an ornate, vaguely matador-esque tuxedo jacket.
There is a shawl-collared brocade coat, cut like a slim bathrobe, which is encrusted with gold and colored beads in Gaudí-ish formations, and paired with a matching mini sheath. The ensemble nods to rock 'n' roll and royalty, and could cut a swath in either world. And there are a series of evening dresses, mostly in rich gem tones (emerald, amethyst, garnet), but also in a gray-and-white Gaudí-like shadow print, for which sculptural ruffles take the place of any other form of ornamentation. The best of these are in silk chiffon—flattering, fluttery, unapologetically feminine.