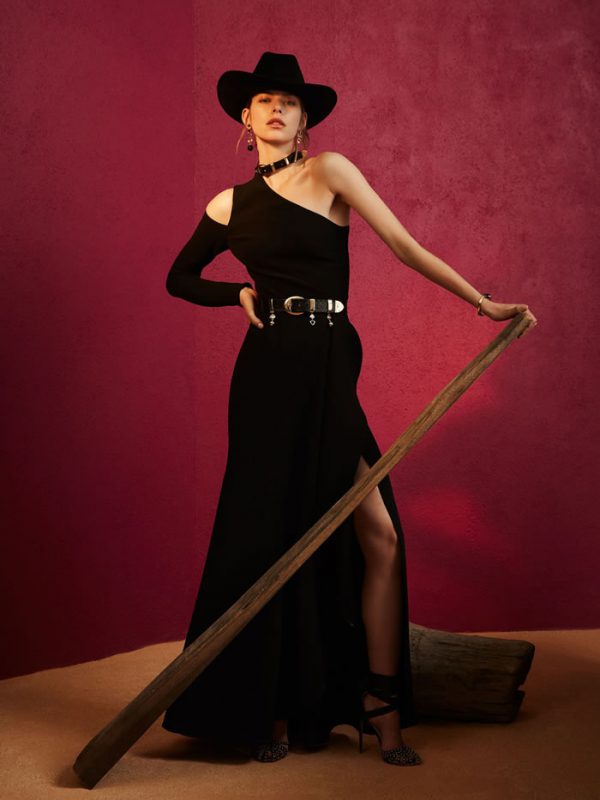 A Western theme inspired by the Sonoran Desert was underscored by a thread of sophistication, femininity and seduction.
Elie Saab has been drawn to destination themes lately. His spring collection looked to the Amazon; his latest to the nomadic Sonoran Desert. Culling from the arid region gave his signature ultrafemininity some grit, opening up his customer base as well. Expectedly, there was a Western theme, which lent itself best in making accessories more novel.
But there wasn't anything campy about this range. There was still a thread of sophistication, seduction and femininity. She's exploring and dreaming of faraway regions, she's not lost in them.
Pre fall ran the gamut of romance to trendy to opulent evening. Customers go to Elie Saab for formal gowns it's no surprise offerings here were the most graphic and alluring. Taking a cue from Mexican culture, fully beaded gowns were paneled in striking red, black and white. Elsewhere, sheer ponchos were tasked with being suggestive over sexy fitted dresses and fringe was elevated with beading on an ornate skirt. Silver and gold studs adorned big skirts in polka-dot patterns, paired with studded tights for a playful take on dimension.