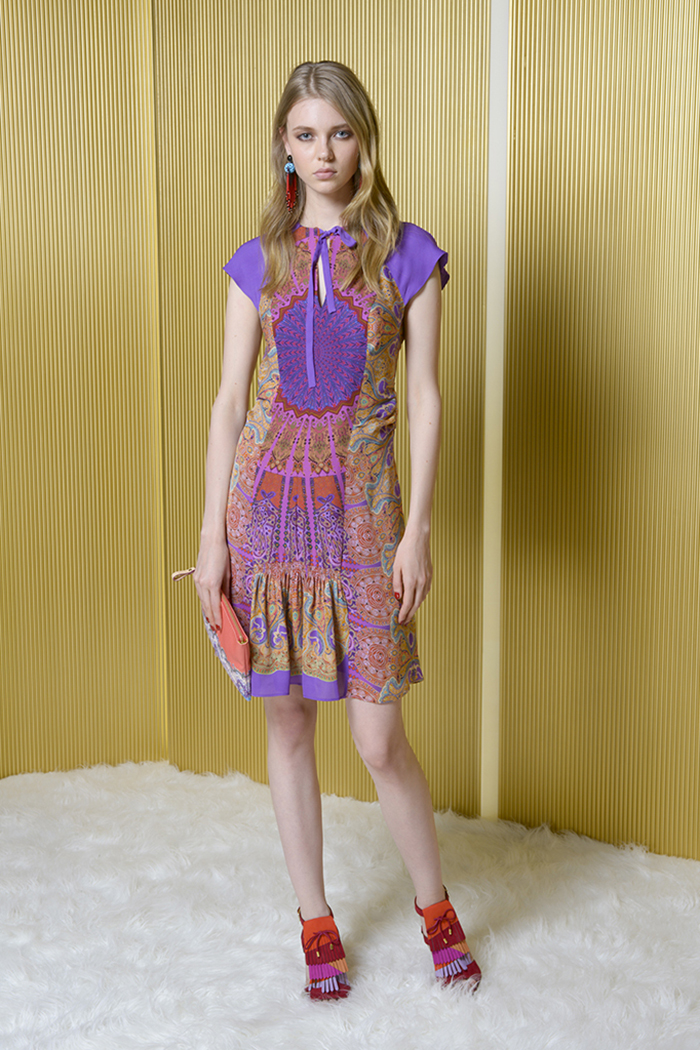 Etro Resort Collection for Fashion show Milan 2017
At the core of Etro's new resort collection lay the joy of traveling, of seeing the world and experiencing different cultures. A passage to India, in particular: Mandalas, motifs based on ancient Indian costumes and, of course, the brand's signature paisley were incorporated into flowing crêpe de chine dresses and blouses worked in a festive palette of grape, orange and blue. The characteristic bohemian-chic vibe also returned in a range of pieces with a hippie (and vaguely ethnic) feel, such as a precious jacquard elongated vest lit up by Lurex threads and worn with billowy pants, or skinny jeans trimmed with embroideries and tassels.
It wasn't all boho: creative director Veronica Etro did introduce some sleeker metropolitan silhouettes, such as a straight silk and viscose jacquard coat. But even here, she stayed true to the collection's flamboyant spirit, tingeing the silhouettes with gold and silvery prints. It added a sense of opulence to the aforementioned coat, which was matched with a coordinated skirt and shoulder bag plus a blush-toned, silk georgette blouse with delicate collar bow for a touch of ladylike restraint.