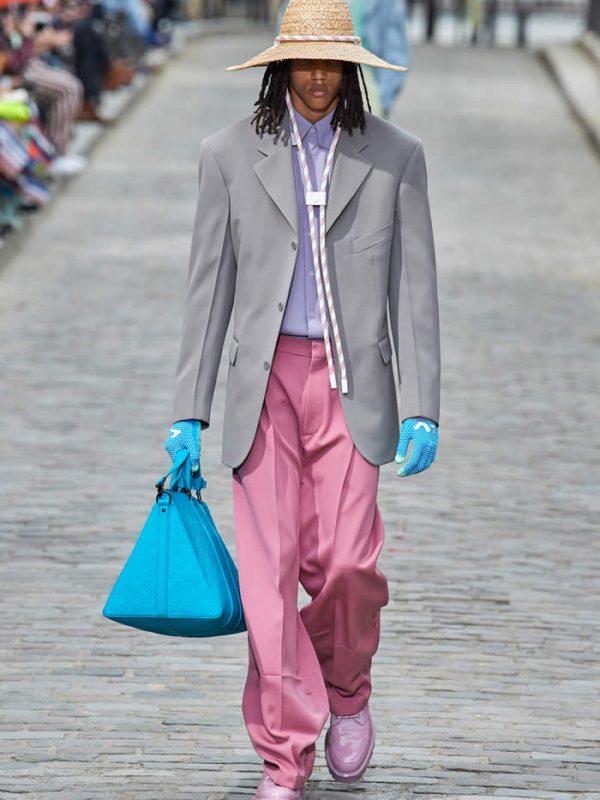 Virgil Abloh, a year into his creative directorship of Louis Vuitton menswear, thinks it's time to slow down and allow ourselves to appreciate the beauty of familiar things, to check in with a restorative childlike pleasure in the world.
His show was originally planned to be held in front of Notre Dame, but the fire put paid to that. Instead, he shifted it to the cobbled streets and cafes of the Place Dauphine, to give his audience a chance to sit under trees on Louis Vuitton park benches or sip a glass of Champagne at outdoor tables and contemplate a gentle, unfraught collection of easy shapes, wide fluid pants, pastels, flowers, and couture techniques passing by. He'd sent a Louis Vuitton do-it-yourself kite-making kit to everyone in advance—his invitation to grown men to remember the fun of boyhood.
It seems inconceivable that anyone as pressured as Abloh could have the time to pause and gather his thoughts, beyond getting the next thing done. He's coming off an intense few weeks, even for him, opening his retrospective exhibition at Chicago's Museum of Contemporary Art, showing Off-White men's yesterday, and now his third Vuitton collection today. But he says he'd planned out his Vuitton direction of travel well in advance. "I decided I'm not shifting gears every season—I saw that as a potential trap before I started. I stand for diversity and the idea that luxury can be something wider in this era. So I'm going to continue down that line, and continue this feeling of the whole freedom of being a child, still learning. I'm changing my pace drastically."
Program notes pointed out that he'd chosen the idea of wild flowers—never segregated in nature—as a metaphor for diversity. He'd brought in a florist to decorate a jute harness and the inner brims of straw hats with fresh flowers. It didn't read as a naive, bucolic narrative so much as one of this season's connection points between popular handmade craft and the work of the skilled people who work at luxury goods houses. "There is an atelier here with 24 sewers, and that's what makes it different," Abloh observed. You sensed his relish in cultivating super-sophisticated effects, like flower embroideries climbing up tulle coats, and a couple of immensely luxe iterations of hoodies, made from minutely pleated chiffon. "I'm learning, and taking much more of a couture approach."
Abloh is the fulcrum point of these changing times in fashion, creating common ground between the aesthetics of the cultures of streetwear and the exclusive domain of luxury. But we also need to add in his knowledge of the contemporary art world. Another level of consciousness here was his sub-referencing of the work of Christo and Jeanne-Claude, who wrapped the Pont Neuf in 1975—the bridge that connects Louis Vuitton's headquarters with the Place Dauphine location on the other side of the river. That's how the ties and tabs and bunchy shapes, released into pleated effects, came into his mind, he said.
That aspect of Abloh's mission is all of a piece with what his exhibition in Chicago is achieving—the breaking down of class barriers to education. "What's great about it is that there's a hundred kids an hour going in and poring over the work. I don't have to pitch it to anyone," he reflected. "I rebranded the institution. On the front, it says City Hall...my effective change is that proclaiming museums as City Hall, [I'm saying] go there and study artists! By me rebranding an institution with vocab, it's pointing people in the right direction." Same with Louis Vuitton, really. There's joy, curiosity, and positivity in what he's bringing to this brand. As he draws a new generation to line up at the doors, his example is seeding much more than the desire to buy.