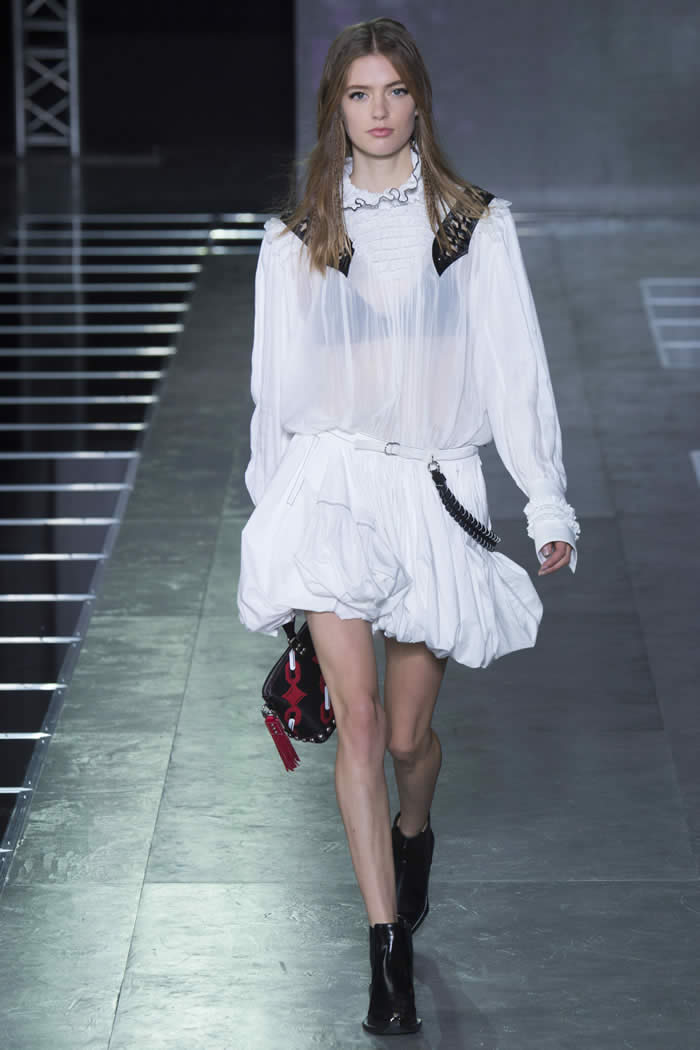 Louis Vuitton Collection for Paris Fashion Week Spring 2016
On the upside, a considerable up, Nicolas Ghesquière has worked through the "clothes for my friends to wear" approach with which he started at Vuitton. Here, he said his inspiration was "post-cyber," and "a travel to the frontier of the digital world," with a nod to the Japanese anime character Evangelion. He fused those references to Louis Vuitton's classic strengths, its codes and craftsmanship. That translated into motorcycle leathers, utilitarian jumpsuits in washed fabrics and kilts that swung more urban warrior than ceremonial. He contrasted traditional embroideries with glued-on variations and turned the house logo into tough stuff on the sleeves of leather coats.
Yet while claiming a new-generation digital orientation, Ghesquière also channeled Nicolas Ghesquière. The toned-down, post-apocalyptic mood recalled the darker side of the rock 'n' roll futurism he worked so brilliantly in his prior professional life. A good thing, because that, and not tepid retro, is his natural grounding as a designer. Ideas that drew lines, whether circuitous or straight: audacious patchwork motorcycle pants (or are they track pants? he queried backstage); tough-girl vests over white cotton froth-with-edge; a very specific rounded shoulder on a fishnet sweater.
Yet one sensed an urge to both temper and diversify his natural design instincts. In addition, given the mazelike configuration of the space, much of the audience saw only one girl at a time. But urban warriors are best understood as an army. At Balenciaga, rather than weaken the power of his message, Ghesquière's often-intimate venues created a vital tension that ultimately enhanced it. Here, some good clothes faltered under the weight of sometimes cautious application of his concept and too-demonstrative a set.