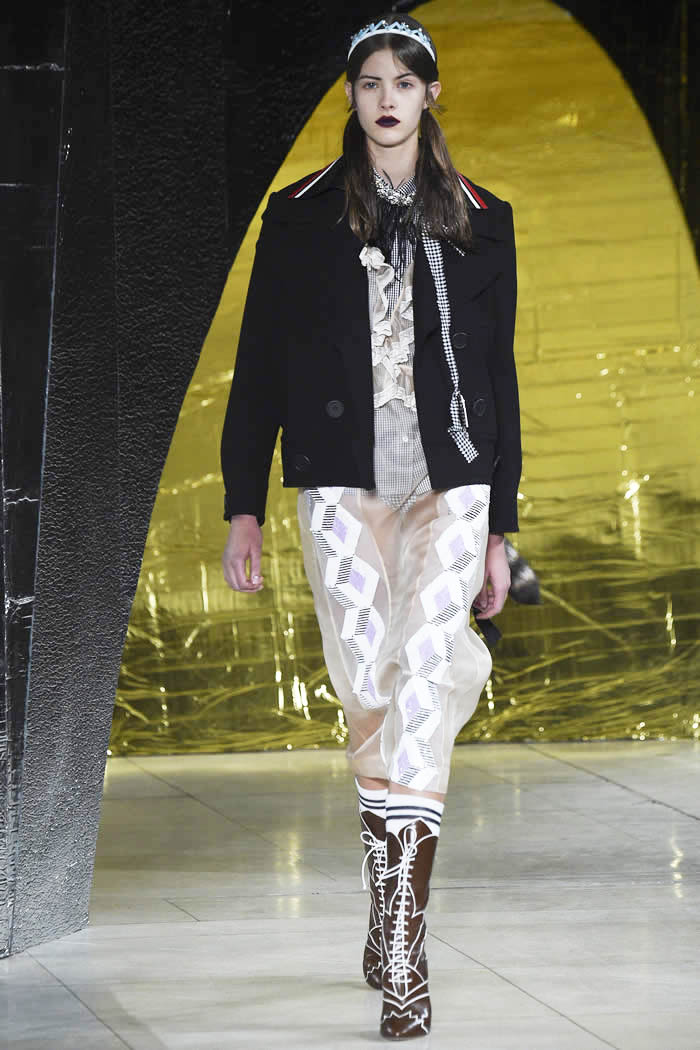 Miu Miu Collection for Paris Fashion Week Spring 2016
At the risk of stating the obvious, Miuccia Prada declared backstage after her Miu Miu Spring 2016 RTW Collection that "the world is becoming very irrational." Without getting specific, she acknowledged that such a statement is more complicated than anything that can be expressed on a runway. But she still sideswiped at frustration with a great collection about underground culture, protest and escape. "We all want to go beyond what's happening," said Prada.
If a collection can't be an agent of change socio-politically which, let's face it, is rarely the place of luxury goods it can be a portal to fashion fantasia. The lineup was stocked with dream pieces, splurges of the head-in-the-clouds variety, and of the pragmatic chic sense.
Working from the house-specific taste for retro, spanning roughly the Fifties to the Seventies, Prada built lean, polished silhouettes out of discordant pieces. The looks gave the impression of good girls/ladies in headbands and neat, tailored jackets over straight, secretary skirts, but Prada sent them appealingly off course via erratic colors, patterns and delicate perversions. A short, boxy red leather jacket had diamond patterns down the front that clashed with a turquoise skirt with a raccoon fur tail trailing off. Sheer pretty-baby nightgowns looked deliberately naïve and cheap (though they most certainly won't be) layered with primly buttoned-up shirts, skirts and a range of refined leather coats.
The season's fetish items powered up each look, particularly in the accessories: fabulous fur stoles with tails as well as shoes that veered between colorful, sparkly platform drag-queen dream boots, and bondage ballet flats bound with a bevy of straps. Contrasts were everywhere, yet for a show about irrationality, the clothes made perfect sense, especially within the Pradasphere.