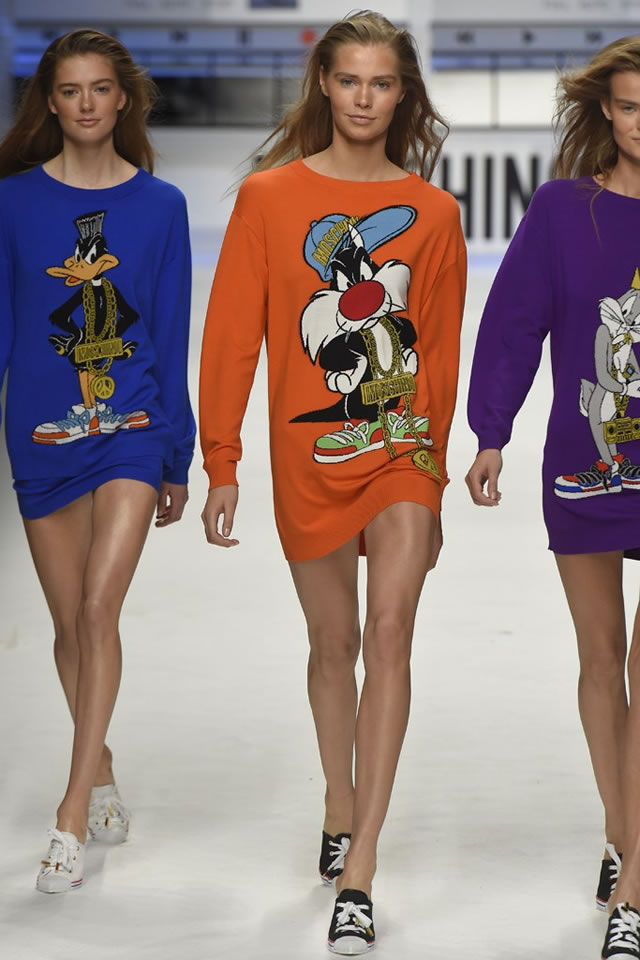 Fall Ready-To-Wear Fashion Show 2015 Collection by Fashion label Moschino
Jeremy Scott's fall target: early Nineties hip-hop and all its stylistic collateral. It's a joke a minute with this guy, and Scott let the references rip. There was egregious quilted leather and nylon in Lego Man colors bonus points for the backward red overall shorts that cued a throwback to Kris Kross' bad little fad of wearing one's clothes backward. (Anyone who was even mildly amused by this collection should go to Genius for the annotated lyrics to "Jump."
To commemorate one of the cheesiest moments in marketing history, when Looney Tunes tried to regain relevance by giving its characters hip-hop makeovers, Scott went even cheesier, sending out five models side by side in shirts no pants that bore the images of thugged-out Bugs Bunny, Porky Pig and the gang in Moschino bling. Chain lock necklaces; a bag shaped like a giant padlock; riffs on gaudy designer denim, which actually looked remarkably current all things considered. The punch lines raged on, culminating in a finale of classic pageant gowns tagged the old-fashioned way with colorful graffiti, which primed them for tagging on Instagram. Scott's
Moschino
spectacle is still fun. As they say, enjoy it while it lasts.