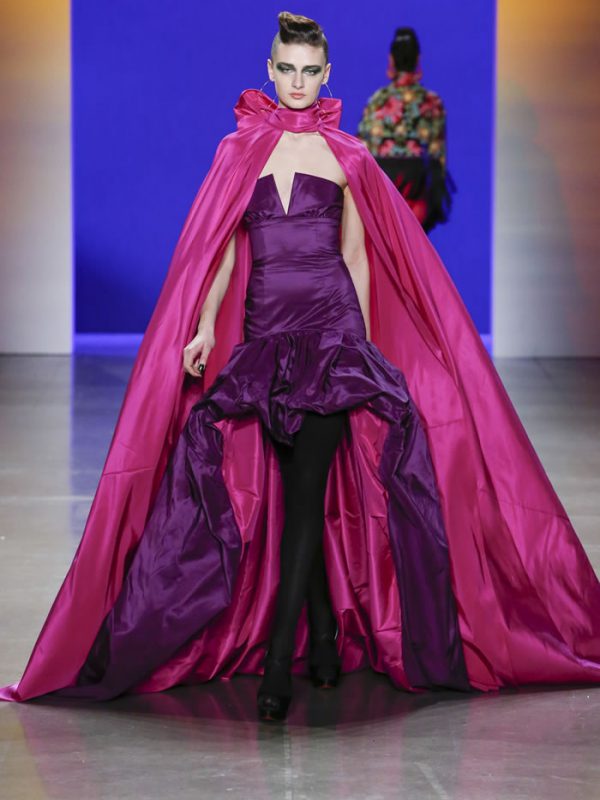 Naeem Khan is one who is bold enough turn the Statue of Liberty into a glam leisure poster girl, and while that may be a questionable move, there's no denying that Khan's intentions are pure he loves to make clothes for women who want to stand out.
What if Lady Liberty wore a velvet tracksuit? What if it came with feathers on the hood and sequins on the back? In Naeem Khan's America, this is exactly how she'd greet newcomers to our shores, resplendent in her 6-inch Louboutin platform pumps. As a designer, Khan never misses the opportunity to show glittering, over-the-top drama on a runway, and this season it was in full effect. Just as the collection ended with that rich, sparkly tracksuit, it started with various iterations of the same.
Zip up jackets and drawstring pants were hand embroidered with sequins and lace. Then came a jumpsuit with a Deco beaded deep V-neck and long sleeves. A gold embroidered animal print coat, a lamé bow blouse and matching pants, and a cape and satin bustier followed. It was sexy and vibrantly colored, and overall a little too much. That's what Khan's crowd wants though. They want to make an entrance with the crystals and taffeta and fantastical ball gowns.
His woman may be highly ornamented but still, she's furiously strong and confident. This was who Khan wanted to bow down to for Fall, specifically the ladies in his personal life that are, as he said, "strong, independent, motivated, and beautiful inside and out."