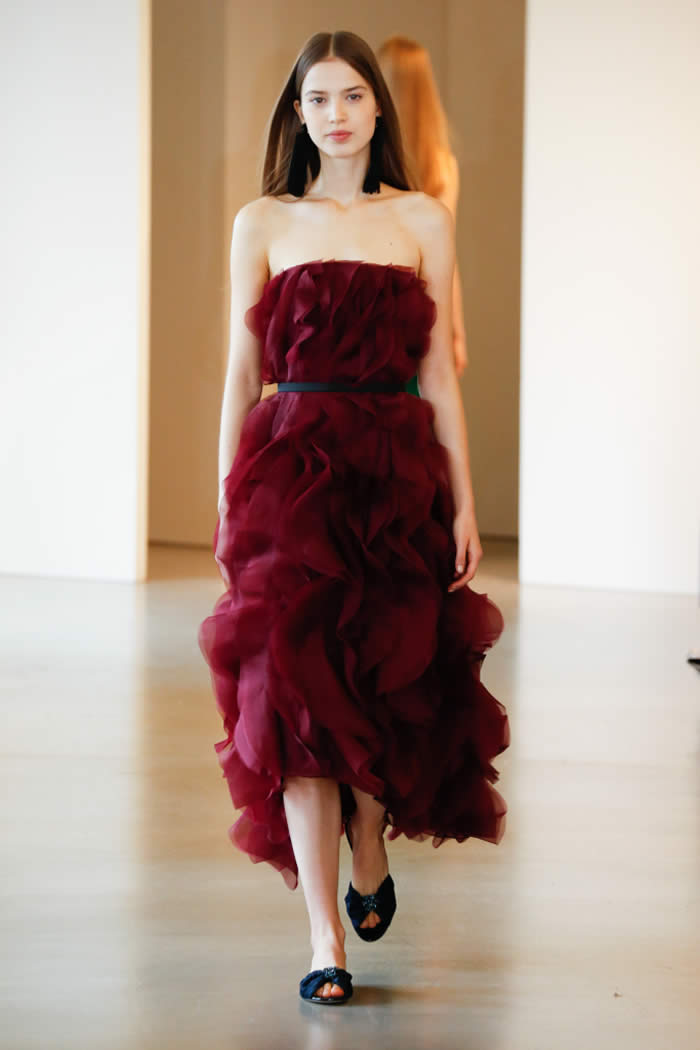 Oscar de la Renta Pre Fall Collection 2017
A final interim collection before the arrival of the new incoming designer always a tricky path to navigate. Oscar de la Renta's design studio fared well in that difficult situation, its last collection before the fall 2017 debut of incoming creative directors Fernando Garcia and Laura Kim come February.
During a presentation, chief executive officer Alex Bolen noted that in a recent chat with an industry veteran, the person observed that people don't dress up anymore. "I disagree," Bolen said. "I think we have to give them ways to dress up that make sense for the way we live today." Given that premise, the inspiration chosen to mine seemed a tad curious: "Alta Moda," Mario Testino's 2014 photo exhibition of people in traditional Peruvian dress (a show Oscar de la Renta brought to the Queen Sofia Institute during his term as its chairman). Two of those photos included in a pre-fall press kit presaged what might have been a costume-y collection. Instead, the design studio invoked the theme with smart discretion, delivering some lovely clothes. The designers focused on long, manageably full skirts paired to small tops and shirts, often with bell sleeves, and on inviting patterned knitwear. They worked in a colorful but earthy palette that makes sense for that transitional summer period which, increasingly, brands are addressing in pre-fall.
Yet not every woman will warm to a dirndl hemmed just north of the ankles. The collection also featured some short, fluid dresses and a healthy smattering of eveningwear. Save for the colors, these had little to do with the main message, particularly so the sequined column in giant checks interesting, yes; Peruvian, not so much.