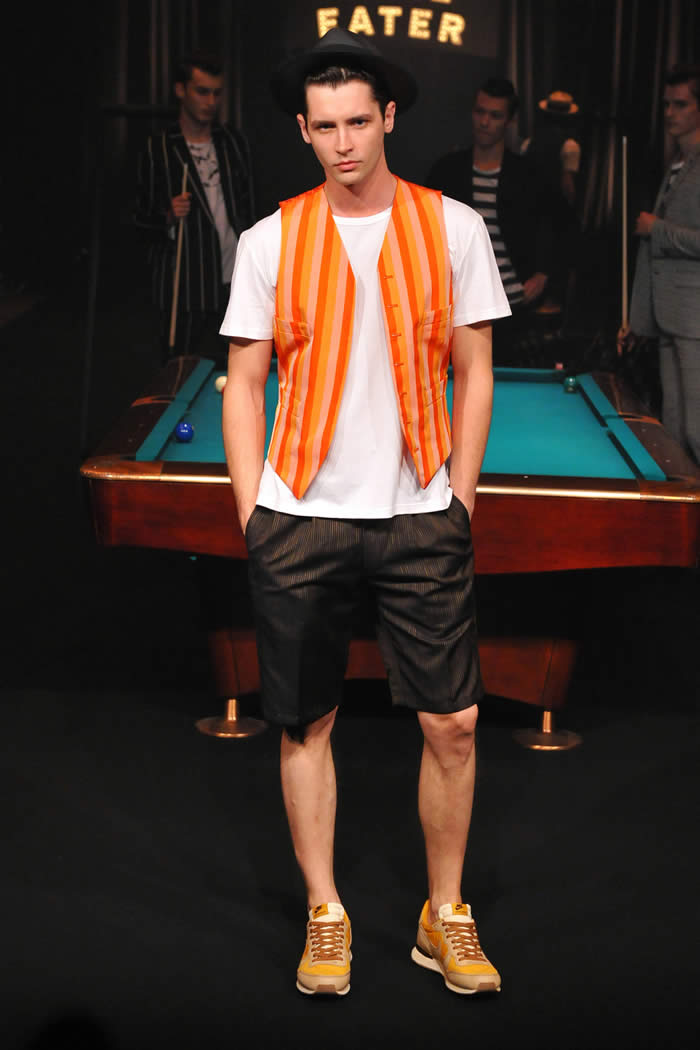 Patchy Cake Eater Mercedes-Benz fashion week Tokyo Spring/Summer 2016 Collection
Billiard tables, leather sofas and bottled beer dotted Shigeki Morino's spring runway, creating a setting reminiscent of a private club. Once the show started, models played pool in small groups before taking their leave one by one to pose for the cameras wearing the designer's latest Patchy Cake Eater men's collection. It was a unique and interesting staging choice, but the dim lighting made for somewhat difficult viewing of the pieces. What was obvious: The lineup in sync with the set veered toward cool via a series of tailored yet relaxed suits and separates.
Morino divided his looks into three groups. The first, casual wear, featured color-blocked T-shirts as well as striped or gingham shirts, vests, and even a short-sleeved tuxedo shirt and bow tie, all worn with smart chino shorts. These were followed by a series of suits with slim trousers that hit above the ankle and jackets that ranged from double-breasted and slightly oversize to shrunken and collarless and yet all bore Morino's relaxed yet elegant tailoring. Finally, the designer sent out a group of trenches and lightweight overcoats in classic tan, subtly striped and coated fabrics, or check suiting.