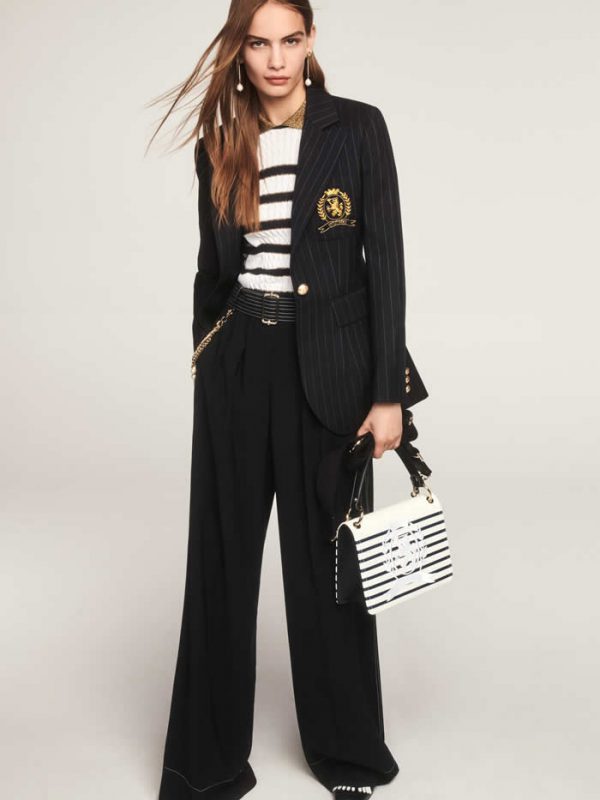 With his 35th anniversary on the horizon, Tommy Hilfiger is in a retrospective mood. For Spring 2020, the brand's original crest was writ large on classic striped button-downs and archival pieces that have been updated in time for the celebrations, including a cream and white varsity jacket.
Peek inside one of the reissued men's peacoats and you'll find a refresher on the provenance of that distinctive 1985 motif, a combination of lion, laurel, and sword, printed on the lining. For millennial men and women drawn to the designer's throwback styles, this will be a succinct lesson in fashion history. Preppy values remain at the heart of what Hilfiger does—the label's logo is a riff on traditional sailing flags, after all.
The most compelling reworkings of those codes came through in the collection's nautical bent, in charming maritime scarf dresses tied with ribbon, flag-print pajama suits, and seafaring parkas. Red, white, and blue have always been the core colors in the designer's vision of sportswear, and there were stars and stripes of every kind woven through his new offering, starting with a graphic star-spangled navy and white midi skirt and ending with a traditional American flag sweater.