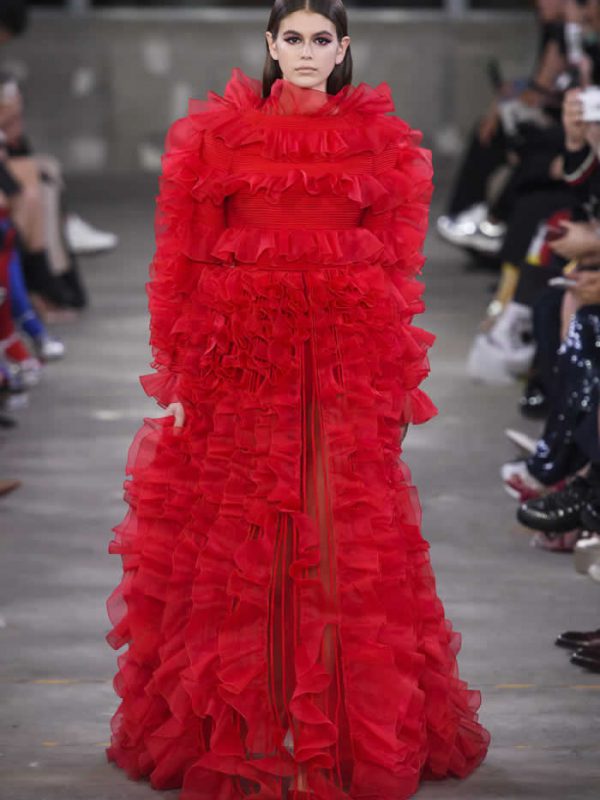 When it came to presenting a Valentino collection in Tokyo for the first time—Pre-Fall 2019 for both men and women (another first)—Pierpaolo Piccioli wanted to break away from the house's historical world of lacquered beauty and to put on a show in a concrete warehouse next to a river where ships once off-loaded their cargo. It was a statement of the way he has adapted the codes of the house to the modern world with intelligent focus and grace.
In this raw space, the refinement of the clothes stood out with added drama as the pianist Angèle David-Guillou performed her haunting composition "Desert Stilts" on a gleaming black Steinway to the accompaniment of lively strings. "I love the culture of Japan," declared Piccioli at a morning preview of the festive evening presentation. "It's so modern with a sense of tradition which is romantic, not nostalgic—it's part of the present." In a moment where cultural sensitivities in the fashion world are on high alert, Piccioli explored the subtleties of his host country with his characteristic soulful elegance, particularly the concept of ma—the space or interval between objects, or the telling pause in a conversation—and of wabi-sabi, which finds beauty in imperfection. "I've always been fascinated by this idea," Piccioli explained, "Western culture is about symmetry, perfection, static beauty, while wabi-sabi is more close to the idea of harmony, of inner grace.
Time goes by and it adds, it doesn't take away. It's really interesting for this moment—in the past, beauty was perfection, but I really feel beauty is about diversity, that this idea of wabi-sabi is very modern in this moment." Piccioli is also drawn to the Japanese art of kintsugi, of repairing the cracks of broken porcelain with a molten gold effect that adds new layers of beauty, "so the most broken pieces become the most precious—the opposite to Western culture. Time adds something to beauty." And what designer could fail to be moved by a culture that, as Piccioli explained, celebrates "the symbolic act of dressing up. People in the street dress like a ceremony, like a ritual"?
On the designer's mood boards and in his exquisitely produced collection inspiration books were such East-West juxtapositions as a kintsugi vase and a Piero della Francesca fresco in an Italian church, or Leonardo da Vinci's Lady With an Ermine with an exquisite ancient red lacquered Japanese figure. (Renaissance art also appeared in the purses produced in collaboration with Undercover's Jun Takahashi, which will only be sold in Valentino's Tokyo flagship store, but more widely available runway collaborations included puffer jackets designed for Moncler and the playfully surreal self-portraiture of the 21-year-old artist Izumi Miyazaki that appeared on loose dresses and parkas.)
Those mood board images appeared alongside photographs of iconic dresses from Mr. Valentino's archive—Brooke Shields in '80s red gazar ruffles like an unfurling rose; the '90s runway queen Yasmeen Ghauri in a fabled commedia dell'arte ball gown with a skirt made of lozenges of solid tulle ruffles in vibrant color; a flawless column of white crepe spliced by black crescent moons. Piccioli maintained that he wanted to "keep the prettiness and the romanticism, the codes of the house," but then apply the notion of wabi-sabi to those clothes to bring them firmly into today's world.
This meant that those airy silks seemed to have been crushed in the hand. Once-vibrant floral prints were reimagined in red over-dyed on black, and the house's signature ruffles were translated into flounces of mohair knit tumbling down a sweater scattered with self-color silk florets, while fronds of ostrich fluttered over the over-scale sleeves of a nylon bomber jacket or a man's bucket hat. That Ghauri dress became a black and white teddy bear coat as light as thistledown. The sunray pleats of a '70s gown were intriguingly applied to a man's suit and shirt, and the detail on a tight '80s cocktail dress was reworked into a top cut loose and free as a T-shirt. A voluminous opera coat, meanwhile, became a trenchcoat, inset with traceries of filmy black lace but grounded with hefty Doc Martens boots in black or scarlet, ensuring that even the most fragile of dresses was ready to face the mean streets.
As the spectacular finale of scarlet dresses fluttered by, a storm of red rose petals fluttered from the ceiling and the crowd went wild. Backstage, as he greeted playful Dynel-wigged influencers and chic local clients, Piccioli was thinking about the next collection. A quote from Heraclitus in his book of the collection—"The sun is new each day"—seemed especially resonant.