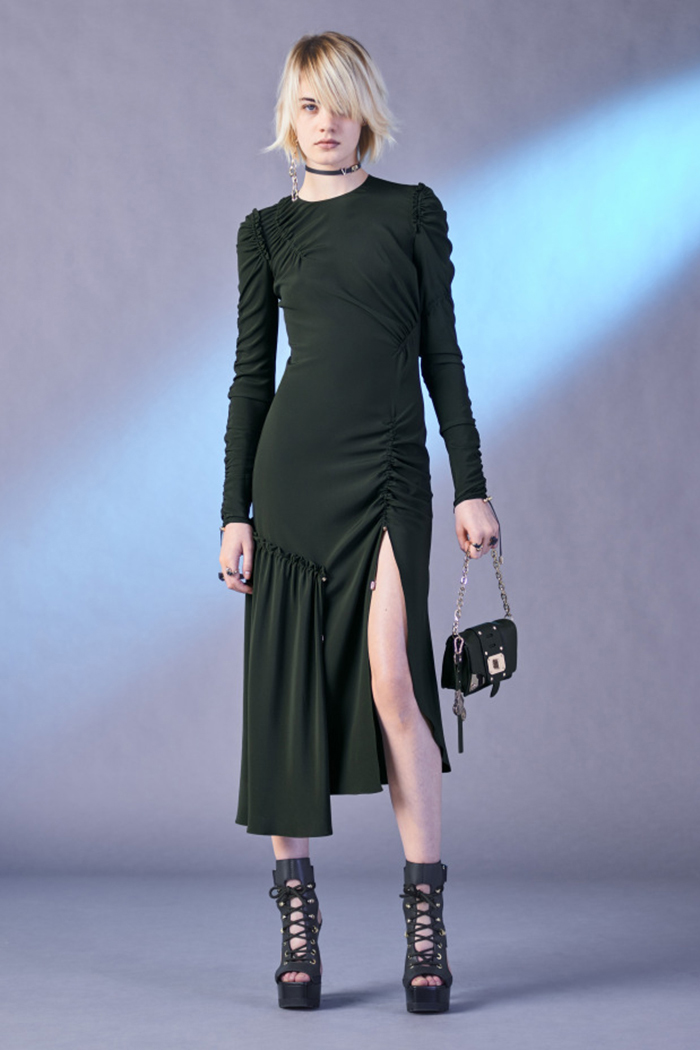 Versace Pre Fall Collection 2017
For her latest spring show, Donatella Versace took a trip to Planet Sportswear. With her pre-fall collection, she continued her exploration, but brought it to an urban level. She used innovative fabrics for a high-tech approach. A coated tweed resembling glossy leather was crafted from a biker jacket matched with an updated, geometric version of a kilt. Quilting and patching, along with intarsia decorations, enhanced the graphic attitude of modern staples, such as a zippered coat with a military feel, as well as an elegant peacoat. New silhouettes defined a more discreet femininity, tough yet always flattering.
For example, a skirt and a dress with a high slit were cut under the knee and punctuated by drawstring-like embellishments. The traditional camouflage was combined with Versace's signature baroque motifs on a silk parka and on a range of knitted and jacquard separates, while lace was rendered in a graphic quality echoing sporty atmospheres.
These also influenced the evening offering, where a see-through embroidered skirt was combined with a coordinated sweatshirt. With this collection, Versace demonstrated she is solidly paving the way to build a fresh, modern image for the brand, one celebrating the beauty of women, who are empowered through clothes reflecting their brainy sensuality.