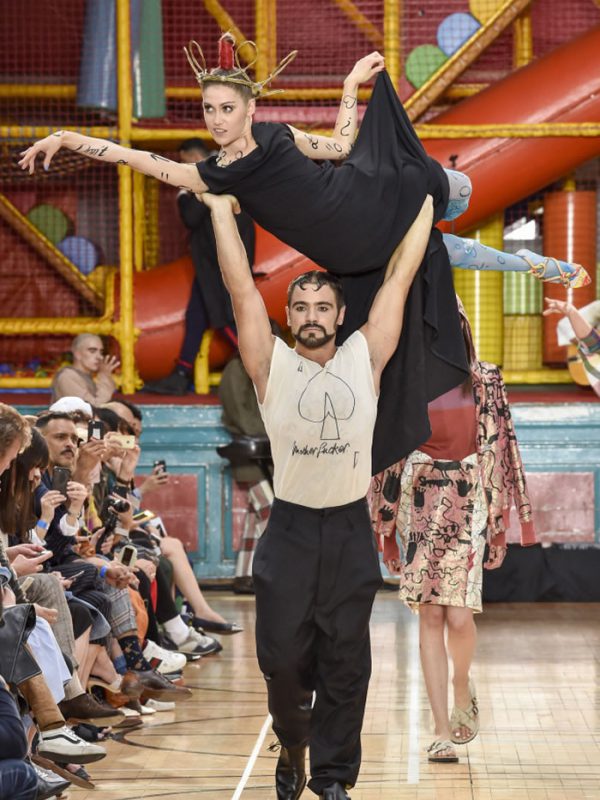 For a collection inspired by the end of the world, it was relentlessly colorful and upbeat.
"It doesn't mean not buying. It means choosing well," he said. "Buying less and choosing well. The real help is to consume less that's the best thing you can do against climate change. We are consuming like crazy. Do you know what I mean?"
Kronthaler added that the unisex collection, which fuses Vivienne Westwood former Red Label women's wear and Man men's wear line, was inspired by "the end of the world, Vivienne's campaigning and climate change. We need to save the equatorial rainforest. Without the forest, we won't be able to survive."
While The Apocalypse may have been Westwood's springboard, the collection itself was a cheerful, energetic outing, filled with finely tailored suits and elongated jackets and narrow, cuffed trousers; Westwood's signature draping for a summery white lace dress; and some cool knits in the form of a khaki ribbed dress printed with Japanese letters like a wooden shipping crate.
There were scribble and graffiti prints galore red hearts and diamonds, black clubs, dollar signs and question marks and scrappy silhouettes, too slashed sleeves on a cropped sweater, ragged patches on white trousers and flat sandals with soles made from crushed Evian bottles. Many of the models wore fishnets with crumpled and colorful bits of garbage stuffed into them and somehow that looked charming.
Acrobats, their faces painted like clowns, doubled as models, dancing and flipping and doing walking handstands up and down the gymnasium floor that served as a runway. The end of the world may be nigh, but for Westwood it's clearly one big creative opportunity.