The reality star made the request for the legal change in December, but her rapper ex has been dragging his feet to continue on with the legalities of their divorce.
Kim will change her name from Kardashian-West back to just Kardashian after a motion was granted by a judge at Los Angeles County Superior Court.
The motion to change her marital status has been granted before details of child custody and property are worked out. The couple shares four children together North, eight, Saint, six, Chicago, four, and Psalm, two.
Kanye has repeatedly tried to halt divorce proceedings despite the fact he has been linked to a series of models since he and Kim announced their decision to split.
Meanwhile, Kim remained single for almost a year before going public with her low-key romance with comedian and actor, Pete Davidson
View this post on Instagram
However, Kanye has certainly taken exception to their relationship going on lengthy rants about the actor on social media. In fact, things became so heated that Pete deleted his Instagram just weeks after returning to the platform.
Not content with his social media tirade, Kanye decided to take aim at Pete once more but this time in his latest bizarre music video.
In the clay animation video, Kanye's character kidnapped a Pete lookalike and threw a bag over his head before tying him up and throwing him on the back of an all-terrain vehicle.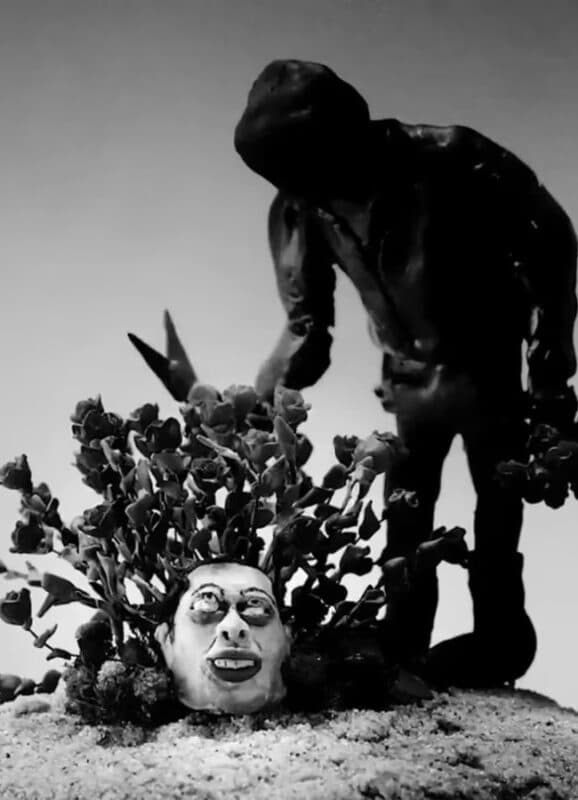 He was then seen tied up in ropes and being dragged through the sand before being buried alive with his head positioned above the dirt.
The rapper's doll then grabbed rose seeds and poured them over Davidson's head, before watching the flowers bloom.
Things got even weirder as he then cut the flowers off Pete's head and packed them into the back of a pickup resembling the same vehicle he parked outside of Kim's house on Valentine's Day.
In the song, Kanye mentions his ongoing divorce, rapping, 'We havin' the best divorce ever. If we go to court, we'll go to court together. Matter of fact, pick up your sis, we'll go to Kourt's together. I watched four kids for like five hours today.'
'I wear these Yeezy boots everywhere, even in the shower today. I got love for the nannies, but real family is better. The cameras watch the kids, y'all stop takin' the credit.'
Kanye holds what appears to be Pete Davidson's decapitated head as he raps, 'God saved me from the crash, just so I can beat Pete Davidson's a**.'
The clip ends with a pointed message to the Saturday Night Live star which read, 'Everyone lived happily ever after, except Skete' before crossing out the name and writing ' you know who'.
That's a lot to take in, we know.