South Korean high street brands looking to break into the lucrative Chinese fashion market staged a special fashion show here Tuesday night.
The Patricia Field-styled show, held in a boutique hotel by the Huangpu River in Shanghai's up-and-coming South Bund district, attracted hundreds of the city's most fashionable people. They took their seats around a snaking runway front row seats for everybody while a parade of mostly Chinese, models marched in time to remixed K-pop tunes.
Part of an ongoing effort by the Korean government to promote Korean fashion brands overseas, K-Fashion Project events have run regularly in the United States over the past few years, but this was China's first taste. South Korea's Ministry of Trade, Industry and Energy and the Korea Fashion Association sponsored the event.


"Fashion is part of a lifestyle and China is already familiar with the lifestyle of Korea, which has a cool association for Chinese consumers," said event organizer, Cindy Hahn. "Once [consumers] know the brand names the Korean brands will have more power to sell their brand here. Now is the time to set up these big marketing platforms to promote these brands."
The three participating brands, Jessi NY, Zishen and Buckaroo Jeans, all currently have a small-scale retail presence in China, but are looking to become household names among China's fast-growing middle class consumer segment.
While Jessi NY caters to a youthful clientele and focuses on simple, wearable pieces, Zishen's customers skew a little older and favor a more conservative, occasionally preppy look. Denim brand, Buckaroo Jeans, caters to urban cowboys and girls with a harder edge and accompanying tattoos with plenty of studs, rips and midriffs on show.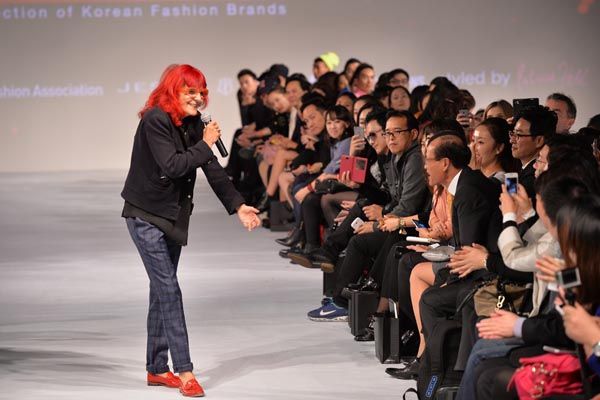 "Right now, Korea is the most sophisticated and current fashion spot in East Asia. Japan was the leader but I think Korea is really stepping out, they have the now fashion, the now music, they are on the zeitgeist of it all. For me personally, Korean is the place I go shopping in Asia," said Field, who is also acting as an "ambassador" for K-Fashion.

Chinese consumers have already embraced Korea's cultural exports including music, film and melodramas as well as beauty brands in a big way, which might give Korean fashion brands an edge in an increasingly crowded marketplace.
"In general, Korean brands are seen as trendy, good quality, visually appealing, and cool. However, I don't think that many Chinese consumers actually have deep knowledge of them. I think it is more that people are interested in the Korean fashion style and how to replicate that, rather than following the brands," said Mindy Shin, an analyst at BNP Paribas Group's digital consulting unit, L'Atelier.
Jason Spencer, managing director of Millward Brown in Shanghai, believes that Korean fashion brands are well placed to ride the popularity of K-Wave by partnering with celebrities and leveraging existing positive associations with the country from Chinese consumers, though he would advise that brands go beyond current trends for longer-lasting success here. "Korean melodramas are appealing to Chinese consumers for a reason. Uncovering those reasons may shed light on the deeper sociocultural elements of Brand Korea that could help resonate more keenly and more flexibly with Chinese consumers," he said.
According to Shin, Korean brands keen to make an impression in the China market, may not necessarily need a China-based marketing push. Traveling and highly connected Chinese consumers may be able to do the job for them, Shin explained. "These days, there are more and more Chinese consumers visiting Korea frequently for shopping trips, and they share their experience and knowledge through the Internet. Thus, popularity in the Korean market can also positively affect a brand's reputation in China," she said.