Have you heard? Philly native Bradley Cooper, 44, and his model girlfriend Irina Shayk, 33, have ended their relationship. The tabloids have been running wall-to-wall coverage of the split over the last two weeks, offering wild and varied theories about the breakup: Was Lady Gaga involved? Did Shayk want out of the relationship so she could party and have fun? Did Cooper become "emotionally distant"?
 We will probably never hear the truth from Cooper and Shayk themselves, as Cooper has made it his policy to not discuss his private life in the press. (See: Taffy Akner's profile of him from last September, in which he refused to discuss anything remotely personal.) Shayk, too, has declined to talk about her romantic relationships with reporters, telling Glamour U.K. last year, "Because my work requires me to be out there, I just decided my personal life will be quiet. That's why it's called personal, because it's something for you and your family and I feel happy with it."
This personal privacy policy made it so that anything Cooper and Shayk did say about each other during the relationship, like Shayk's statement above, got an inordinate amount of attention in the tabloids. Also scrutinized were their paparazzi photos—with such a dearth of information about the couple, fans and the media read into every public appearance for clues about the relationship. (Remember that video from Wimbledon in 2016?) And then, of course, there were the Gaga rumors. We'll get to those, but first, let's take a look back at Cooper's relationship history to get some context on this most recent breakup.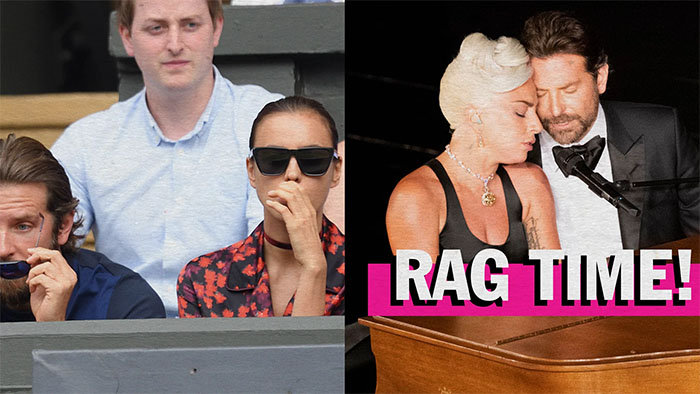 Before Irina, there was Suki
Prior to his relationship with Shayk, Cooper had a scattered dating history. He was briefly married to the actress Jennifer Esposito in the mid-2000s; she has since appeared to characterize their relationship in a, let's say, negative light. After Cooper and Esposito divorced, Cooper had several other short, privaterelationships with actresses like Zoe Saldana and Renee Zellweger (he dated Zellweger for two years without ever appearing in a photo with her or confirming the relationship). And then, somewhere around his 38th birthday, he seemed to decide it was time to settle down. Two months after the 2013 Oscars, to which he brought his mother as his date (something he has done several times), he started very publicly dating then-21-year-old model Suki Waterhouse.
 Cooper and Waterhouse were photographed everywhere during the course of their two-year relationship, and some of their paparazzi outings seemed engineered to garner maximum attention. (Who could forget this set of images, taken in Paris a few months into the relationship, of Cooper cradling an overalls-wearing Waterhouse like a baby and reading to her from a paperback copy of …Lolita?)
In addition to appearing in totally candid paparazzi photos with him, Waterhouse dutifully supported Cooper during a busy time in his career: She was his date during awards season in 2014, when he was nominated for American Hustle, and in 2015, when he was nominated for American Sniper. (Waterhouse, incidentally, is British.)
But just a few weeks after the 2015 Oscars, People reported that Cooper and Waterhouse were no more. The interesting part? A source told the tabloid that "the couple ended their relationship before the Oscars in January but remained friends and attended the award show together." The source added that they were spotted out to dinner the night after the ceremony but "they didn't seem affectionate during the meal." E! News followed up People's report that Cooper and Water house broke up in part because, at 40, Cooper was ready to have children, and, at 23, Water house was not. Two months later, Cooper was spotted out with a slightly older model—Shayk, then 29—in New York City.
A new girlfriend for the Oscars
Cooper's relationship with Shayk followed a similar pattern: Over the course of four years, they were photographed together at relative intervals, and she supported him at work events. As Joan Summers pointed out at Jezebel, Cooper and Shayk's photo-ops were often tied to her fashion partnerships, which is nice. In 2017, the couple had a daughter together and named her Lea de Seine Shayk Cooper.
For most of his relationship with Shayk, Cooper was working on making his directorial debut (and best hope for an Oscar) A Star Is Born. The project spent years in development, so Cooper did not have any movies in awards contention in 2016, 2017, or 2018. But when it came time to premiere and promote ASIB, Shayk was there and publicly supportive, even though the relationship may have been coming apart behind the scenes. The week after ASIB premiered in October, Page Six ran a story about Cooper and Shayk having an unfriendly dinner date, reminiscent of Cooper's post-Oscars outing with Waterhouse in 2015.
"They were not looking happy," a source told Page Six of Cooper and Shayk's date at Masa in New York. "The couple sat down. He was in a hoodie and she was fresh-faced—no makeup—and they barely spoke to each other at the start of the meal. Halfway through, she started looking off to the side and he was moody."
A couple of days later, Page Six followed up with another story about the state of Cooper and Shayk's relationship. "They are miserable together," a source alleged. "They have been for months. He doesn't drink and is into spirituality. She wants to go out." Still, Shayk dutifully accompanied Cooper to ASIB events and awards shows through the beginning of 2019. (It is worth noting that the only time Cooper acknowledged Shayk publicly during the course of their relationship was when he was onstage accepting an award at the BAFTAs. "Most of all I have to thank Irina for putting up with me, for all the music I was trying to make in our basement for a year," he said. "Thank you very much.")
Shayk politely smiled through Cooper's much-talked-about Oscars performancewith Lady Gaga, and she was photographed with Cooper a couple more times after awards season. But by June, Page Six reported that the relationship was "hanging by a thread." People—every publicist's go-to tabloid for bad news—officially reported that Cooper and Shayk had broken up on June 6. The report set off a wave of tabloid coverage about the breakup, including dramatic updates on Cooper and Shayk's whereabouts. Cooper went out for a "guys' night" at Sunset Tower! Shayk left the couple's shared home wearing a jumpsuit and carrying a SUITCASE!
And then Lady Gaga started to overwhelm the narrative.
The Gaga of it all
Rumors about a romantic connection between Cooper and Gaga flew throughout the promotion of ASIB—particularly when she broke up with her fiancé in the middle of awards season—but they peaked at the Oscars, where the two performed a stunning, intimate rendition of "Shallow" as Shayk looked on from the audience. The moment got an insane amount of attention from fans wondering whether Cooper was really in love with Gaga (like he was in the movie!).