She flashed her cleavage when she wore her silver jumpsuit while opening for Miley Cyrus' Bangerz Tour earlier this month. But it seems that Lily Allen, 29, is a sucker for punishment as she wore the very same offending item to perform at V festival in Hylands Park, Chelmsford on Sunday.
Not only that, but the very same faux pas occured and the stunning singer found herself flashing her chest once again. While the belted ensemble showed off her svelte physique, Lily added a touch more 'disco' to her look with a pair of pink glittery plastic sunglasses.
She also styled her dyed red locks into two French plaits and accessorized with a pair of gold hoop earrings. On the same day, the Hard Out Here hitmaker shared a picture of herself wearing a multicoloured jumpsuit and wrote: 'Silly outfit, cool speaker #jblpulse.'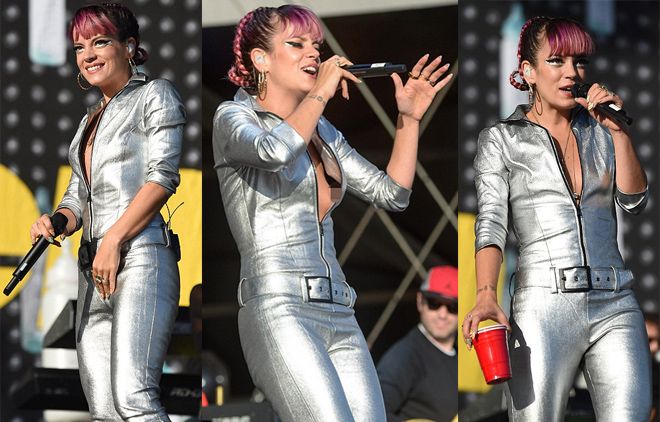 Lily has been making some bold fashion choices of late and on Saturday, she performed at Weston Park in Staffordshire and was sporting a golden glow that may have come out of a bottle.
She took her look back to the fashionable 90s and was sporting a neon bandana-style top which flashed her abs as well as a tiny pair of ripped Daisy Dukes.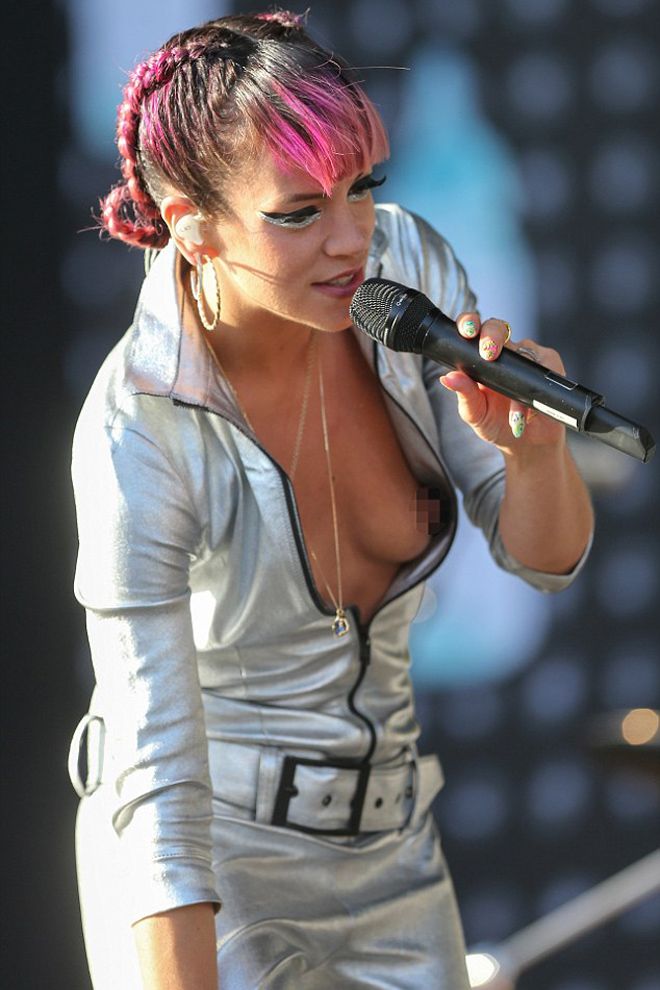 Despite being quite the hit onstage, the singer was looking forward to seeing up and coming performer, Jhene Aiko and tweeted: "What time is @JheneAiko on at @vfestival today?'
Other artists performed at Sunday's Hylands Park festival include Katy B, Rudimentals, Ella Eyre, Neon Jungle, Nina Nesbitt and Childish Gambino.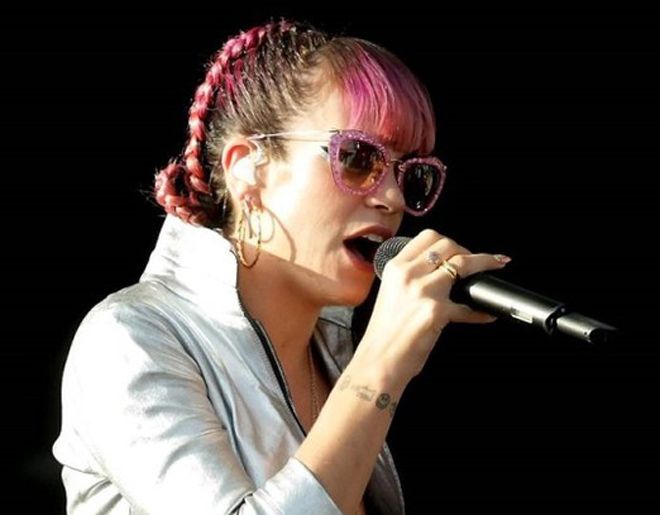 On Sunday, Lily also pinned her latest video to the top of her Twitter page to remind her followers to check it out. The single, As Long As I've Got You is a tribute to her husband, Sam Cooper, who Lily met while at Glastonbury one year ago.

Lily Allen and Miley Cyrus flashing pants… by designerzcentral