Glasses firm Mykita officially launched its new collaboration with Maison Martin Margiela and opened its latest global store Thursday in Bikini Berlin, the city's most buzzed about retail space. It's the second location in-town for the local eyewear innovators, who were looking to find a western counterpart to their successful shop in the eastern Mitte district. Mykita found a match in this new concept mall, which has been championed by leading city retailers Andreas Murkudis and Robert Klanten of Gestalten Verlag, both of whom have spaces in Bikini Berlin.
"It's a little bit like a laboratory, an experiment to have a Mykita store in a mall," said Mykita co-founder and chief executive officer Moritz Krueger at the opening. "But my first impression is it works quite well." Eventually, Mykita will have a triple play on its hands — they also have a shop-in-shop at the Murkudis store located one flight up at Bikini Berlin, and will also be present in a fashion store opening later this year in the mall.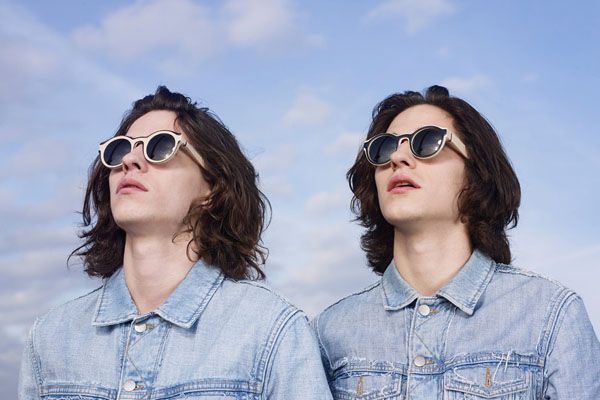 Stepping outside a shop packed with partiers, Krueger took a moment to show off a gleaming golden pair of sunglasses from the two-part Margiela collaboration. Made only from hi-tech powder-coated stainless steel, the whisper-light frames are inspired by classic shapes from the 1930's. "It's historic and futuristic at the same time," he commented. Along with the Essential line of metal frames, the Mykita + Maison Martin Margiela collection includes the trompe l'oeil two-tone acrylic Dual frames; all models retail for 375 euros, or $518, and enter eyewear and fashion distribution in May. Krueger said Mykita worked carefully to translate the codes of the experimental fashion house in creative ways, without falling for obvious traps, like deconstruction. "Margiela is for me the greatest free thinker in the world of fashion, they're always doing things their way.
So we wanted to find strong concepts that are easily recognizable and can be translated over the seasons," he said. The collaboration will run for three-and-a-half years, with plans for the next step already underway. The entire Margiela team were in Berlin on Friday to start work on the next Mykita + Maison Martin Margiela collection for September.