Nicki Minaj was forced to awkwardly hold her LBD together while belting Bang Bang onstage with Jessie J and Ariana Grande at Sunday night's MTV VMAs. The 31-year-old rapper's wardrobe malfunction appeared to be due to a stubborn front zipper on her long-sleeved velvet creation.
But the former American Idol judge did not let her dress disaster keep her from properly kicking off the ceremony alongside the English 26-year-old and the 21-year-old ingenue. The diva trio's track Bang Bang debuted at number 6 on the US Billboard Hot 100 after premiering July 29.
Nicki, accessorised her unfortunate frock with a curly ringlet wig and fierce b&w-patterned booties. And the back of Minaj's costume featured a sheer mesh view of her toned back. It didn't take long for the four-time Grammy nominee's fans to create the hashtag 'Did Nicki,' which quickly began trending on Twitter.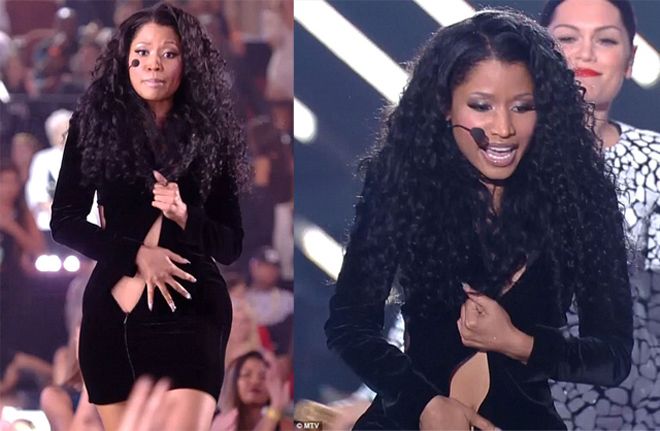 The Anaconda hitmaker did not encounter nearly as much trouble with her other two ensembles – a green bra-top & shorts and an underwhelming snakeskin mini-dress. Also in store is the release of Jessie J's Bang Bang music video, which she and her collaborators Nicki Minaj and Ariana Grande will premiere on BangBang(dot)mtv(dot)com after the MTV VMAs.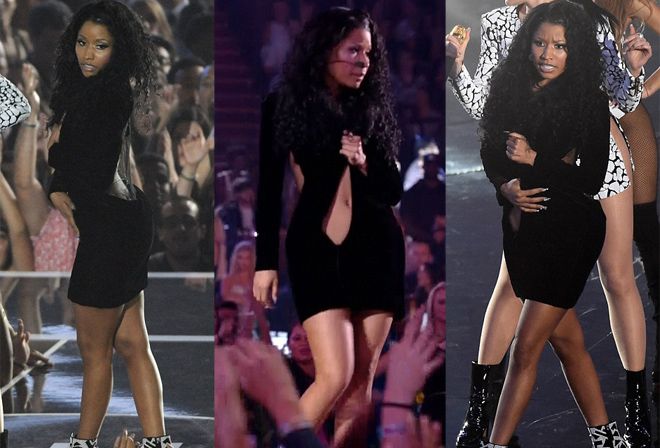 A glimpse of the video can be seen in a new Beats By Dr. Dre commercial, which was posted to YouTube last week and shows Jessie revving up her Pink Pill XL speaker, Ariana dusting her face with make-up and Nicki boarding a chopper.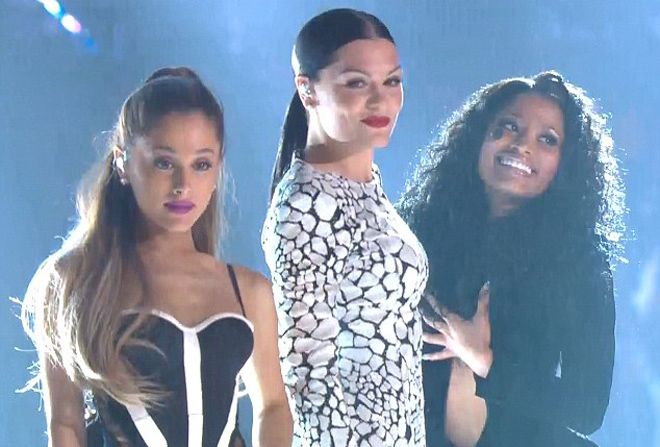 'It's me starting a street party that Ariana is then going to attend, and then Nicki turns up on an amazing type of transport, that I wont give away,' Jessie J revealed to MTV News. 'And then we all party together on a rooftop and there's loads of dancers, there's a dance that you can learn that I made up.'

Nicki Minaj Wardrobe malfunction at MTV VMAs… by designerzcentral
After the VMAs, Nicki will perform alongside Taylor Swift, Usher, and Coldplay at the sold-out iHeartRadio Music Festival on September 19 in Las Vegas. Meanwhile, Ariana's song Problem later scored the Moon Man for best pop video, beating out Iggy Azalea, Pharrell Williams, Avicii, and Jason Derulo.