Tory Burch has teamed with Fossil Group to launch her first watch collection, due out in October. "It was something that we knew we wanted to do because I love watches," said Burch. "It was a natural extension." An extension that will join a string of new product categories Burch will be entering over the next year to 18 months. Even as the designer continues to open her own stores around the world, Burch is plotting to break into men's accessories in fall 2015, as well as introduce women's activewear, perhaps as its own retail concept. These new collections come on top of her fragrance, which she launched last year with the Estée Lauder Cos. Inc. The new categories are aimed at maintaining the momentum of a brand that observers continually tip as the next hot label to go for an initial public offering in the wake of the runaway success of Michael Kors.
Burch, though, continues to insist an IPO isn't on the horizon. "It's not something we're thinking about," she said.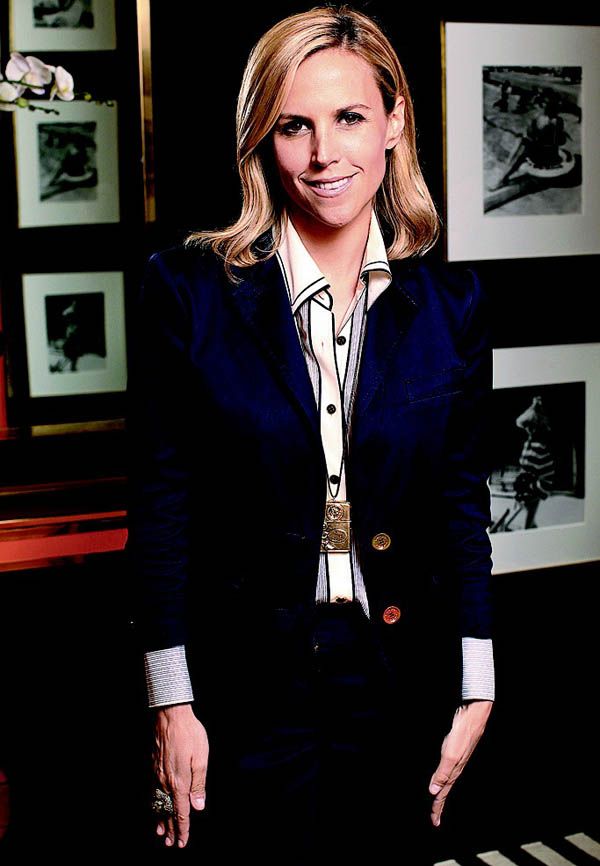 Whenever she does, watches will be a key product for her brand the category is one of Kors' most successful, along with handbags, sunglasses and beauty. Burch said she met with a handful of distributors before landing on Fossil, thanks largely to her connection with chief executive officer Kosta Kartsotis."When I met with Kosta, it was such an obvious fit from the way he looks at business," she said, adding that Fossil's Swiss manufacturing was an crucial element. "It's about craftsmanship and quality."
Fossil chief strategy and marketing officer Greg McKelvey echoed the sentiment. "Never in the history of our markets has there been a brand that's a billion-dollar brand with the type of heat and global appeal that Tory has on the market," he claimed.
While that statement would appear to overlook Burch's competitor Kors, McKelvey has some inside knowledge of the two brands, since Fossil also makes watches for Kors. Fossil also produces timepieces for Burberry, Emporio Armani, Marc by Marc Jacobs, DKNY, Diesel, A|X Armani Exchange, Adidas Originals, Michele, Zodiac and Relic, as well as its own branded line. Overall sales for Fossil Group are split evenly between the two categories, according to McKelvey.
Burch and Fossil first inked the deal in February 2013, and over the past 15 months have worked together to shape the debut collection. The final selection features nine models done in multiple colorways, and will be unveiled to press on Wednesday. Styles include the Tory watch, a classic chain-link design with a round face done in various colors; the Buddy, a thin leather strap model with a simple rectangular face, and the Izzie, a graphic style featuring a square Lucite frame around the face.
For those looking for a recognizable design, Burch has included the Reva, which features the signature Tory Burch emblem that accents the brand's best-selling flats of the same name. Two limited-edition pieces will also be available: Sawyer, a gold cuff inspired by an old bracelet of Burch's grandmother, and Robinson, a gold bangle with blue lapis around the face frame. Only 50 units of the Robinson will be produced. The limited-edition pieces are the most expensive offerings in the collection, priced at $895 and $995, respectively. The rest of the collection ranges in price from $350 to $695.
The price point places Burch higher than watches by Kors (which retail from $140 to $550) and Marc by Marc Jacobs (priced from $150 to $350). "Hopefully what we're doing is something a bit unique," said Burch. "There was an open space in this price point." McKelvey described the open space as a "sweet spot" when it comes to targeting the proper customers."Tory is about a billion dollars with global growth opportunities," he said. "The strength of the brand is going to play exceptionally well at this $395-plus price point. It's an accessible price point but still a strong lifestyle and luxury point of view. [The price point] is not going to be a hurdle for consumers.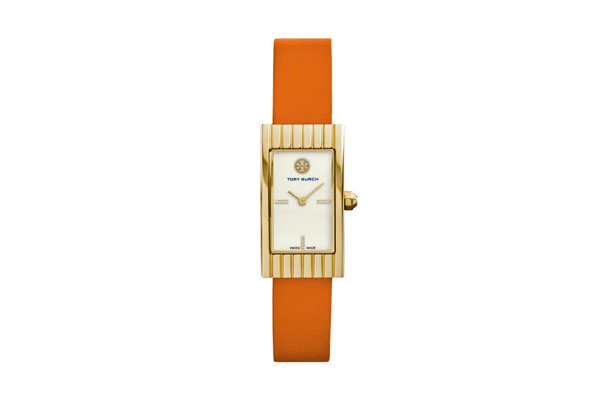 "If you look at the watch market globally, over half of the category is above $1,000," he added. "It's a $60 billion market with over half of the revenue base above $1,000. For us, this is just a white-space opportunity to bring our brands, led by Tory Burch, Burberry and Armani, up into a market of Swiss-made watches at higher price points." Both Burch and McKelvey believe the price range will attract the brand's current ready-to-wear and accessories customers, which the designer described as "women of all ages," with the potential to expand beyond that core base. "It will be interesting," she said. "Footwear brought in a younger customer. Originally, when I started the company, [the age range] was 30 to 45, but now it is really all ages. We're dressing teens, college age and then afters."
In terms of location demographics, Fossil estimates its overall revenue is split evenly between domestic and international sales, with European and Asian businesses growing at more than 20 percent year-over-year and the U.S. growing in the midsingle-digit range. The Tory Burch division is expected to follow suit. Both Burch and McKelvey declined to provide sales projections, but McKelvey anticipates that the brand will eventually become one of Fossil's top three licensees. "It can be very big and very successful, but how quickly is the question," he said. Kors is currently Fossil's best-selling license, making up 22.4 percent of the Texas-based company's 2013 sales. "We've worked and helped build the Michael Kors brand for over a decade," said McKelvey. "It took awhile to get to the point of size and success that it is today."
Distribution is also a key part of Fossil's strategy to build the Tory Burch watch division. The initial collection will be available exclusively at Nordstrom, as well as at Tory Burch stores and on toryburch.com. "We want to make sure that we incubate this business before we really start to push or start a much bigger business," said McKelvey.