Sofía Vergara's dramatic customized Zuhair Murad wedding gown required a team of 30-plus and more than 1,000 hours worth of work, but the designer himself knows the actress so well that he never met with her before last weekend's wedding.
Having dressed the "Modern Family" actress for years, Murad handled his side of things via Skype and e-mails. His team, of course, was more hands-on and "very meticulous" in making sure that everything was just so. In a phone interview Wednesday, Murad said, "This is not the first time we have collaborated. Sofía has worn my dresses many times over the last few years." Murad said. "Sometime her stylist comes to my shows to make selections. We always send Sofía photos right after the show for her to choose from."
As for relying on Skype and e-mail for the pre-wedding discussions with Vergara, Murad said, "Every day we spent a lot of time on the phone or Skype. She trusts my instincts, taste and my suggestions. And I know her figure and her taste."
First and foremost, Vergara wanted "to feel comfortable, to be able to dance and to have fun." Murad said. "It's a classical, modern wedding gown – strapless, with a fitted embroidered bodice and a full skirt. She loved the design, the embroidery on the bodice, the sketches and the mermaid shape. You don't see the tone-on-tone-white until you see the dress and touch it. Everything was done perfectly."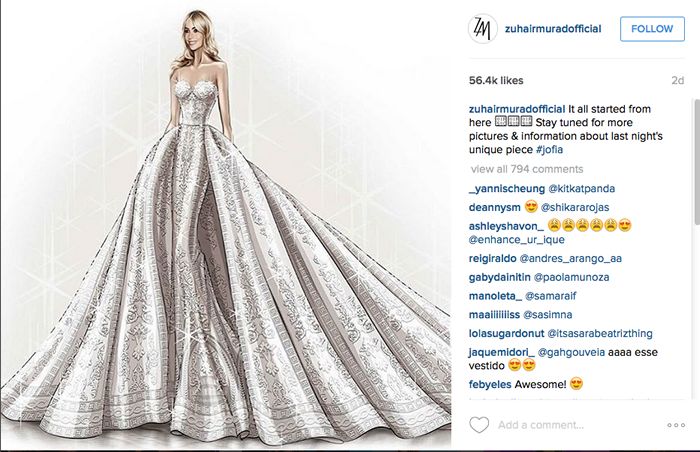 The official description was a heart-shaped strapless sheath dress in silk tulle, with a bodice hand-embroidered with baroque arabesques adorned with 3-D motifs. Nipped at the waist with a pearl-beaded square-shaped belt, the dress had a detachable embroidered skirt. While the final effect may have been a little make-believe, Murad said Vergara's film and TV career is the real deal, "I like everything she does."
Apparently, so do many of her nearly 8.8 million Twitter followers and nearly six million Instagram followers. Murad noted that 53,000 have liked the wedding photo of Vergara and Joe Manganiello that she posted from their wedding Sunday at The Breakers in Palm Beach. And more than 300 brides-to-be have called or e-mailed about having similar dresses designed for their respective weddings. Beyond the publicity, all those bridal requests (which are still coming in according to Murad) will easily result in multimillion-dollar sales, considering that his wedding gowns start at $100,000. Murad declined to say how much the Colombian-born Vergara spent on her gown. Bridal sales currently comprise between 20 and 22 percent of Zuhair Murad's annual business.
"With social media now, we are immediately in touch. Sofía posted a big bouquet of flowers on Instagram once she received the dress." Murad said, "You can't know the number of calls and e-mails we're getting from clients and women who want to get married wearing something similar. We're hearing from people all over the world. This is really huge."
"People are posting that they like her dress, her wedding, her party. Sofía has a lot of fans and she is a beautiful woman. Everyone is wishing her happiness and love in her marriage," Murad said.