Possibilities are endless with this closet staple. Striped T-shirts are so versatile that no matter what your style is, you can always make them work for you. Most importantly, they are appropriate for any age group, season, and occasion, as I'm about to prove. I've been building my capsule wardrobe for over a year now. I wasn't much of a minimalist before, but after finding myself constantly drowning in new clothes and still "having nothing to wear," I knew I had to start practicing the art of living with less. It was time for me to get creative with the things I already had in my closet.
This practice has helped me to save money for traveling, to have fewer headaches when deciding what to wear and, of course, documenting the whole process by taking photos of all these different outfit ideas has led me to connect with all these amazing, inspiring women who are out there trying to make the best out of what they have, just like myself. Not to mention, by shopping smarter and choosing carefully what pieces to invest in, you are helping our beautiful planet, saving space in your closet (super useful if you live in a big city!), and saving money for important things like retirement, traveling or, you know, just to be able to do the bottomless mimosa option more often during Sunday brunch. 
Even though you can wear this T-shirt all year round, all these looks are summer-inspired because well, who wants to think about sweaters when it's finally starting to feel nice outside? You can, of course, get creative in your own way and use these looks just as an inspiration.
I hope you enjoy these 10 looks I created with a striped T-shirt.
1. French Open Inspired – Pleated Skirt + Sneakers + Neck Scarf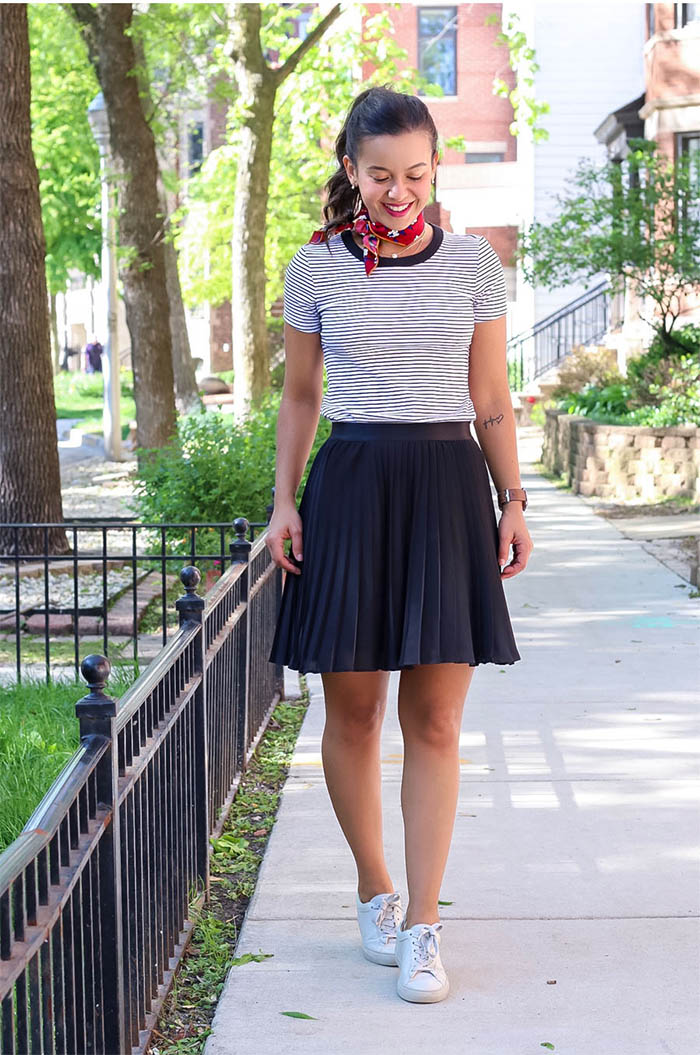 I love playing tennis, so why not dress like a tennis player outside the courts? I have learned over the years that a neck scarf upgrades any "plain" outfit. Give it a try next time you are wearing a bunch of basic pieces together as I did here. You won't regret it!
2. Safari Vibes – Long Vest + Beige shorts + Sandals + Accessories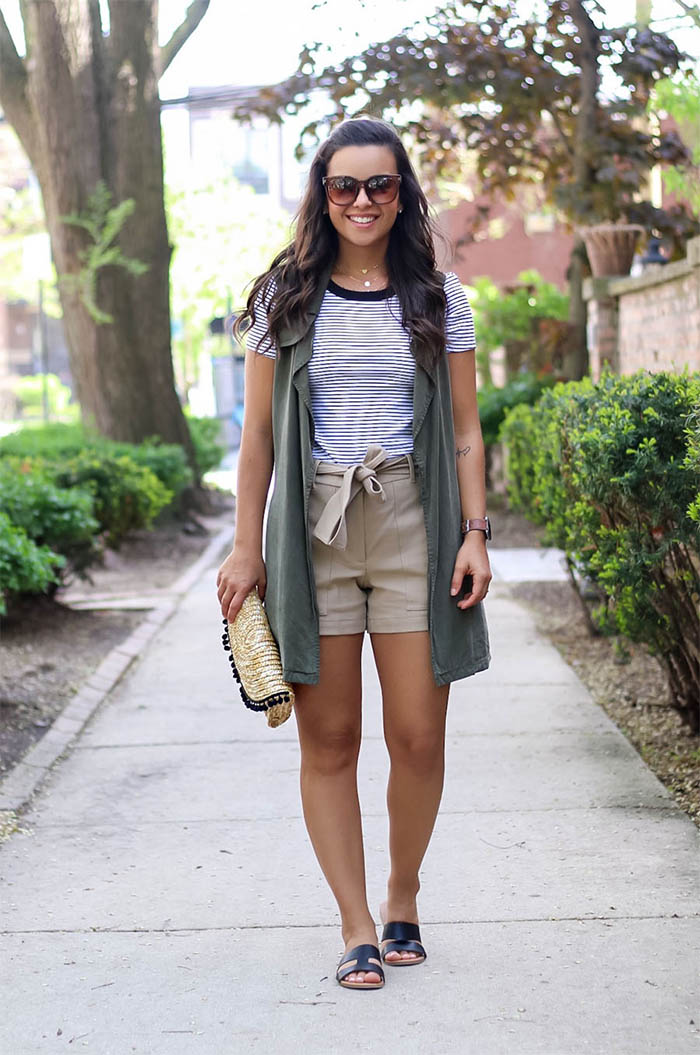 Stripes go great with khaki. And khaki goes great with military green. And these two together scream safari to me. Although I've never been on safari, and I doubt this would be a comfortable outfit to wear in the middle of Africa, I still like to think that I would wear something like this if I ever have the opportunity to go on one. In the meantime, I'll settle with a Chicago puppy friendly patio instead.
3. Office Chic – Boyfriend Blazer + Skinnies + Heels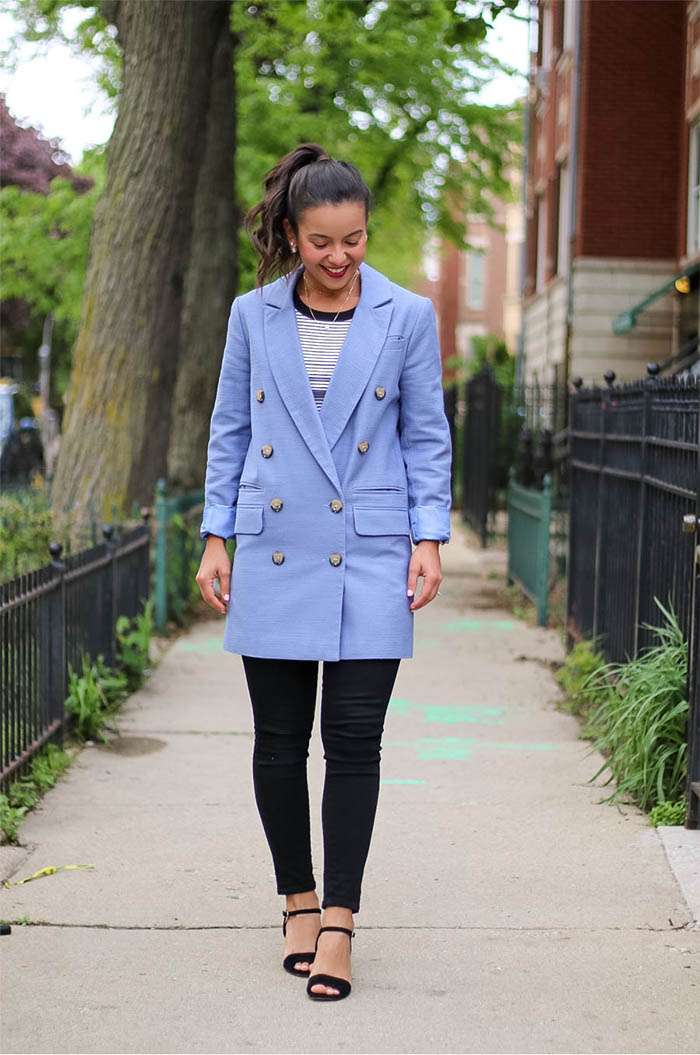 It doesn't have to be casual Friday for you to wear your striped T-shirt to the office. Just pair it with your best heels, a blazer or jacket, and skinnies or wide leg pants.
4. The Classic – Black Skinnies + Sandals + Straw bag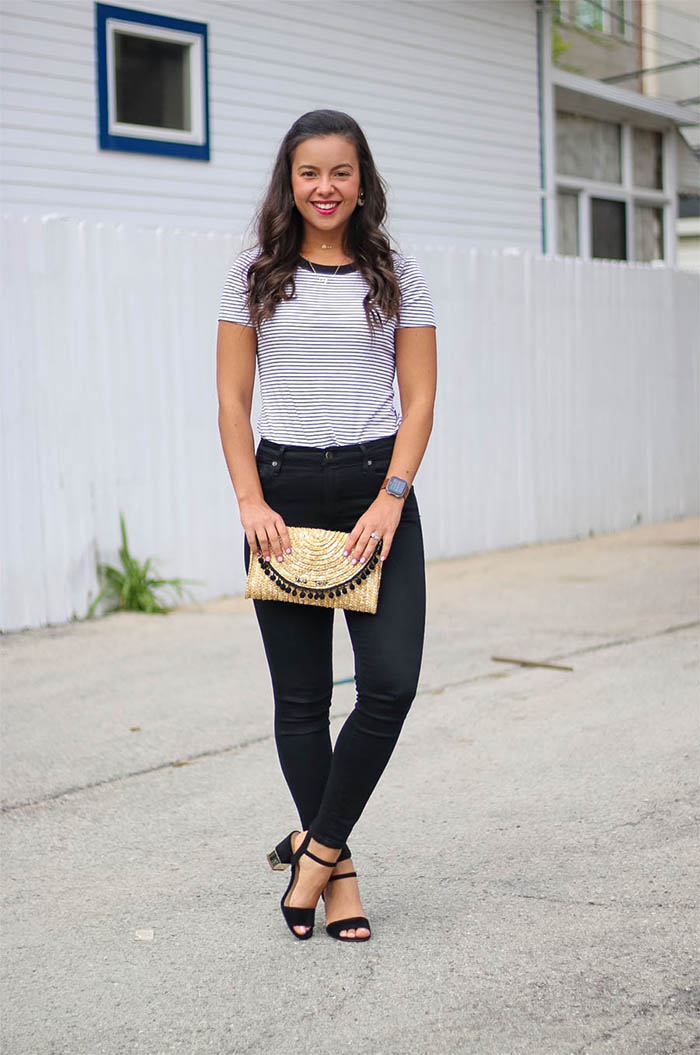 This is one of my go-to looks when I don't know what to wear. I also like to do white sneakers instead of sandals if I want to dress more casually. You cannot go wrong with a striped T-shirt and black skinny jeans. You just can't.
5. Comfy Casual – Denim jacket + Comfy pants + Sandals + Accessories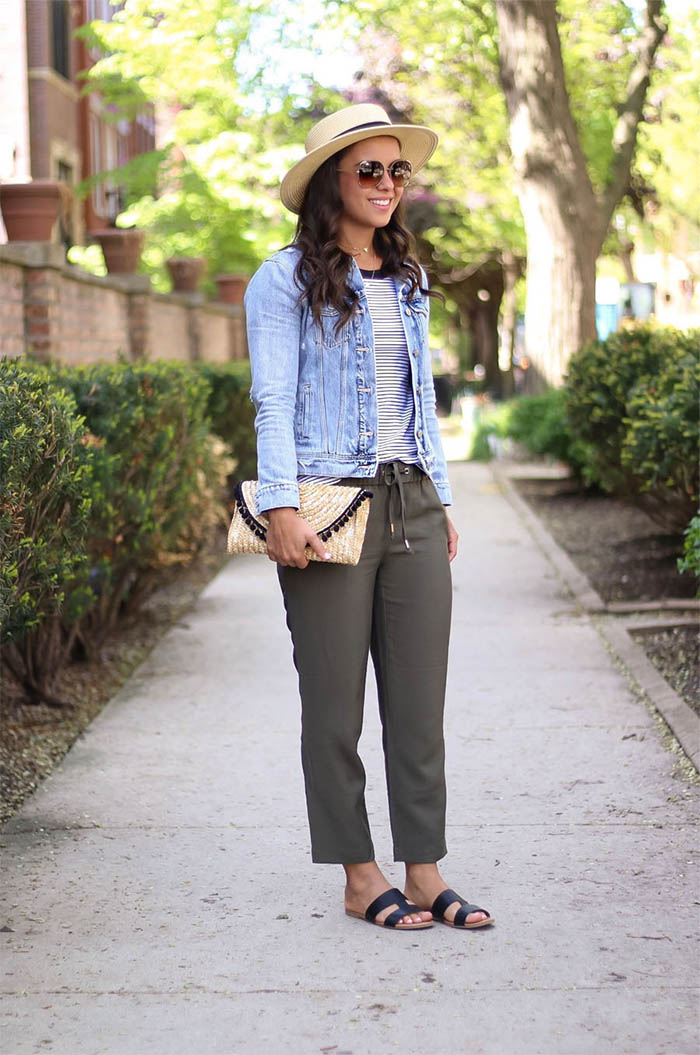 Accessories really make a difference when styling any look. This outfit is so comfortable yet still shows that you made an effort. Why? Because of the hat and the bag. Any time I feel like too "blah," I just add a cute hat and a clutch bag, and everything changes.
6. Print Mixing – Hat + Printed Shorts + White Sneakers + Crossbody Bag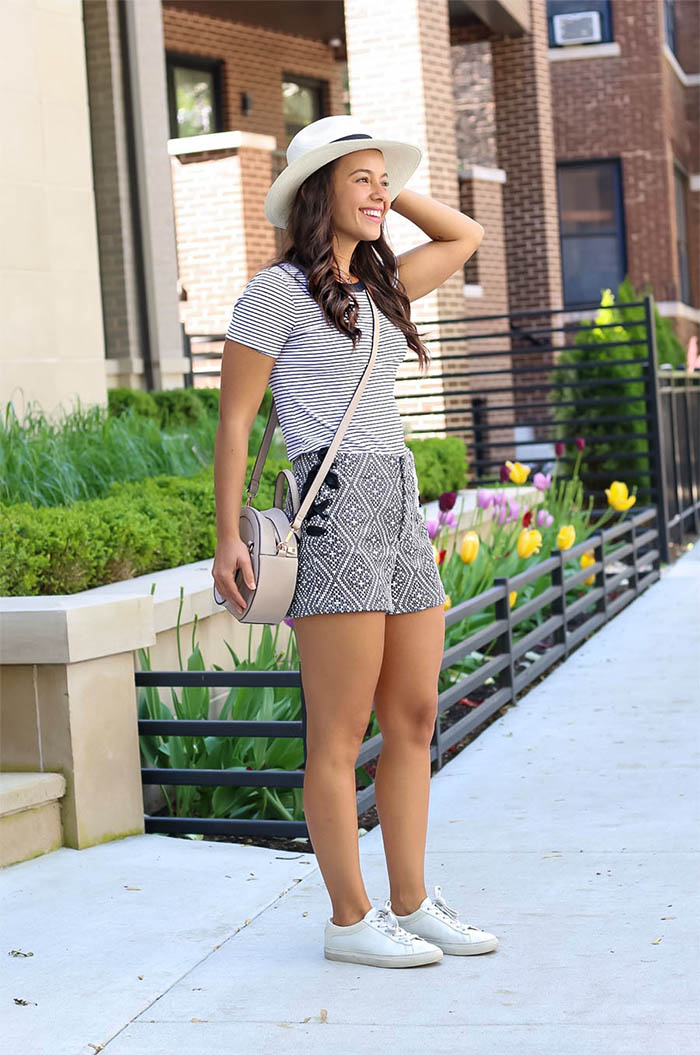 Dare to mix prints. If you are only getting started to try it out, just stick to one rule: make sure the colors in both prints are the same. For a striped T-shirt like this one, any black and white bottom piece you want to pair it with will work. Florals, tribal, wide stripes, etc. — you name it. 
7. Effortless Chic – Pleated Skirt + Sandals + Accessories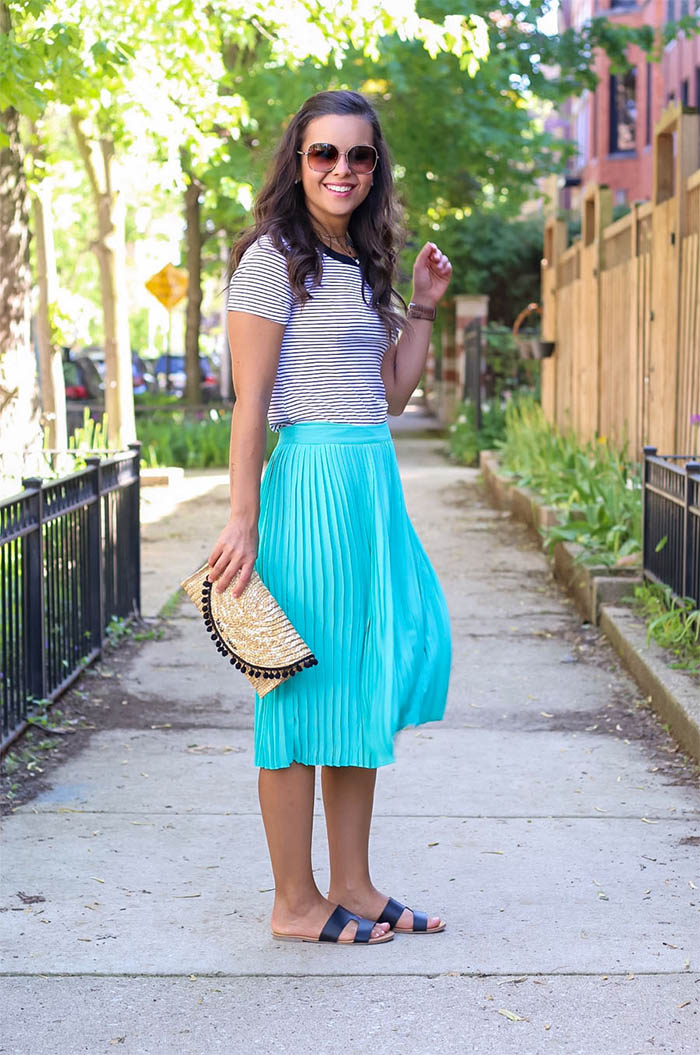 One of my favorite ways to wear stripes is with a bold-colored piece like this skirt. The trick is to stick to just one bold color. It can be a jacket, shoes, pants, etc., just make sure everything else is neutral. Also, remember all the money you are saving for those bottomless mimosas weekend brunches? Well, this look is perfect for one of those!
8. Weekender – Denim jacket + White shorts + White Sneakers + Accessories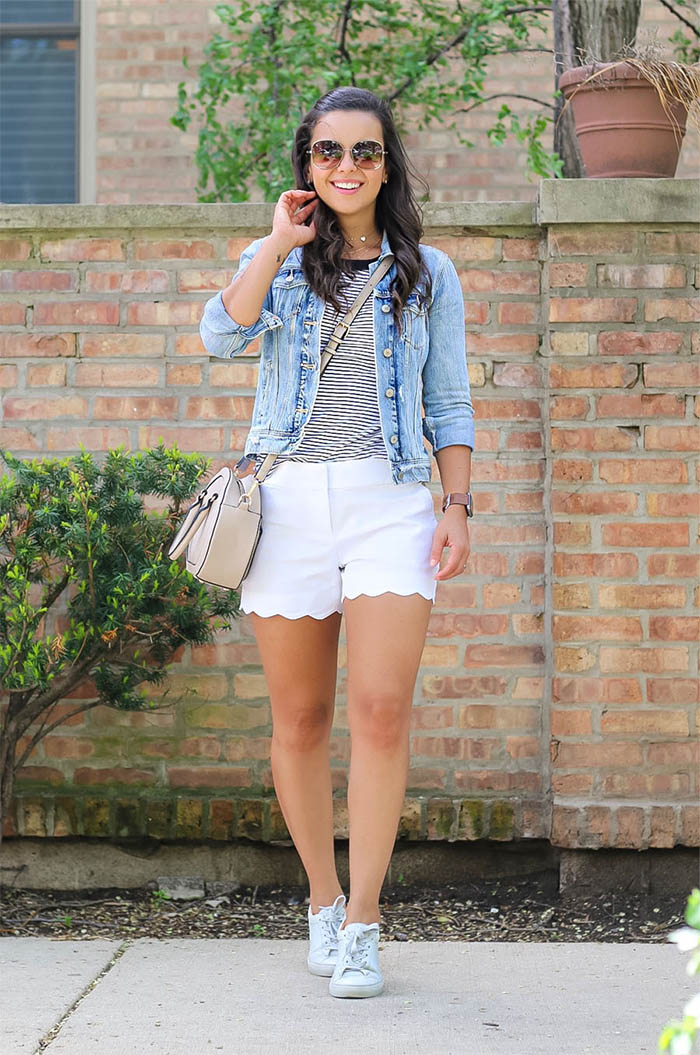 I love this look for those busy summer weekends where you have to run a million errands and reward yourself with a drink at a local patio at the end of a productive day.
9. Summer Cozy – Oversized Sweater + Linen Shorts + Sandals + Accessories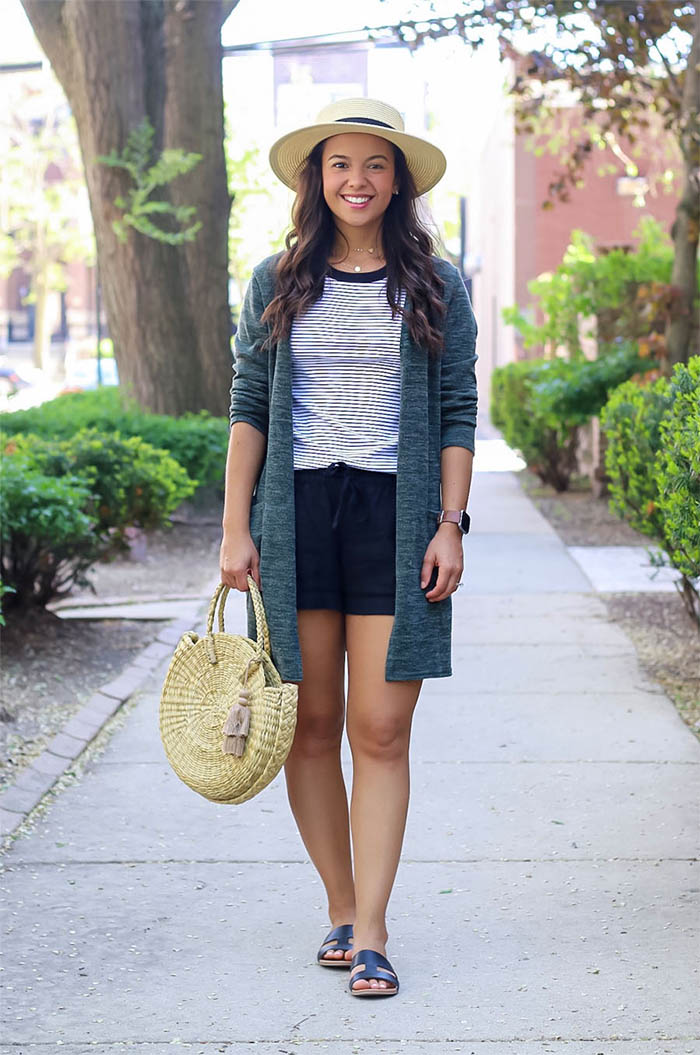 I'm always cold, even during the summer, so unless it is over 80 degrees out there, I never leave the apartment without a pashmina, sweater, or denim jacket. I love how this look works with or without the sweater.
10. Denim on Denim – Denim Jacket + Skinny Jeans + White Sneakers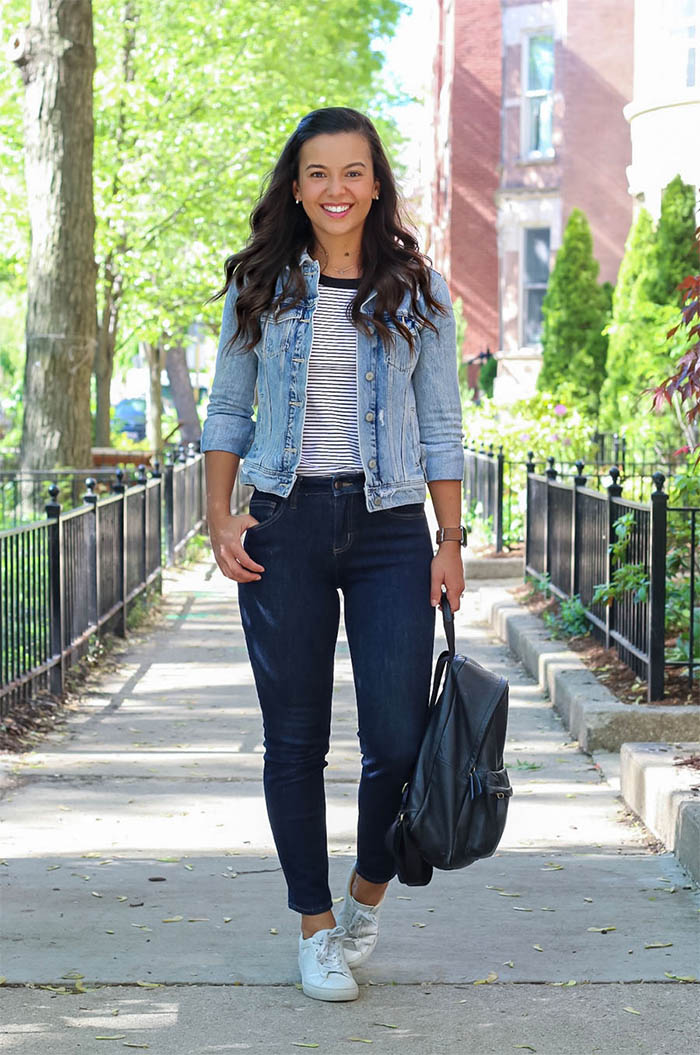 I love a good denim on denim look. It's another style you can never go wrong with. My favorite way is to mix light and dark denim pieces.