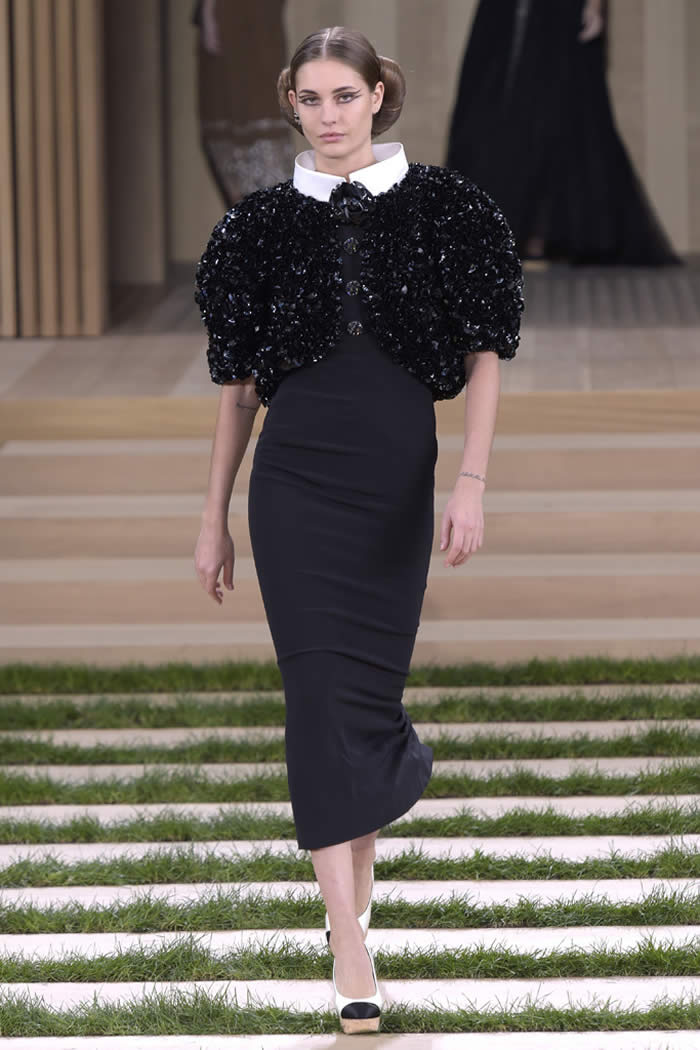 Chanel Spring Collection for Fashion show paris 2016
Serenity isn't a condition normally associated with Karl Lagerfeld's Chanel. Yet guests entering the Grand Palais on Tuesday morning felt enveloped in Zen-like calm, the set an ode to nature's quiet gifts. A blue sky, lush green lawn and cedar trees framed a simple-pleasures modernist house, three windowless tiers of vertical slats, the chic geometry rendered in humble natural oak.
Without musical warning, a male model in patchwork pants appeared and pressed a button, opening a center panel of the house. From there exited Chanel's parade of fashion, an expression of couture at its most relevant. "I think it's the first couture collection done in the ecological approach. It's fun to do this after being high-tech," Lagerfeld said, referring to his collection last fall, which featured jackets made on 3-D printers.
For spring, the ruse was ecological, au naturale. Hence, the base of beige (before she championed the LBD, Mademoiselle Chanel was known as the Queen of Beige, Lagerfeld informed during a studio visit) and the primary embroideries: wood. Every imaginable incarnation of wood-in-miniature became the stuff of couture craft flat, rounded, rough-hewn, smooth. So, too, did other materials string, straw, raffia, twine and what appeared to be raw cottons and linens, all transformed into embroidered tweeds, lattices and inventive embellishment. "It helps to own the houses," Lagerfeld said, referring to the network of specialty ateliers Chanel owns via its Paraffection subsidiary. "Lemarié used to do just feathers. Now they do everything."
Those slits spoke to Lagerfeld's creative ethos. Again and again, this consummate commercial designer delivers the highest of high fashion designed to be worn. The work is intense but not superfluous, delivered with a range essential to the house's extensive clientele. For every rich lady who likes a suit on the plain side, such as the show opener with bold seaming its primary decoration, there's another who fancies fancier. For her: the wooden embroideries, some natural in earnest, others integrating the kind of sparkle that only appears naturally in the night sky.