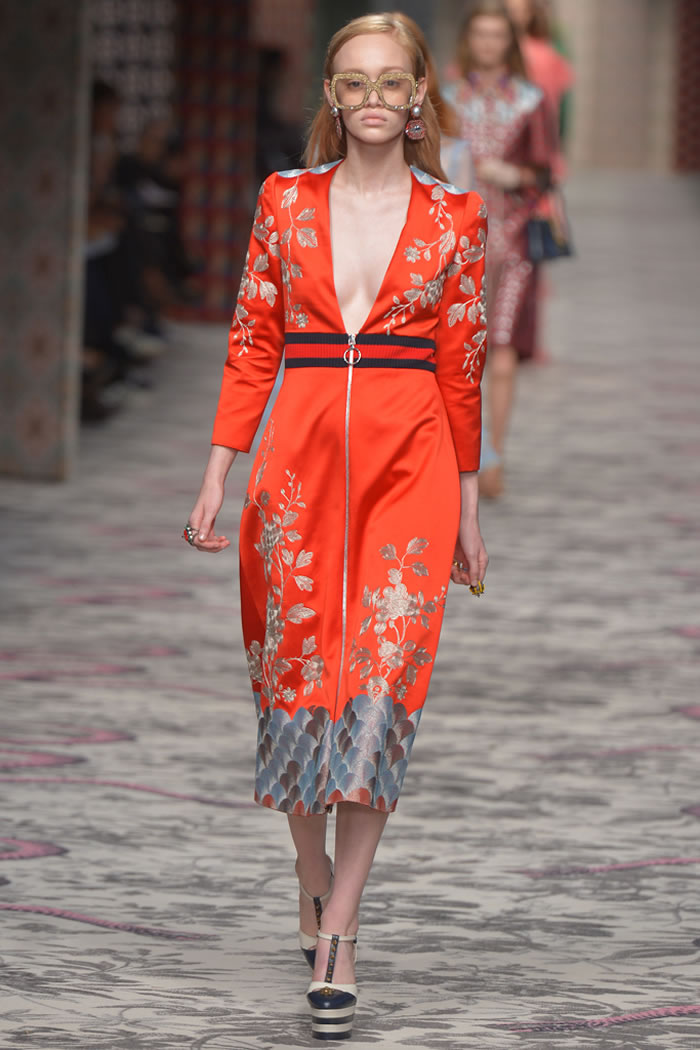 Gucci Collection for Milan Fashion Week Spring 2016
Michele proved stalwart, applying deeply researched motifs - Chinoiserie, Egyptian imagery, every feminine flourish imaginable, even sport and street - into a cohesive collection. A key motif: the Carte de Tendre, a Renaissance map of an imaginary land charting the geography of love. Michele used the work to inform his overarching concept and as a print on a dress, skirt and handbags. Snakes proved another recurring theme, all of their power, seduction and fear factor at seeming odds with the clothes, whether curving across the back of an ornately embroidered dress or slithering up the leg of a suit projecting Tyrolean naivety.
The ideas were endless - so much so that one wonders how Michele can maintain the pace. Within all of the storybook extravagance, he offered a greater degree of wearability than one might at first think - shirtdresses, pants and skirts, which, particularly when de-geeked for reality will have broader range than their runway personas suggest.
Much has been made of Michele's nerdification of Gucci; this is not the Gucci Girl as she stormed the pop-culture vernacular back when. Yet there's sensuality, too, in the overall delicacy of Michele's approach, which, when rendered in transparent, pastel girlish froth, is even a bit twisted.
In the midst of all his creative expression, Michele injected plenty of fodder for more commercial consideration. How important are a house's codes, its DNA? He worked iconography: a Gucci-green lace dress with red striped waist; floral overprinted logo coat; a wealth of diverse bags and shoes that paid archival homage. Yet such show of respect aside, Michele has forced a 180-degree shift in Gucci's aesthetic. How will the customer - the one who bought Frida Giannini's clothes - respond? What of the divide between editorial resonance and consumer lust? Gucci may be on the precipice of renewing that old dichotomy.
For more Runways MilanFashionWeekLive