As a decade, the '70s has given fashion some great innovations, from flared jeans to disco platforms to Bianca Jagger sauntering down the aisle in that oft-imitated white suit. It's also the time period when casual dressing came into its own as a style. It makes sense, then, that Frame Denim cofounders Erik Torstensson and Jens Grede would hark back to the first era of jeans and tees for their Fall 2015 campaign.
Starring Natasha Poly as a moody chanteuse, the campaign touches on the fashion notes of the era, putting the brand's expanded Fall offering at the forefront of the images. "It's an important collection for us because it's really the first time we've stepped out from being a denim brand and being a complete lifestyle brand with a complete collection," began Torstensson. "We wanted to show that we have range."
While the initial image of Poly in a velvet blazer, tie-neck blouse, and jeans might seem in line with Frame's previous offerings, the house has 17 other images of Poly it plans to share. It's a fair assumption, then, that the highs of the brand's Fall collection-the utilitarian jumpsuits, airy trenches, and chic turtlenecks-will take center stage in the upcoming shots.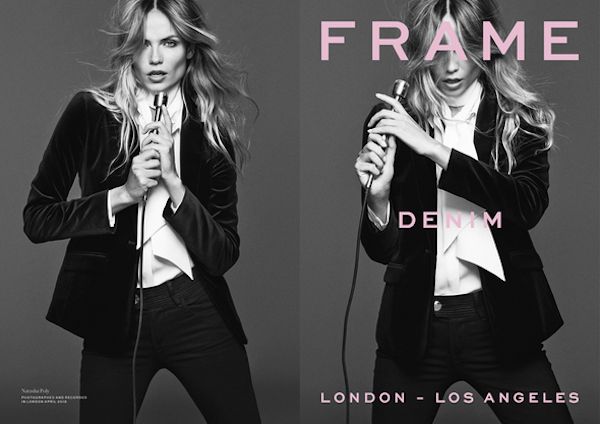 In addition to the print images, Frame Denim is also working on a special media project that is "a little bit of what we're alluding to in the pictures," as per Torstensson. Stay tuned for that, and catch a glimpse of the Fall campaign, above.