The John Galliano fashion house said its trademark Gothic style lettering and newspaper motif are being replaced with a new logo and visual identity to coincide with its transition into a premium contemporary line, as part of a production pact with Italy's Modalis unveiled in March.
The logo, inspired by a 19th century wood engraving, was developed by Atelier Franck Durand to convey a spirit of elegance with a touch of rawness.
"Now is the right moment to bid farewell to the old Gothic gazette lettering," said Bill Gaytten, creative director of John Galliano. "We have a great opportunity to reimagine a look that is both timeless and of our time."
It's the first manifestation of a new visual identity that will also include a new store concept, packaging and an advertising campaign for spring 2016, Dominique de Longevialle, managing director of John Galliano, told WWD.
The executive, who joined Galliano from Christian Dior in 2012, described it as a new beginning for the brand following the double whammy of the founding designer's departure in March 2011 and the financial troubles that subsequently beset its former Italian manufacturer Ittierre.
Galliano was ousted as creative director of Christian Dior and his own label after videos emerged of him making anti-Semitic comments in a drunken state in a Paris café. Although parent company Christian Dior S.A. has maintained its majority stake in the Galliano label, the business has floundered.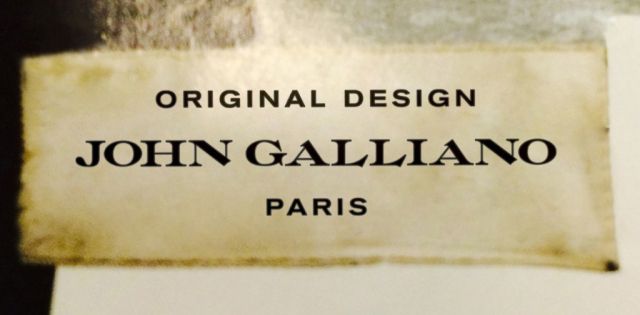 "At Galliano, we make no judgments about what happened. We are just trying to look at things in the most positive way possible in order to restart the company," de Longevialle said.
A decisive step was the partnership signed with Modalis, formerly known as Studio Roscini. The first collections under the new pact are to be unveiled in a static presentation at La Galerie Particulière in Paris on June 25 for the women's resort and men's summer 2016 seasons.
The collections will be presented to buyers on June 26 and 27 at the Robert Dodd showroom in Paris and the Modalis showroom in Milan.
Atelier Franck Durand, which also counts Balmain, Isabel Marant and Sandro among its clients, will oversee the shooting of the look books and campaign for the collections, due to take place in London. It is also redesigning the packaging in minimalist toile and cardboard.
"Embedded in this new identity is the energy of late 1980s London, when artists and designers twisted established ideas," Durand said. "This refined-meets-raw attitude, also at the heart of the maison, has strong graphic potential, so we played off that to arrive at something impactful and unlike anything else."
Going forward, the John Galliano women's collection will combine a contemporary offering of around 450 stockkeeping units, with core prices ranging between 300 euros and 1,000 euros, or $330 to $1,100 at current exchange, with a higher-priced show collection of about 130 pieces.
"We are a big brand, because we are well-known, but the business is small. After the various problems we have had, you can imagine that revenues have not progressed significantly. We therefore wanted to show the different facets of the brand in a single collection," said de Longevialle.
"We come from a luxury background and we are sending a very strong message of accessibility, in terms both of price and wearability, while keeping our image of sophistication and know-how. In my opinion, we will therefore be positioned at the very top of the contemporary segment," he added.
Though its price positioning is similar to the former secondary line produced by Ittierre, the new collection is designed in Paris in collaboration with Modalis, the executive stressed. Key pieces will include day-to-evening dresses, sharp statement jackets, deconstructed outerwear and sporty separates.
De Longevialle declined to provide any details on the company's finances, including whether or not it is profitable. "I think it's a bit early to really talk about numbers or results. What is certain is that we went through a difficult period and that we are heading toward a revival," he said.
Nor would he comment on reports that Galliano plans to close its store on Rue Saint-Honoré. "For the time being, it is there," he said. "We will have to find a setting or transform this setting, one or the other, but we will need to develop a story to tell in our boutique," he added, noting the new store concept will be ready next year.
The executive hopes the relaunch will energize the brand's licensees: Perfume Holding for fragrances; Rodolfo Zengarini for shoes; Brave Kid, a subsidiary of OTB, for children's wear, and Andrea Montelpare for children's shoes.
"We have to make sure there is a single message," he said. "We have to rebuild a real business built on solid foundations, which is something we no longer had."
De Longevialle has extended his "clean slate" policy to the label's employees, with a number of new hires in the design team and management ranks. Show production has been handed over to Thierry Dreyfus from Bureau Betak.
"We have put together a group of people with Bill that are all working in the same direction," he said. "If we hadn't severed certain existing relationships, the same way we are changing the logo, I don't think we would feel as optimistic about the success of our project."