Unfortunately, a lot of women are still making the same mistakes time and again, not letting their premium evening dresses shine on them in the way that they should. We are going to address five of those common mistakes today, so that the next time you put on your new embellished V-neck, people at the party are going to notice!
1. The Dress Underneath is Visible
If you are going to wear a gown, make sure that it's not see-through before buying it. At times, sales people may try to convince you that it's the new trend and you are supposed to wear it with a club dress underneath, but don't buy into it!
Whether it was a conscious decision or you simply didn't realize that the fabric was see-through at the time of buying, the result would be the same; someone walking into an evening party with a translucent dress, which painfully reveals another dress underneath. Some celebrities do it for sure, but unless you are one, it is in all likelihood, a big mistake and an eyesore.
Whatever evening dresses you decide to buy at any point in time, always make sure that it's embellished, pleated or printed appropriately enough to be worn on its own, without the fear of being embarrassed in bright light!
The black long sleeved and embellished evening dress by Jovani is a perfect example of what we are talking about here, but if you prefer evening dresses that are a bit more on the sensual side, try a Jovani gold fitted high slit backless, or maybe even a plunging neckline from their range, if it fits the occasion. In fact, Jovani has a whole range of premium evening dresses for customers to choose from and, being a famous brand, none of them will be see-through in the wrong places, which basically eliminates your chances of ever making that mistake.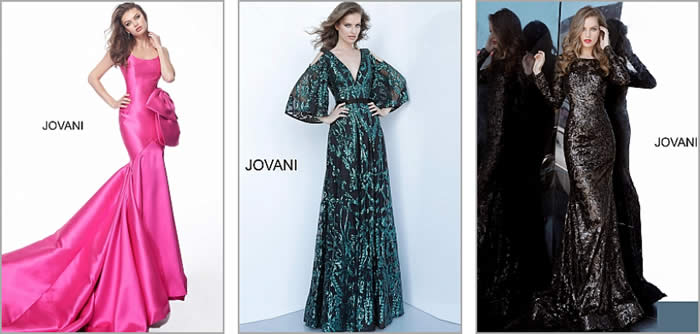 2. Neon Evening Dresses are Just Oxymoronic!
Do a lot of celebrities and models wear their evening dresses in neon at times? Yes, they do. Prada released a whole range of these in the fall 2018, and they are one of the most famous luxury brands of all time. However, unless you are going to a theme party, or you are a celebrity who can make anything turn into a trend, then neon evening dresses are just a poor idea.
Big brands release wacky trend-breaking collections all the time, and following those trends just for the sake of being in vogue is once again, a poor idea. The bright hues are just too loud to fit well with the very concept of evening dresses, but as long as you use neon colors in sparing amounts, there are other kinds of outfits where it can actually work.
3. Not Paying Close Attention to How the Embellishments Actually Look
We already mentioned a few good options earlier, and if you go with a brand like Jovani, you won't need to worry about this particular problem either. However, in case you are looking for something in the non-branded, cheaper section, it is important that you pay close attention towards the embellishments.
The general rule is that they should be small and abstract, not bold and profound. If they are too big and bold, the design will look as if the tailor just glued them on top of the dress, which is not something you would ever want! Ideally, the embellishments should look like a part of the original fabric, which is why abstract designs help with creating that effect.
4. Jeweled Necklines are a Fashion Disaster
Jeweled necklines were a trend at some point in time, but now they just make the wearer look like they actually belong to that era gone by! It's not the kind of retro look that you want, so stay away from them. They also rob you of the opportunity to wear actual jewelry on your neck and use the neckline to highlight the parts of your torso that you want to highlight.
Don't Forget the Color Matters
When in doubt about the color of your dress, go with navy, black or red, because these are the three safest choices when it comes to color. As a matter of fact, they are also the safest colors when it comes to choosing accessories to match as well. However, don't end up wearing black with brown, but black and blue, or red and blue work flawlessly. Take a bit of time to understand the basics of color theory to know match shades like a pro.
Finally, in case you are particularly unsure or uncomfortable about making a bold choice regarding your evening dress for an upcoming occasion, don't make that choice! Nothing can look good on a person if they are not comfortable wearing it.