Preppy collars, bow accents, ruffles, and pastel shades are some of the characteristics of a girly style that will look perfect this spring season. Mind behind the Cherry Blossom Girl blog, Alix Bancourt is a Parisian fashion blogger known for her girly style that might inspire your spring looks. After working at Alexander McQueen and Chloé, she started her blog that's inspired by everything whimsical, feminine, and romantic. So, if you're looking for a girly style inspiration, look no further and keep on reading to scoop some of Alix's tricks.
Embrace girly and preppy details to your outfits.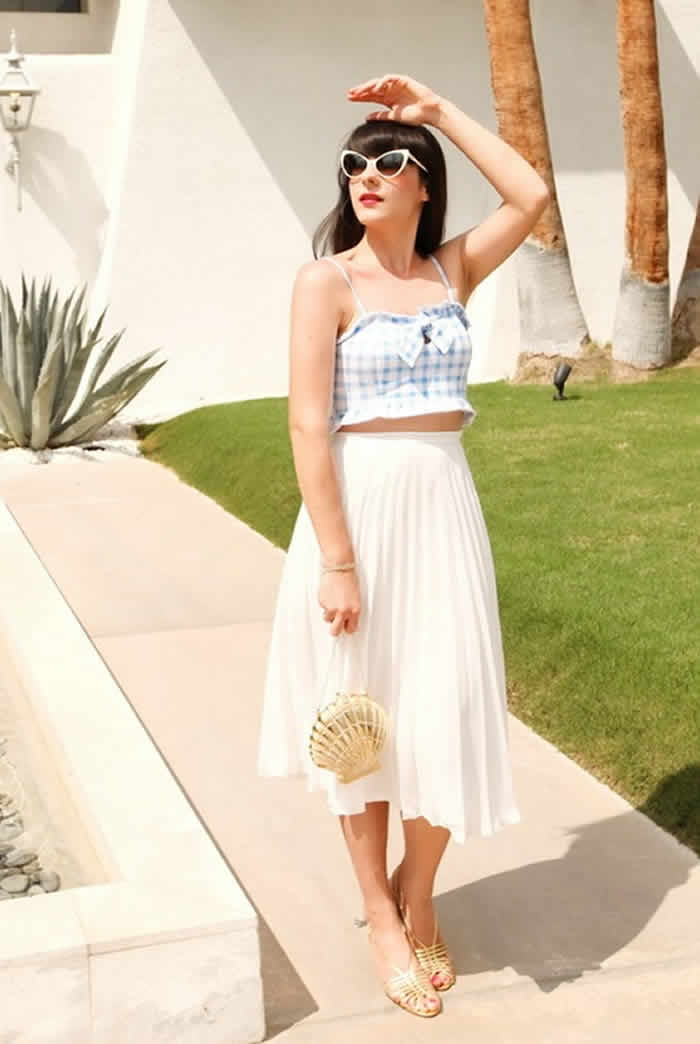 Think of ruffles, bows, embellishments, and preppy collars that will give you a girly look. In the early spring you can still wear collared tops with dresses to give you a girly look like Alix did. As the weather warms up, you may resort to breezy-chic dresses with preppy collars, cute buttons, and flared style to keep you cool and chic in the heat. Or, go for a ruffled gingham print bandeau that will look girly when teamed with a full skirt and quirky sunglasses like Alix did.
Resort to pastel colors and girly shades.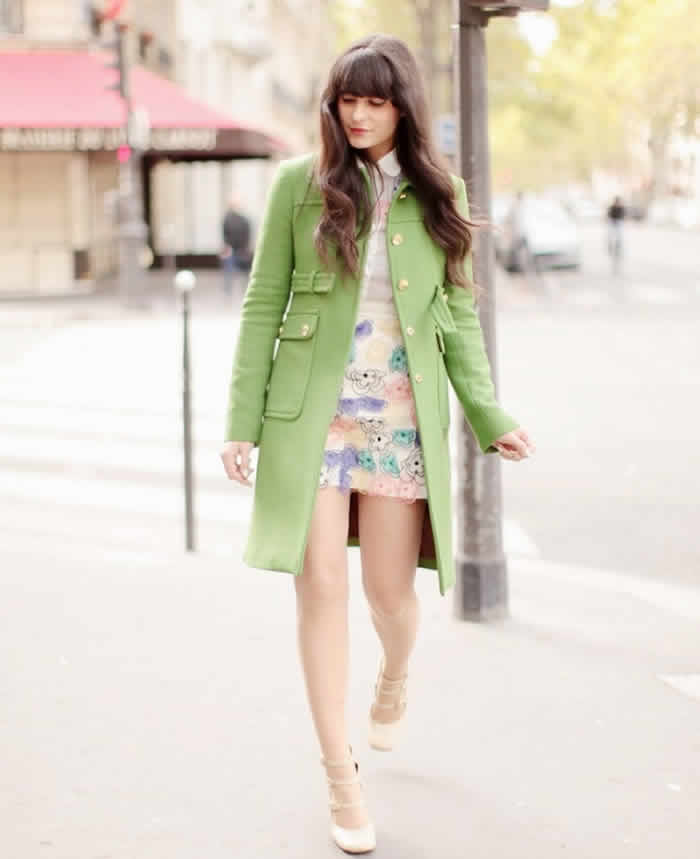 Spring is the perfect time to wear your most colorful outfits. If you're not bold enough to wear rainbow colors on your street looks, resort to pastel and girly shades like lavender, apple green, pastel pink, baby blue and such that can give you a spring-inspired look. If you're minimalist, wear whites, light brown, and gray over dark browns and blacks. Like Alix, you may add some color to your girly outfit with an apple green coat.
Add some personality with spring-inspired prints.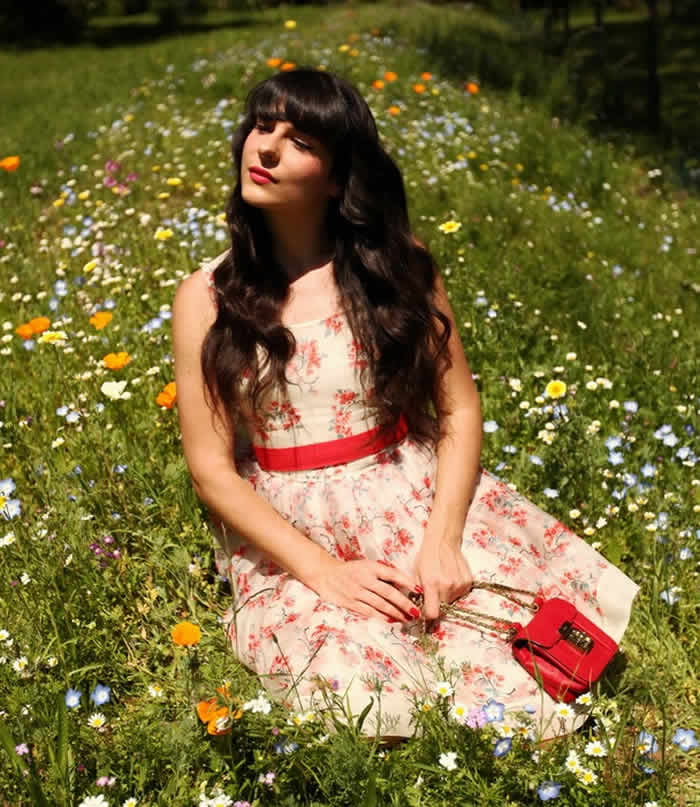 Blend in the spring scene with floral print dresses and spring-inspired tops. Like Alix, think of adding some feminine flair to your tropical print tee with a red full skirt. Or, look playful with a graphic print floral tea dress that will look perfect for garden parties and Sunday brunches with your friends. You can also think of stripes, chevron, gingham, graphic patterns, and even novelty prints to add some personality to your spring style.
Complete your spring looks with girly accessories.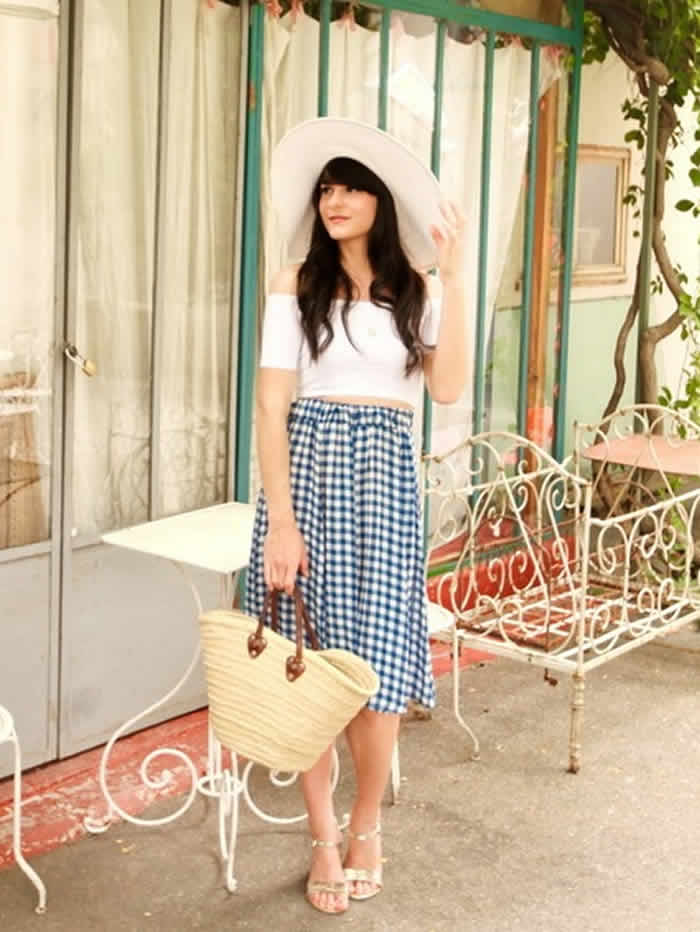 Think of quirky sunglasses, cute handbags, colorful bracelets, chic bags, feminine shoes and even floppy hats that will add some feminine feel to your spring looks. Like Alix, you may add some girly flair to your white button down dress with a pastel blue coat and a cut tea cup bag. Or, simply think of a cute hat and a woven tote bag that can add some breezy feel to your girly outfits. By heeding these tricks from Alix, you'll make your spring looks more expressive and chic.