This go-to jacket can be worn on many occasions if styled differently while retaining its opulent vibe. This is the classy item of apparel that every man's wardrobe should have.
This article will assist you in understanding how to wear a men's dinner jacket for a dapper look.
Stylish Ways To Wear A Dinner Jacket
If you buy the right custom dinner jacket you can wear it for a variety of events. You can be the best-dressed man at any gathering if you wear your dinner jacket in style.
Andre Emilio is a great choice if you want to buy a well-fitted custom dinner jacket or custom suit. Tailors at Andre Emilio make the finest handcrafted suits that are available online with the best measuring techniques and pattern making.
Following are the things that you should consider to wear a dinner jacket in style:
Choosing a Material
The materials used to make dinner jackets are intended to be higher-end luxury fabrics like mohair, velvet, or silk, or they can be made of better wool like VBC or Loro Piana. Choose the best material for your custom dinner jacket according to your preference.
Terry rayon is a synthetic fabric consisting of polyester and rayon. The combination of these strong fabrics produces terry rayon dinner jackets with an excellent level of strength and durability.
Andre Emilio uses Italian fabrics which are crafted with a combination of both centuries-old traditions as well as modern techniques.
Get Rid of Wrinkles
Since it is considered outerwear, make sure your dinner jacket is smooth and free of wrinkles. It gives the dinner jacket an untidy appearance that is neither formal nor appealing.
Many dinner jackets need to be dry-cleaned. These dinner jackets cannot be dried in a clothes dryer to remove wrinkles. You'll need to take them to a dry cleaner for dry cleaning.
Choosing a Dress Shirt and Trousers
Wear a classic white tuxedo shirt including a pleated or bib front, a classic semi-spread collar, and double or French cuffs for a classic appearance. Select a dress shirt with a plain front for a modern look. Take into account the sort of placket, buttons, and whether studs are required.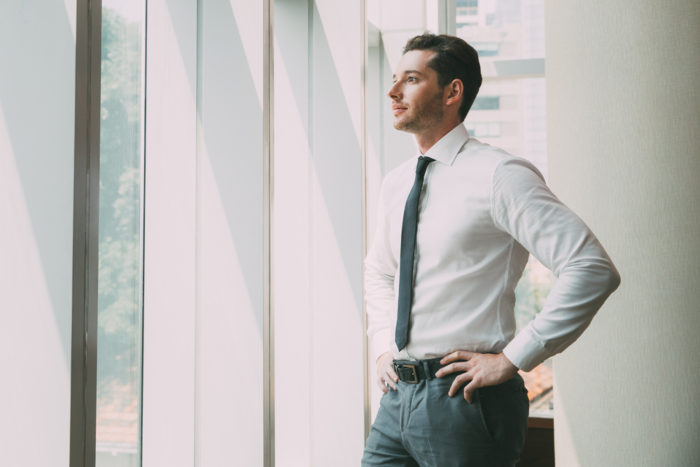 A white tuxedo shirt with a wing collar is another option. It shares all the similarities with the classic tuxedo shirt but has a wing collar.
Your trousers should be of the same fabric, as well as color, as your dinner jacket. However, that won't always be the case. For instance, an ivory dinner jacket and a green velvet dinner jacket would both look great with black tuxedo pants. Make sure your trousers fit you properly.
Andre Emilio has a wide range of shirts made of luxurious and exquisite Italian, British, and Australian fabrics.
Considering Color
Consider color coordination if you want to look elegant in your dinner jacket. Black or midnight blue dinner suits are the standards, but a white dinner jacket will stand out and appear elegant. Wear a white or colored dress shirt with a black dinner jacket to create contrast between the two garments.
You will look classy in a white dinner jacket with a black bow tie. White shirts and matching blue trousers go well with a blue dinner jacket.
If you have a different colored dinner jacket, wear a shirt that coordinates well with the color of your tailored slacks and outer jacket. 
Remember a Tie
A tie lifts the formality of your dinner jacket by defining your neckline. A dinner jacket can be accessorized with a bowtie or a necktie.
A necktie is a single long and vertical piece of fabric draped around the collar of your dress shirt. On the other hand, bowties consist of a smaller piece of fabric that has a bow on the front.
Andre Emilio has all the accessories that you will require to complete your dapper look. Their handmade ties made from high-quality fabric have unique designs that make you stand out on every occasion.