From the bride and groom to the bridesmaids and groomsmen, each member of the wedding party plays a significant role in creating a visually stunning and harmonious atmosphere. To help you achieve a cohesive look on your special day, we have gathered some valuable tips for coordinating the outfits of both men and women.
Establish a Clear Vision: Before diving into the details, it's essential to establish a clear vision for your wedding style. Determine the overall theme, color scheme, and level of formality you want to achieve. This vision will serve as a guiding principle when selecting outfits for the wedding party.
Coordinate Colors and Fabrics: Choosing complementary colors and fabrics is crucial for creating a cohesive look. Decide on a color palette and select shades that work well together. Consider the season, venue, and overall mood of the wedding. Opt for fabrics that are consistent with the desired formality, such as silk, chiffon, or satin for a formal affair, or linen and cotton for a more casual event.
Pay Attention to Details: Small details can make a significant difference in achieving a cohesive look. Coordinate accessories such as shoes, belts, and jewelry to match the overall style. Pay attention to grooming details like hairstyle and makeup, ensuring they align with the desired aesthetic.
Consistency in Groom and Groomsmen Attire: The groom and groomsmen should have a distinct yet coordinated look. The groom's attire can have unique elements, such as a different suit color or style, to set him apart. However, there should be consistent elements, such as matching ties or pocket squares, to tie their looks together.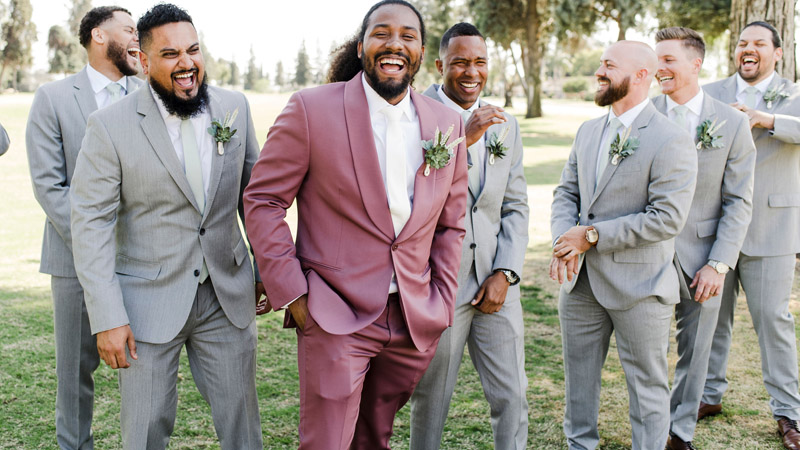 Want to Buy this Suit BUY NOW
Consider Body Shapes and Sizes: When selecting bridesmaids' dresses or groomsmen's suits, consider the body shapes and sizes of your wedding party members. Choose styles that flatter different figures and offer options that cater to a range of sizes. This ensures that everyone feels comfortable and confident in their attire.
Consult with Professionals: If you find the task of coordinating outfits overwhelming or if you want expert guidance, consider consulting with a wedding planner or a stylist. These professionals have experience in curating cohesive looks and can offer valuable advice on color schemes, fabric choices, and style coordination.
Enjoy the Process: Lastly, remember that wedding planning should be a joyful experience. Embrace the process of coordinating outfits as an opportunity to create beautiful memories with your loved ones. Enjoy the journey and the excitement of bringing your vision to life.
Have a Backup Plan: In case of unexpected changes or last-minute alterations, have a backup plan in place. Keep spare accessories, fabric swatches, or alternative options available so that any unforeseen issues can be quickly resolved while maintaining a cohesive look.
Trust the Professionals: If you're feeling overwhelmed or unsure about coordinating the wedding party's attire, trust the professionals. Wedding planners, stylists, or consultants have expertise in creating cohesive looks and can offer valuable insights and guidance to help you achieve the desired aesthetic.
Remember, the goal is to create a wedding party that not only looks visually appealing but also reflects your personal style and vision for the day. By following these tips and allowing room for individuality, you can ensure a beautifully coordinated and cohesive wedding party that enhances the overall atmosphere of your special day.