Over the years, she received several accolades in both endeavors. While many fans and supporters almost know everything about her, not everyone is aware that she is a licensed pilot.
Maddox "inspired" Angelina Jolie to fly planes
Maddox Jolie-Pitt is the eldest son of Angelina Jolie and Brad Pitt. Among the six children, the actress shares the closest relationship with him.
Reports said that she adopted Maddox three years before the Troy actor arrived in their lives. She raised him as a single parent, which explains the dynamic of their relationship.
She previously revealed that her eldest son became her inspiration to fly, according to The Things. Speaking to publications, the actress said that before Maddox turned 2 years old, planes always "amazed" him. So, she, reportedly, decided to study how to fly and promised her son that she would fly by his second birthday.
While she stayed true to her word, the Salt star took a little longer to obtain her license. Sources said that she learned how to fly and received her pilot's license when Maddox turned 3.
She bought an airplane
A year after she received her license, Angelina Jolie bought her own airplane, according to Cheat Sheet. She, reportedly, purchased the Cirrus SR22-G2, adding that it is one of the safest single-engine planes on the market.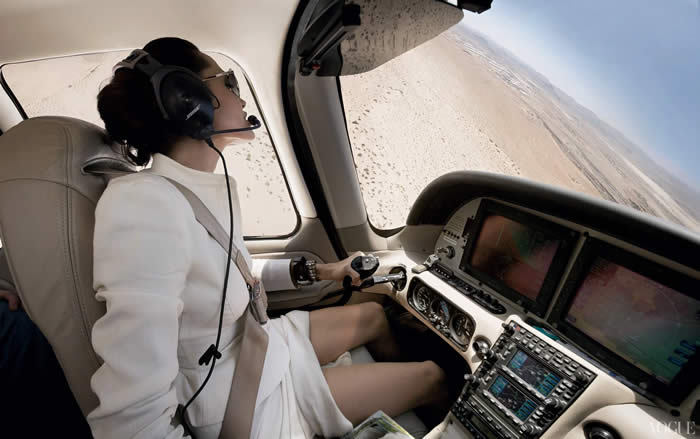 The publication noted that the plane has numerous safety features, including a parachute for its own making. As noted, if the plane goes down, it will release its parachute feature that will slow down the descent.
Jolie bought the plane for a price below AU$500,000. Some reports said that it is a modest price. Others, however, countered that it is an "expensive" model.
Whatever the case, though, the actress seemingly prioritized Maddox's safety. She, also, utilized her son's initials, "MX," in the flight and tail number of the plane.
Maddox followed her mother's footsteps
Maddox turned 19 earlier this month. Several reports deemed him as an "Aviation Enthusiast" for his interest over planes and flying them.
He, reportedly, tried to co-pilot the plane with Angelina Jolie. The actress, even, shared her praise toward her son when she learned that Maddox can now "go solo."