For Christy Turlington Burns, her latest ad campaign is a homecoming with a twist. Turlington Burns, who was the original face of Calvin Klein Eternity women's fragrance at its 1988 launch, is returning to that role this fall along with her husband, filmmaker Ed Burns. The campaign marks the first time the two have shot an ad together. "We continue to joke about [the shoot] because it's much easier to do something like this with someone you know so well and that you're intimate with in real life, but on the other hand, it's also funny to be intimate with your life partner and have people around," Turlington Burns told WWD with a laugh. "In the beginning we were pretty giggly. And after the first day, [Ed] said to me, 'I'm so glad you're not doing this with somebody else.' I said, 'I wouldn't be doing this with someone else.' Usually you pretend to be intimate on these types of campaigns, and when they go to change a lens or the roll of film is complete, you're like, 'So, how about those Mets?' It's just awkward." The couple will appear in TV and print advertising for Eternity beginning in June and for the pillar brand's latest incarnation, Eternity Night, a limited-edition fragrance masterbrand out globally in August. In the U.S., the ads for Eternity Night will break in September fashion, beauty and lifestyle books, noted Steve Mormoris, senior vice president of American fragrances for Coty Prestige. The black-and-white Eternity ad features Turlington Burns and Burns in a loving embrace on the sands of Turks and Caicos.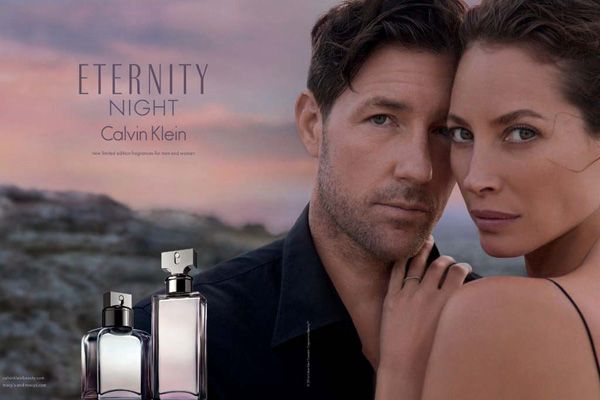 The color Eternity Night ad features the couple embracing at twilight. Both the Eternity and Eternity Night campaigns were shot by Inez van Lamsweerde and Vinoodh Matadin. "They're probably the two photographers I've worked with most over the past 10 years," said Turlington Burns. "When they call, I know it's going to be a good day." The ads were directed by Trey Laird of Laird + Partners in conjunction with Calvin Klein's in-house ad agency and creative studio. "Christy and Ed are the ideal couple to represent our timeless Eternity Calvin Klein fragrance, as we continue to support the brand with a new global advertising campaign and an expanded offering with Eternity Night Calvin Klein," said Tom Murry, chief executive officer of Calvin Klein Inc. To welcome Turlington Burns back to the brand, Calvin Klein Fragrances plans a global philanthropic push for her charity, Every Mother Counts. The initiative kicks off the Eternity Project, an initiative intended to "foster the message of eternal love and commitment through the support of various charitable endeavors to help better individuals and communities," said Mormoris. For one week, starting May 30, 100 percent of the proceeds from the U.S. sales of Eternity Calvin Klein's 25th Anniversary Edition bottles will be donated to Every Mother Counts.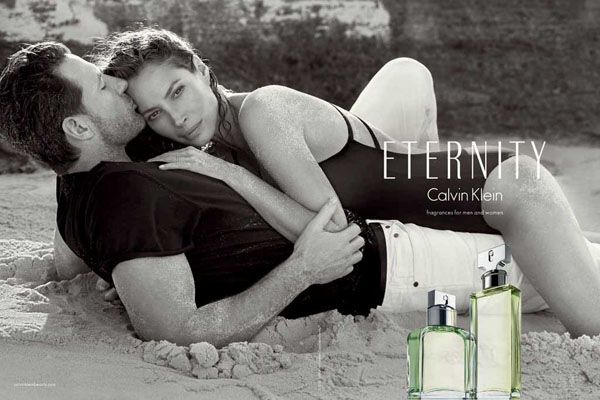 Turlington Burns becomes animated when talking about the charity, which she launched in 2010. The inspiration came from her daughter's rough birth in 2003; the couple also have a son, Finn, born in 2006. "I didn't intend to create a charity per se, but we had a pregnancy complication with Grace, who's now 10 and a half," said Turlington Burns. About an hour after delivery, Turlington Burns hadn't delivered the placenta. It was still attached through the uterine wall. After an obstetrician removed it, Turlington Burns started to hemorrhage.
Turlington Burns later learned that such complications are the number-one cause of maternal death in the world. "I was shocked to hear that people were still dying from childbirth in the 21st century." During her pregnancy with Finn, Turlington Burns traveled to her mother's native Central America with humanitarian organization Care. "On that trip is when I had that aha moment about this. I was in a rural village, and being there pregnant, having had the experience I did with my first delivery, I thought 'Had I been here or a lot of other places on the planet I would not have survived.'" After Finn's birth, Turlington Burns deepened her commitment to maternal health matters, making a documentary highlighting the cause and later picking up a master's degree in public health at Columbia University's Mailman School of Public Health. The Every Mother Counts campaign was launched when Turlington Burns' film, "No Women, No Cry," was released, then evolved into a charity. Turlington Burns said Calvin Klein Inc. has been a big supporter of the charity, both in terms of financial donations and helping secure global press mentions.