Is fashion a cutthroat industry, or a band of like-minded, sensitive souls? Riccardo Tisci is definitely of the latter school of thought, having invited Donatella Versace to appear in his fall campaign for Givenchy. It's another boundary-breaking advertising concept from the young Italian couturier – antamount to Ford inviting Chevrolet to make a cameo in one of its spots.
"I don't think anybody ever used another designer in an advertising campaign, and I think it's a beautiful message," Tisci said in an exclusive interview about the ads, slated to break in a range of September magazines. "There's no jealousy and no competition between us. It's a real, pure friendship: Somebody who's part of my gang, part of my family. We want to give a message of friendship and love."
Versace echoed the sentiment. "I believe in breaking rules," she said. "Riccardo Tisci is extremely talented and, above all, my dear friend. We are family. I want to get rid of the old system, work together, support each other and make fashion a true global community."
The black-and-white images by Tisci's longtime coconspirators Mert Alas and Marcus Piggott show Versace, her blonde hair tousled, emoting in a cinch-waist Givenchy tailcoat, part of a standout collection electrified by its clash of Victorian strictness and Chola-girl fierceness.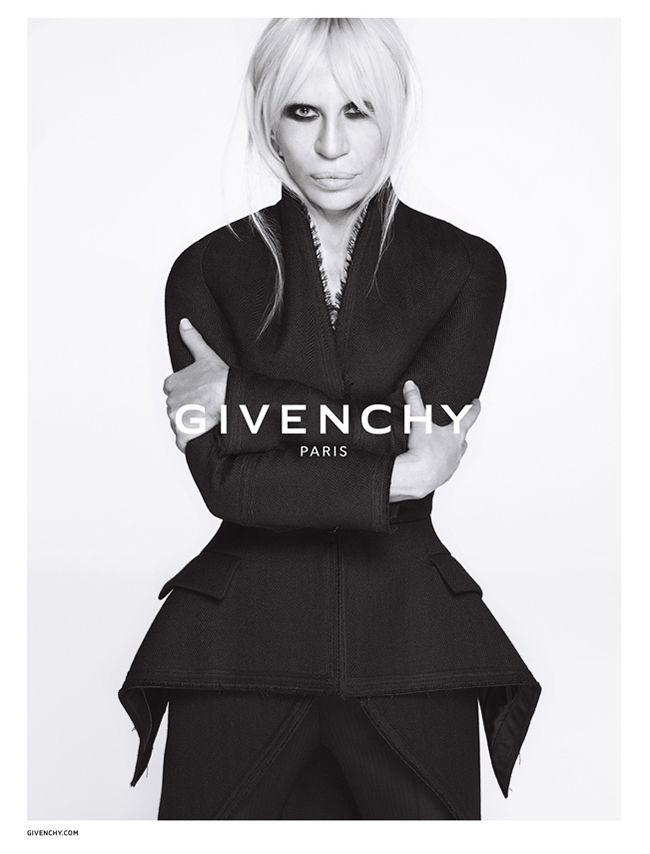 Givenchy's fashion family for the season extends to American football star Victor Cruz for the men's wear and Chinese pop singer Li Yuchun, aka Chris Lee, for handbags. They are joined by a gaggle of Tisci's fetish models, including Mariacarla Boscono, Frankie Rayder, Jamie Bochert and Filip Hrivnak.
Letting slip another piece of news, Tisci noted that Candice Swanepoel would front ads for the September launch of Givenchy Jeans.
"We're doing very well with denim, so now we're supporting the project properly," he said, adding the jeans campaign would run in younger, edgier magazines to reach the streetwear crowd. But Versace is the focal point of the main fashion campaign, shot in a big Victorian house in London. "She looks amazing," Tisci enthused. "It's quite beautiful and intense to see a designer wearing someone else's creations."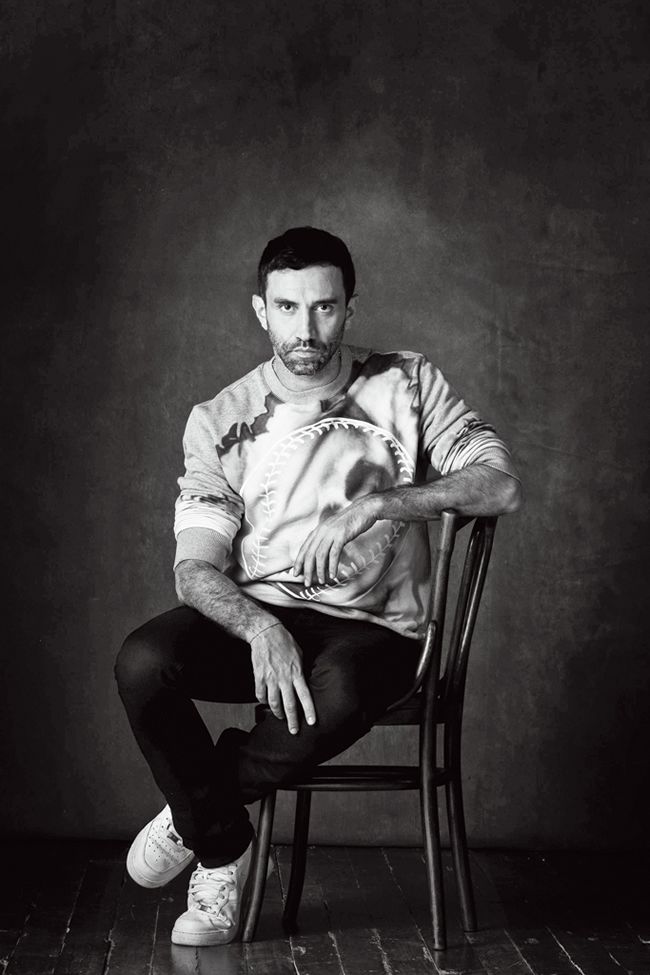 The designer brushed off the suggestion consumers might be confused to see an Italian designer as a pitchwoman for a rival French house, saying LVMH brass immediately understood that his casting choice propelled the all-in-the-family narrative Tisci has been unfurling over the past few years.
"It was very me, this choice," he said. "OK – her surname is a label, of course, but Donatella is a human being, she is a person. She's got a heart, she's got a life."
In an additional sign of their complicity, Tisci had initially selected three looks for Versace to wear for the campaign. "Then I said, 'Wait, I think it should be Donatella choosing because she's a woman, she's a consumer and she's familiar with my style,'" he related. "You see in the pictures that she feels part of the project. We were laughing like crazy, she was so funny. She knows how to enjoy and to make a joke."
Tisci's first brush with Versace came shortly after he had signed on at Givenchy 2005, succeed- ing designers including John Galliano, Alexander McQueen and Julien Macdonald. "She was one of the few persons to send me flowers, and welcome me to the fashion world," he said.
Not long after, stylist Carine Roitfeld, then editor in chief of French Vogue, organized a cross interview between the two Italian designers in Milan. "We had lunch, and then we clicked straight away," he said. He confessed to some initial jitters: "I was so stressed. For an Italian, Versace is like the flag of Italy," he said. "I was impressed how sweet and how nice and how honest she was about everything. And then after that, we began seeing each other regularly and becoming friends in the sense of not only work: We can sit and talk about general things in life.
"I respect Donatella for many things," Tisci continued. "I respect her as a designer, as a person. I respect her as a woman. She's the kind of woman I like. I'm surrounded by all these women who are very powerful. At the same time, she has a side that is very fragile, very sweet, very nice, very motherlike."
Tisci has long been open about the fact that the house that Versace's late brother, Gianni, built inspired him to work hard and nab a place at the famous London design school Central Saint Martins. "For me, Donatella has become an icon. Not only in Italy, which is my country and her country, but around the world. I mean, people make songs about her, people make movies about her because she's a very unique person."
Tisci counts Hedi Slimane and Karl Lagerfeld among his other designer friends, and didn't rule out more future projects with Versace.
The two Italian designers opted to disclose the Givenchy advertising project via Instagram: each posting a dual portrait of the pair in profile, like a two-sided coin.
Tisci was struck by the positive feedback, especially from youngsters who suggested they take their tie-up further and do a product collaboration. "Why not?" Tisci mused. "Fashion is moving so fast and you have to move in different ways. You never know…one day."