Cardigans make great transition pieces. They can be worn all year round, basically, and they're perfect for when you just want something quick and cozy but not too warm. I personally love throwing a nice cardigan on top of a plain and simple outfit. Aside from the fact that a cardigan makes me more comfy and warm it also adds nice detail and, with the right piece, a good splash of color to liven up the look. Now, spring and summer cardigans are often different in style. Spring and summer cardigans are more sheer and lightweight and the prints on them are rather colorful while fall and winter cardigans are often chunkier and heavier in darker colors with less colorful print. If you're looking for something that you can wear in summer and transition you to fall, though, check out these cardigans that will take you from summer to fall.
Striped cardigan – stripes are versatile and they're one of those all year round prints that you can wear. If you're looking for a nice (and safe) summer to fall transition cardigan, a cotton striped cardigan is your best bet. For summer, wear it on top of something light like a plain shirt or a tank top and jeans. For fall, you can wear it on top of a long sleeved shirt or a thin sweater just to get that extra warmth.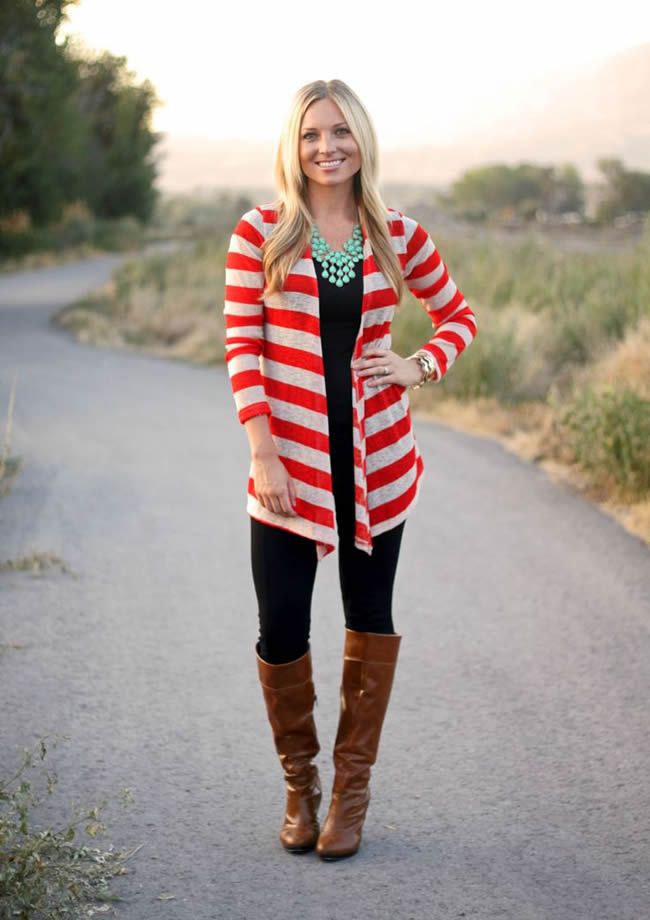 Fringed cardigan – fringes are always popular during the summer, especially at music festivals, but they're really nice for fall as well so a cardigan with fringes is perfect for transitioning from summer to fall. If you just want a nice touch of fringe to your look and maybe a little movement too, go with regular fringes. If you're looking forward to making a statement with these cardigans, I would suggest going for something with longer and chunkier fringes instead.
Kimono cardigan – for a really nice and girly twist on your look, go with a kimono cardigan. Kimono cardigans are often lightweight but they do feel nice and warm when you wrap them around and let them snug up on you. Long kimono cardigans, I find, are the best summer to fall transition cardigans and they're great as a finishing piece to a layered outfit as well.
Tribal print cardigan – tribal prints are so intricate and ornate, they always add a nice detail to any look. Tribal print cardigans are great as summer to fall transition cardigans because they're colorful enough for summer but the colors are often warm and earthy, too, so they blend right in to your fall wardrobe.
Draped cardigan – what I love about draped cardigans is that they never fail to make any outfit look effortlessly chic. These cardigans have a slight dramatic vibe to them because of the movement they create and give your look but they're not too overly dramatic that they can't be worn for everyday looks.