With her mother, business partner and brand consigliore Tina tending to her ailing father a few months ago, Jessica Simpson took charge of the boardroom at the Parlux Fragrances Inc. offices in New York, where her fragrance team had gathered to discuss what to call her upcoming scent. "We were just throwing out different ideas and different names, and I said, 'Why don't we do something with just my name?' There has to be a way to just do that because we're doing it in the rest of our business," said Simpson, continuing, "It was a fun meeting because I got to have the reins, and I really got to control it and do what I wanted to do." And that's how Jessica Simpson, the floral gourmand fragrance launching in August, was born. "When it's just my name, my heart is definitely in it," said Simpson. "There were things about this fragrance that took me to a different place. It was exciting. It's more sophisticated. It's a little mature."
The signature fragrance is more sophisticated and mature, and so is Simpson. Although her tabloid persona will no doubt always be a part of her, the days of Simpson's "Newlyweds: Nick and Jessica" the MTV reality show that solidified her celebrity beyond music are decidedly behind her. Since she released her first fragrance under the Fancy franchise in 2008, she has entered her 30s, had two children (two-year-old daughter Maxwell and son Ace, who will turn one on June 30), settled down with fiancé and former professional football player Eric Johnson and expanded her brand, estimated to pull in some $1 billion in global sales annually across 32 categories. Industry sources believe the fragrance could boost the brand's revenues by $20 million in its initial year on counter.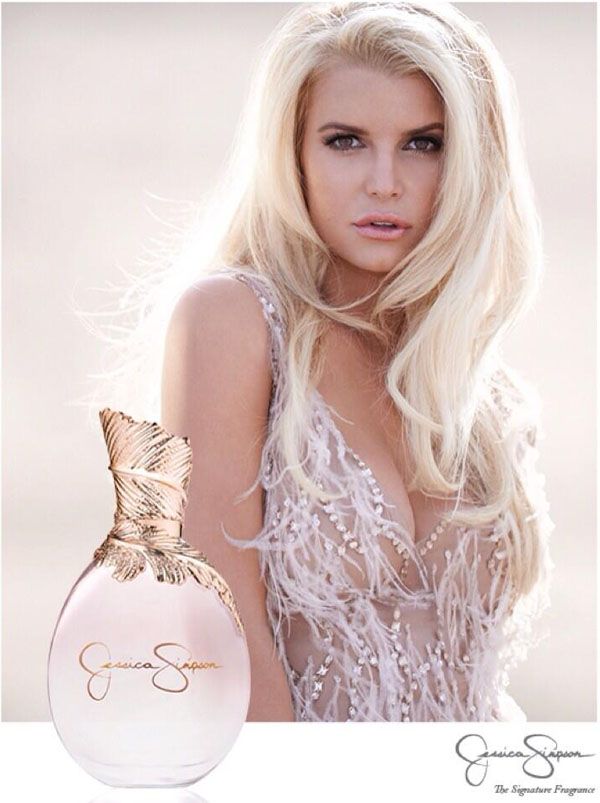 Vince Camuto, chief executive officer of Camuto Group, master licensee for the Jessica Simpson Collection, has noticed changes in Simpson, and they aren't simply superficial. He commended her for being far more self-assured than she was nearly a decade ago when her brand was getting off the ground. "You've got to remember she was really young at the time, and, with each year that has passed by, she became more confident, more knowledgeable and more approachable. She understands the customers and the products better. Her knowledge of the Jessica Simpson girl and what she has to do to build the brand is better," said Camuto.
Simpson's elevated confidence and maturity aligned with Parlux's goals for her signature fragrance. "Signature is a huge departure. This is a really sophisticated project in the look, the smell and the packaging. It is much more upscale and much more sophisticated than anything she has had to this point," said Donald Loftus, president of Parlux. Like Simpson, her audience has aged and the Jessica Simpson fragrance is aimed at older fragrance shoppers than the Fancy scents, although Parlux is still running with those of the Fancy variety. The company recently introduced a Fancy Girl limited-edition set that pairs an eau de parfum spray with three nail polishes.
Created with Givaudan perfumer Marypierre Julien, the Jessica Simpson scent is an amalgam of citrus, clementine, nectarine, pomegranate and apricot in the opening notes; frangipani, night-blooming jasmine, orange flower and tiger lily in the middle notes, and white chocolate vanilla bean, sandalwood, tonka bean and driftwood in the base notes. It is priced at $65 for a 3.4-oz. edp spray, $49 for a 1.7-oz. edp spray, $35 for a 1-oz. edp spray, and $18 for a 0.2-oz. roller ball. Simpson said the fragrance is "a mixture of everything that I grew up loving. I am one of those people that part of who I am is doing a lot of reminiscing. It's also definitely looking forward, so it's kind of combining those two different elements and where I'm at right now [and where I was]. If [the children] reminisce about certain moments of their lives, I want them to one day be able to reminisce about me and be like, that's what Mom smelled like."
The crystal bottle with Simpson's name etched across it is teardrop-shaped, and the cap is wrapped in a rose gold feather. Simpson views feathers as symbols of auspicious beginnings, truth and lightness. "Through my divorce [from former husband Nick Lachey] and through being forced to be in the real world on my own and have my own opinions and make my own decisions, I would see white feathers everywhere," said Simpson. White feathers show up in the ads as well. Shot by Gilles Bensimon at Big Sky Movie Ranch in Simi Valley, Calif., the print images feature Simpson wearing a feather-festooned Oscar de la Renta dress. Speaking of dresses, Jessica didn't reveal much about what she will walk down the aisle in her wedding is said to be planned for the July 4 weekend though, only saying, "I'm working with one of my favorite designers of all time."
The scrutiny definitely hasn't hurt Simpson's brand. It is growing by branching into the home and baby categories. Aside from the fragrances with Parlux and products related to them, there is no other beauty merchandise under the Jessica Simpson umbrella at the moment. In the past, Simpson was associated with Proactiv, BeautyMint and Dessert Beauty. However, Simpson would consider extending her brand further into beauty. Her mother Tina said, "One day it would be great. Beauty, obviously, is a big part of everything. So, we'd love to do that." Camuto sees no reason why Simpson's brand can't keep growing. "I think there is more room," he said. "When you have something good, it only gets better."