David and Victoria Beckham looked every inch the power couple as they arrived at the Met Gala 2014 in New York on Monday night, hosted by Vogue editor, Anna Wintour. But despite all the famous faces from fashion, music and film, Victoria was happiest to be with her husband of thirteen years. She shared a picture of her looking adoringly at David, with the message: 'So proud to share such a great evening with my wonderful husband x vb #MetGala #CharlesJames'.
Holding hands as they posed for photographs on the red carpet, the stunning couple were the main attraction in their matching white outfits.

Still so in love: Victoria and David Beckham look ever the happy couple, as she tweets a romantic message about her evening with her husband
Victoria, 40, looked lovely in a white column dress from her own collection and matching white vertiginous heels. She accessorised with diamond drop earrings and a matching bracelet and ring.
Hand-in-hand: Victoria wore her namesake brand and accessorised with Jacob & Co earrings and bracelet and a pair of Casadei heels, while David wore a white Ralph Lauren Black Label jacket
Despite the length of her gown and the height of her heels, she glided effortlessly up the steps into the Metropolitan Museum Of Art where the event was being held. Her handsome husband David, 39, wore a suit jacket in the same hue which he teamed with black trousers and a matching bow-tie.


Power couple: David and Victoria Beckham looked incredible in white as they arrived at the Met Gala in New York on Monday night
Wintour – who is co-hosting this year's party with Sarah Jessica Parker and Bradley Cooper – is charging $25,000 at ticket, $10,000 more than last year's price. The theme is White Tie And Decorations, an ode to Anglo-American designer Charles James. Victoria and David have remained by each other's sides all day – they were pictured leaving their hotel earlier in the day as they headed out for a spot of lunch together.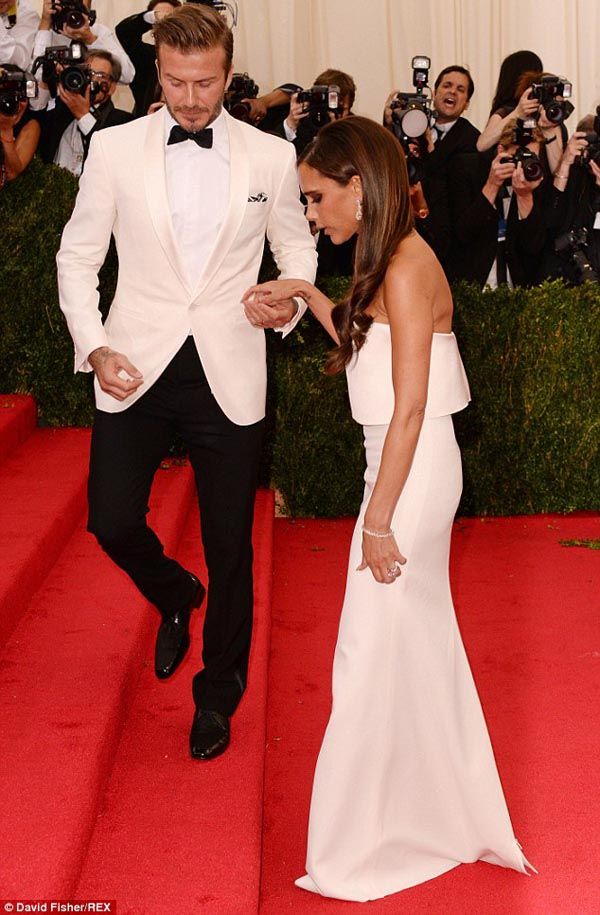 What a gent: The handsome sportsman helped his wife up the steps